Charter Boat: Oceanic & Sagittarius
Availability Calendar
18 Reviews

Reviews Unaccepted: 1
Boat and Skipper Details
Licensed For:
up to 24 passengers
Hours:
3hr / 4hr / 6hr / 12hr / Multiple Days Trips
Type of Fishing:
COD & POLLOCK & LING
Tackle Available:
Yes - Contact Skipper
Boat Specification:
OCEANIC IS A SOUTHCAT & DOES DIVING ,ANGLING ,BIRD WATCHING TRIPS TO BASS ROCK ETC. SAGITTARIUS IS A BLYTH CATAMARAN EYEMOUTHS ONLY FULL TIME ANGLING CHARTER BOAT WITH 26 MTR OF FISHING RAIL & ISLAND WHEELHOUSE
Facilities:
Toilet / Tea & Coffee / Large Cabin /Twin Divers Lift./ Pontoon load & unload / Free Parking
Additional Description:
WE NOW RUN 2 CATAMARANS THE BIGGEST & BEST IN SOUTH EAST SCOTLAND NO MORE SEA SICKNESS .
OCEANIC IS A SOUTHCAT & DOES DIVING , ANGLING , BASS ROCK , FARNE ISLANDS , DOLPHIN TRIPS.
SAGITTARIUS IS A BLYTH 33 WITH AN ISLAND WHEELHOUSE, ANGLING, SIGHT SEEING , DOLPHIN TRIPS , PUFFIN TRIPS TO MAY ISLAND.
CLUBS , SMALL GROUPS , & INDIVIDUALS ALL WELCOME.
About the Skipper:
Martin is our full time angling skipper aboard Sagittarius & has been an angling skipper for nearly 50 years from Burnmouth & Eyemouth
This Charter has been listed as Suitable for Diving Trips. Contact the Skipper for full details.
This Charter has been listed as Wheelchair Accessible. Contact the Skipper for full details.
Sunday
Monday
Tuesday
Wednesday
Thursday
Friday
Saturday

Color for Fully Booked

Fully Booked

Color for Partially Booked

Partially Booked

Color for Available

Available

Color for Not Available

Not Available

Color for Unspecified

Unspecified

N.B. Not all Skippers keep this dairy up-to-date. Always check with skippers before making any plans. Last calendar update: 10-Nov-2017

Thu 1st Nov
Fri 2nd Nov
Sat 3rd Nov
Sun 4th Nov
Mon 5th Nov
Tue 6th Nov
Wed 7th Nov
Thu 8th Nov
Fri 9th Nov
Sat 10th Nov
Sun 11th Nov
Mon 12th Nov
Tue 13th Nov
Wed 14th Nov
Thu 15th Nov
Fri 16th Nov
Sat 17th Nov
Sun 18th Nov
Mon 19th Nov
Tue 20th Nov
Wed 21st Nov
Thu 22nd Nov
Fri 23rd Nov
Sat 24th Nov
Sun 25th Nov
Mon 26th Nov
Tue 27th Nov
Wed 28th Nov
Thu 29th Nov
Fri 30th Nov
Reviews
Summary:





Reviews Unaccepted: 1
Mike Westoby (08/09/2018)

Our group of experienced anglers and 3 novices had a great day on the Oceanic , with everyone catching fish - Mackerel, small Cod, Ling (double figure fish lost at the boat side) and Pollack to 5lb ...with a lot help from Derek finding the fish. Thanks for a great day, Edgar Allen anglers.

Russell Smith (02/06/2018)

well I took two first timers who wanted to catch at least one fish. Well they did more than that ...great day...Martin got us on the fish again and again. Looked after the 2 10yr olds as usual and make sure the day was great fun. Ill be back in a few weeks and sure my guests will also be back!. 30+ Cod on the day ..well we stopped counting. If you think should I go? ...get out there and have fun! Tight Lines .

Ally Connell (20/05/2018)

First time out on a boat and must admit it was great, if your reading this then you are obviously thinking about it. Well don't get out there and wet a line and enjoy it, I'll be out again so see you soon boys

Russell Smith (15/09/2017)

I am not one for commenting however I have been on this boat and also Oceanic many times. martin is a great skipper and as I have a 10yr old son he is more than happy to help. fillets fish and helps with line issues etc. sometimes no matter what you do the fish dont bite. its not called catching! This is afriendly boat and always a good laugh. I have never been and not caught fish. Its the only boats i would use.

kevin davison (12/08/2017)

went on the sagittarius yesterday and i have to say this was the worst experience ona boat me and quite a few others ever had. Skipper kept drifting over the same area when nobody was catching and very reluctant to move ground,we found ourselves fishing in 10 to 15ft of water quite a few times. I accept not catching when theres nothing going but surely the skipper should takke note and move ground,a lot of tackle was lost out there by biys making an effort, maybe the skipper shoul put an effort in too instead of sitting on his backside all day

Skippers Reponse: Kevin sorry you had a bad day the fishing west is poor at times & as the weather was poor in the morning south he tried the other way,Martin fillets fish for the lads & is a top skipper regards Derek
Bait & Tackle
J & A Turnbull

Galashiels, Scottish Borders, South of Scotland, Scotland
Latest Catches 86 photos uploaded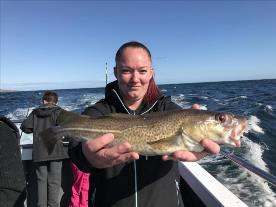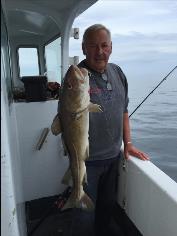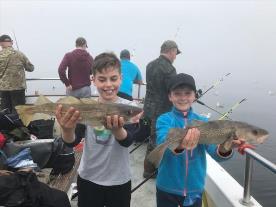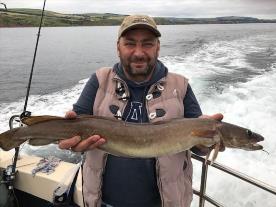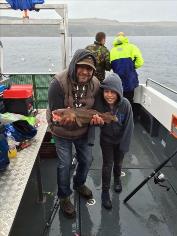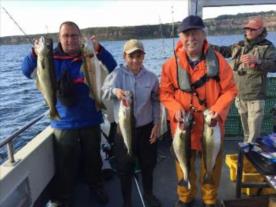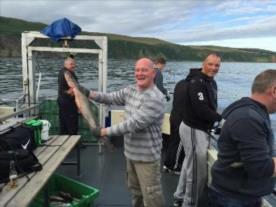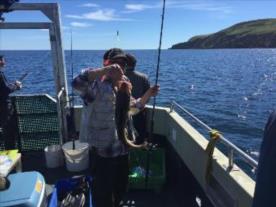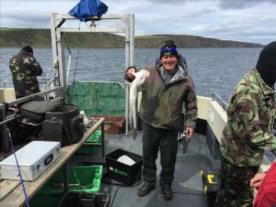 Latest Fishing Reports
26/08/2015

Fishing Report by John Winnik

26 Aug 2015 by John Winnik

Had a the best days fishing yesterday on dereks boat having fished on several boat the 2 times ive been on dereks boat have been some of the best fishing ive had and seen others.. lots od good pollock and cod caught i caught 95 mackeral myself on this trip the boat is clean and tidy and very well managed i will be back without a doubt providing i can get a space... 5 stars all the way from me...

07/07/2013

Fishing Report by Graham Slack

7 Jul 2013 by Graham Slack

I recently enjoyed a great day out with Derek on the Oceanic, this new boat has it all loads of deck space, an on board toilet deck hands to help an advise and as much tea and coffee as you can drink. The boat is easy to access from a pontoon so no climbing down ladders and dropping your gear with ropes etc.

The fishing was fast and furious with plenty of Cod for all and a few good Pollock and Ling, as we moved closer to the shore at the end of the drift we also managed to pick up some nice wrasse.

I finished the day with 9 cod and a Pollock to name, the combination of great fishing a comfortable boat lovely weather and excellent company made this a day to remember.

Thanks Derek for a great days fishing, I will definitely be back for some more, I would recommend this boat to anyone, you are in the heart of cod country hear and you wont be disappointed.