Charter Boat: Out The Blue
Boat and Skipper Details
Licensed For:
up to 10 passengers
Code Of Practice:
Cat 2 60 miles
Hours:
4hr / 5hr / 6hr / 7hr / 8hr / 9hr / 10hr / Multiple Days Trips
Type of Fishing:
Wreck, Reef, Shark. 8 Blues in one day last year.
Tackle Available:
Yes - Contact Skipper
Bait Available:
Yes - Contact Skipper
Boat Specification:
Fast stable Lochin 33 ft open decked work boat. New Iveco 370hp engine
Facilities:
All facilities Tea, Coffee, Microwave in Galley. Spacious Toilet.
Additional Description:
We Operate all year round

See www.looefishing.co.uk
Out the Blue is a traditional Lochin 33 open decked work boat with renowned lochin stability and sea keeping capabilites with the added bonus of a nice new Iveco NEF 390 electronic diesel engine giving cruising speeds of 12 to 14 knots and a sprint speed of 22 knots. She has a spacious cabin that will seat 4 people inside and an outside canopy, large enough to accommodate everybody in bad weather. She has been fitted out with large live bait tanks for those of you serious anglers. Icetech fish boxes to keep your catch in table condition.

Out The Blue is available for
Fishing, Site seeing, Bird watching, Seal watching, Dolphin and Whale watching, Corporate days, Survey and Film work.

Out The Blue is Sponsored by Veals mail order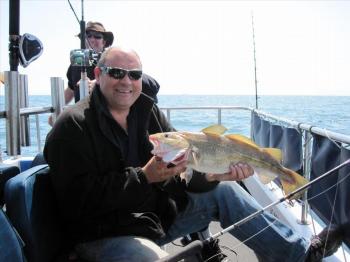 About the Skipper:
Skipper Terry has been involved in boats and fishing from a very early age. Starting at the age of 10 with a 12ft wooden boats and 3hp engine progressing through his life with boats of all shapes and sizes, including offshore power boats. He has completed many training programs and is now licensed up to 200 fare paying passengers and up to 300 tons gross weight, so be assured you are in good hands. Through his life there has not been very many periods when he has not had a fishing rod in his hands and his idea of a good holiday is a couple of weeks in the Artic Circle with trusty Shimano Exage.
Out The Blue is also able to offer anglers accommodation in two identical apartments with dedicated secure parking on the quay East Looe, 30 metres from the quayside. See www.looefishing.co.uk and follow the link to Stonemasons and Carpenters cottages on the front page.
This Charter has been listed as Suitable for Diving Trips. Contact the Skipper for full details.
Upcoming Individual Spaces on Out The Blue
Sorry, there are currently no Individual Spaces at present.
Reviews
Summary:





Ian Hewett (25/09/2018)

Booked Terry for a blue trip on my own and was not disappointed. First day a screaming take on gear fished straight down long runs on 30lb class gear and my traces resulted in a fine blue of 50lb estimated released safely and later one of about 25lb that was a good start to the trip Mackerel was sparse so we feathered whiting to make our chum trail. Second day we went further out and set four lines all on my rods. After a couple dropped runs we had a take on the uptide gear which is a joy to use for sharks. Terry and Jack cleared all the lines and gave me lots of room to play the shark and we landed a fine blue of about 40lb. We all so had another of about 30 lb and dropped about three runs. Later in the day we spotted a blue fin of about 300lb Plus jump and a pod of whales at distance. A great team with plenty of tea great experience and would book again.

Skippers Reponse: Thanks for your kind words pleasure fishing with see you again soon

Bekey Ng (31/07/2018)

We have a great day out with Terry and Tommy. It was a lovely sunny day. Terry is a very professional with expert knowledge in finding the good fishing points. He made the boat stopped steadily even with great wave. We first caught mackerel for baits. Then we got many large whiting, some of them caught very big conger eels. Terry and Tommy always untangled the tactless and got us back out fishing. We enjoyed our trip very much. Many thanks to both Terry and Tommy.

Skippers Reponse: Thanks for your kind words and I'm glad you had a good day

Allan Lowe (15/07/2018)

Fantastic day with Terry and James, both clearly know there stuff, experience on show throughout plenty of Mackerel and Whiting, a lovely blue shark to top the day, sharks seen on surface... and a pod of Dolphins on the way home... If carslberg did days out... cheers lads!

Skippers Reponse: Good day guys hope to see you next year

Jason Hayward (08/04/2018)

Great skipper and fantastic deck hand made this trip. I booked a last minute space for myself and was made to feel very welcome by everyone. As a general fishing trip you won't get much better. A good variety of species and some decent sizes of the main targets too. Thank you Terry and Tommy, top day out.

Chris Graves (17/09/2017)

Brilliant day shark fishing today. 5 of us who had never been shark fishing before booked the trip. We stopped off a couple of times on the way out to catch bait then headed out further to fish for the sharks. Between us we managed to get 6 sharks with the biggest being 75lbs and 80lbs and we headed back in early due to one of the guys being ill. We would all 100% recommend the trip and will be planning another trip soon

Skippers Reponse: Thanks guys see you next year
Latest Catches 38 photos uploaded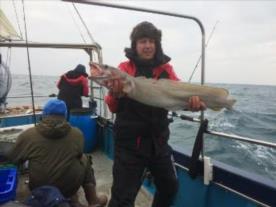 Domatas
14 lb 2 oz Ling (Common)
26-Nov-2016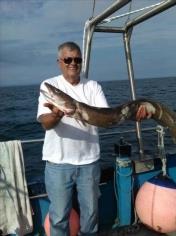 Mariuse
22 lb Ling (Common)
Jun-2014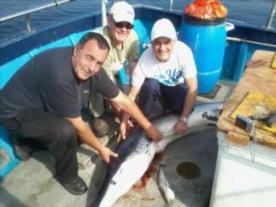 unknown
12 oz Red Sea Bream
15-Sep-2014
unkown
120 lb Blue Shark
20-Sep-2014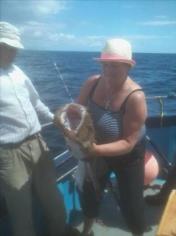 Latest Fishing Reports
01/06/2016

Fishing Report by Terry Morris

1 Jun 2016 by Terry Morris

Well in to the season now and some good bags of Ling occasional Cod, Haddock and some really big Whiting.
We struggled this year with the Mackerel, they came in April time as per usual mixed in with the Herring then on key disappeared again as I predicted. Good job I did think ahead and prepared at the end of last season and filled my freezers. Happy to see they are now back as stocks in the freezer are getting low. Those of you that follow us on Facebook will see good catches of Conger and the Sharks are starting show themselves now/ So Tight lines and see you in the near future when the sum comes out.

01/09/2015

Fishing Report by Terry Morris

1 Sep 2015 by Terry Morris

Truly amazing reef fishing this past month. Huge bags of Ling, Whiting and Pollock and the odd large clonker Cod. I thought we were doing well with 20 pounders but now we've upgraded to 30 pounders. As always struggling with wind over tides, but hey I guess that's just Cornwall. Looking forward to some crispy winter weekends.

19/06/2015

Fishing Report by Terry Morris

19 Jun 2015 by Terry Morris

Season seams to have kicked off now some nice Cod and Pollock on the inshore reefs and the occasional Haddock and some nice Ling mixed in.
No Sharks as yet but then we have only had one trip so far . One or two blues have been landed on other Looe boats though.

21/03/2015

Fishing Report by Terry Morris

21 Mar 2015 by Terry Morris

Good start to the spring season after being beaten up for the last few months by gale force 6 and 7's sneaking up behind us. A trip out with my Polish friends yesterday, and a north-easterly 5 down to nothing in the afternoon, with blinding sunshine and flat sea. All topped off with some quality fish ... plenty of Ling, Cod, Pollock, Coalfish and Whiting. Let's hope this is a sign of good things to come!

Tight lines everyone!

16/11/2014

Fishing Report by Terry Morris

16 Nov 2014 by Terry Morris

Winter is here but the summer fish are also, still plenty of good Pollock and Ling also picking up few reasonable size Cod . Cod seem to be more prolific on the neaps and the Ling on the springs .
We are running singles days on Sundays and we are still offering whole boat hire 7 days a week.