Charter Boat: Queensferry
Boat and Skipper Details
Licensed For:
up to 35 passengers
Hours:
4hr / 5hr / 6hr / 8hr / 10hr Trips
Type of Fishing:
Ground inshore/ offshore , Wreck ,Uptide .
Tackle Available:
Yes - Contact Skipper
Boat Specification:
Although the Queensferry is licensed to carry 35 passengers this number is limited to 14 when drift fishing and often reduced further to 10 when fishing at anchor.
Additional Description:
Queensferry is a spacious 37ft MCA registered Class VI vessel . Equipped with two chart plotters and discriminating echo sounder giving good feedback of bottom contours and seabed type below ensuring that the anglers baits are given the very best chance of success . .
Neil and the Queensferry are proud to support and are are presently taking bookings for Scarboroughs 105t.h Angling Festival. 19th to 27th sept. with up to £200 for 1st prize. Cash prizes over 6 boat matches . Scarborough Fishing. Scarborough having once been a leading whitefish port still provides anglers with good sport and table fish from the Castle Grounds and the numerous ww1 and ww2 shipping casualties that litter the seabed within a 10 mile radius of Scarborough Castle. Some of these wrecks the skipper having dived on himself .Closer in shore are rocky dropoffs many in good tidal flows on headlands which can offer good sport whether using artificial or natural baits both presented on the drift or at anchor. Queensferry operates Easter to Oct. 31st. We can now offer thornback ray fishing or try for the elusive but returning haddock.. Queensferry is available for charter for -- diving , filming,survey, and the scattering of ashes. Please contact Neil to discuss your requirements.
About the Skipper:
Neil Horsley is an MCA qualified local man.Starting angling from Scarborough 25 yrs ago with a private boat .During this period crewing on commercial fishing vessels, between seagoing spells in the Merchant Navy . Now he combines both hobby and business to ensure that you have a memorable days sea angling .With extensive inshore and offshore angling experience. Whether you are a beginner or an expert, Neil, with his lifelong knowledge of the area will take you to the best spots for a successful day's fishing

This Charter has been listed as Suitable for Diving Trips. Contact the Skipper for full details.
Upcoming Individual Spaces on Queensferry
Sorry, there are currently no Individual Spaces at present.
Reviews
Summary:





Mike Kent-Francis (03/10/2015)

Amendment to my last review, Having had little experience of boat trips when I went out on the Queensferry I have made some mistakes in my 1st review, having just had my 8th trip from Whitby I have realised just how exceptional Neil & crew were. If like me your lacking experience, you really can't go wrong with the Queensferry, Neil goes out of his way to get you catching fish, his knowledge advice and friendly personality make it a great boat for novices, groups and the experienced. Not all my trips from Whitby were disappointing, but even though its only 20 miles away, the skippers seem to be very different a couple didn't even get out the cabin they just sat playing with there phones. They certainly didn't get so involved as Neil, Plus the trips were more expensive. I'm certain you will have a great day on the queensferry, hopefully i will see you on board next year

Skippers Reponse: Thank you for such a rave review Mike, hopefully we have now got you fully hooked !.Tight lines 2016. Regs. Neil H.

Mike Kent-Francis (03/10/2015)

It sas a last minute decission to book a day on the Queenferry, as i saw the weather would be good, and it was one of the best trips i've been on, Skipper Neil and his No2 Paul made me welcome from the start and gave me some great advise and help. As previous reviews its a good old wooden boat plenty on space and very stable, the added bonus of some porpoises swimming past as we returned to the harbour with a boat full of Cod Ling & Pollock and 7 very happy fishermen. Thank you Neil and i will see you soon.

Mark N Harvey Pearce (29/05/2015)

What a great days fishing with Neil the skipper on the Queensferry, kept us over fish all day with over 100 cod caught on a 6 hour trip between 8 of us. Also a very helpful deckhand (Paul) who was there with the net all day. Booked again for next month already, great days fishing.

Chris Fowler (23/05/2015)

Thank you Neil. What a day, a 6 hour trip to the south of Scarborough produced a great day of fishing. On the fish all day. Everyone on board went home with lots of cod. Brilliant day thankyou Neil i'll be back soon.Cannot reccomend this boat more highly.

Glenn Martin (23/09/2014)

A fabulous skipper with no end of time for new and experienced anglers. I will always go back to Neil due to the "family" atmosphere every time I jump aboard. Well happy every time.
Latest Catches 17 photos uploaded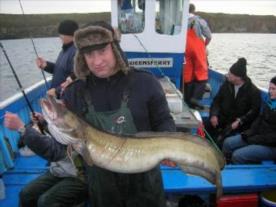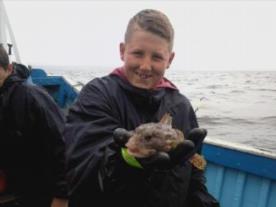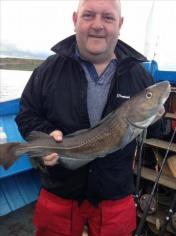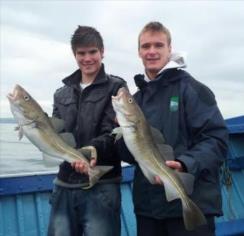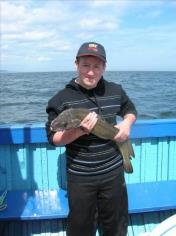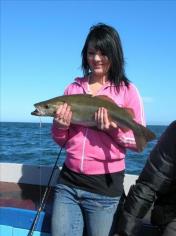 Latest Fishing Reports and News
11/06/2018

Fishing Report by Nick Halstead

11 Jun 2018 by Nick Halstead

Monday 11th June. A scheduled 7 hour trip turned into 8.5 hours thanks to Neil keeping us catching some lovely cod.
Fished the southern land rock in almost perfect conditions with very light winds and a smallish tide. The catch consisted of almost all cod in the 3 to 7lb range and in excess of 70 keepers to the boat with no end of smaller fish returned.
The fish came to both bait and lures, fresh worms and mussel took a lot of fish but the stand out bait was undoubtedly a large squid bait which although didn't take the numbers of fish as the worms it certainly produced the bigger stamp.
Best lures were a sandeel type of shad with all colours seemingly effective.
All in all a fantastic enjoyable day with plenty of top quality fillets for the freezer.

21/05/2016

Fishing Report by Neil Horsley

21 May 2016 by Neil Horsley

Skippers report.
Had a 7hr trip fishing at anchor on the southerly rough land rock , producing 18 codlings to 4lb to 6 rods. Fish were taken on downtide and upside techniques , the fish being of better average size than of late. Dabs and Ballan wrasse making up the final tally.

01/05/2016

Fishing Report by Neil Horsley

1 May 2016 by Neil Horsley

1st May 2016. by Neil Horsley, Our last trip was in challenging conditions and produced 9 codling up to 4lb bait fishing at anchor on the hard ground to the south. The water was murky with no interest shown in artificial baits . With the water now clearing we are hoping for some better sport hopefully akin to last spring. When we had on occasions 100 fish days. Tight lines . Regs Neil H..

22/08/2015

Fishing Report by Nick Halstead

22 Aug 2015 by Nick Halstead

My second trip out with Neil and Paul was just as enjoyable as my first.
Two weeks ago I caught a dozen Cod in the 6 to 8 pound range, On Saturday it was mainly Ling with a smattering of Codling.
The boat is clean and spacious, not the fastest I have ever been on but rides the sea well and is very comfortable.
Mackeral were hard to come by for bait but Neil did his level best to ensure we had enough fresh bait.

I have to comment on his ability to not only put the boat on the fish but also to keep it there as long as the conditions allow, he is a very skilled boatman and understands anglers needs well.
Some belting Ling were caught with the best (unfortunately not to my rod) weighing in at over 18 pounds.
I found baited Hokkais were best during the slacker periods of the tide then switched to a small baited Shad fished on braid.
Loads of takes and I honestly lost as many fish as I landed. A fab day.

04/2012

Fishing Report by James Miriel

Apr 2012 by James Miriel

Alex Sheldon, James Miriel (The Northern Fishing Syndicate) + Laurie Mcintyre & Joe Gonzawa

Great days wreck fishing with Neil, there was constant rod bending action from start to finish. Neil had great knowledge of the local area and was excellent at postioning the boat accurately over the wreck every time.
This is the best experience we have ever had on a Charter Boat and would highly recommend the Queens Ferry to anyone else.
Our 5 hour trip consited of- 36 Cod, a good handful in double figures. All caught on single hooks and with only 4 anglers. We had a cod on the boat with every drift over the wreck and on more then one occasion we had multiple hook-ups. Neil has found wrecks that other charter boats are unaware of and he alternates from each one to avoid over fishing. They were only a short travel away from port and not much time was wasted in getting into fishing.
All tackle was provided and Neil charges only 5 pounds an hour, the rods and reels were new and upto date. not like the old stiff poker rods and old fashioned scarborough reels. nice multiplier reels and fast action boat rods provided enabling us to get the most out of the fish and their fight.
Neil gutted alot of the fish for us and was always on hand with the gaff