Charter Boat: Royal Charlotte
Boat and Skipper Details
Licensed For:
up to 12 passengers
Code Of Practice:
60 Miles
Type of Fishing:
Wreck, rough ground, Varne, Ridge, and Goodwinbanks, French coast, anchored and drift fishing to meet your requirements. There are many species of fish we catch from Dover through the seasons, these are Cod most of the year, Bass, Plaice, Turbot, Pollock, Bream, Mackerel, Whiting, Skate, Blonde Ray and Dogfish.
Tackle Available:
Yes - Contact Skipper
Bait Available:
Yes - Contact Skipper
Boat Specification:
The Royal Charlotte is purpose built for charter angling designed and skippered by Mick Coker, the vessel is 38ft long(11m), 14ft beam and weighs 19 tons, and being deep draft means she drifts square with the tide making fishing very pleasant with less tangles.
Facilities:
On board toilet. Spray Covers, clean water fish wash.
Additional Description:
Both the Royal Charlotte and the Portia are in constant contact with each other, increasing their scope of fish finding capabilities. Both boats can be hired for competitions and corporate events, and scattering of ashes.
The price is £45 per person and this includes rods and tackle, this is for a full day charter (8hrs). The whole boat can be hired for £360 upto 8 people, and £45pp upto 12.
The vessel can also be hired for safety boat duties, it has a in date Safety Management System in place and is an approved safety boat for Dover Harbour. We have also completed recent survey contracts for Eurotunnel using multi-beam sonar and tow fish units, the vessel is very manoeuvrable and can run at low speeds maintaining a steady course. Also available for film work, recent projects include work for the BBC, Sky News and channel 4.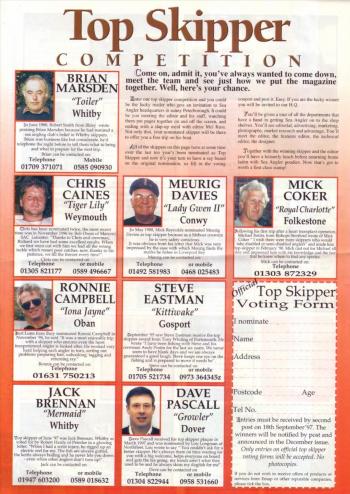 About the Skipper:
Mick has fished the english channel taking charter trips since he was 15 years old. His father Jim Coker was well known as a charter skipper and Mick comissioned his own boat to be built at the age of 21. The Royal Charlotte, skippered by Mick, became renowned for its big catches, and was the only boat to set the port record at folkestone, many times, with his latest set at 4462 lb of cod and pollock in 5hrs (404 cod and 40 pollock). He has been nominated for Sea Angler 'Top Skipper' and Boat Angler 'Super Skipper' awards and the boat has been presented a plaque by Sea Angler Magazine "In recognition of running a first class charter boat that gives both service and value for money to our readers"
Reviews
Summary:





Reviews Unaccepted: 1
james bateman (18/04/2012)

Have fished with Mick for years, nearly always catch a good weight of fish, he goes out further at no extra cost, he knows the grounds so well and a fool would ignore his tackle advice this bloke really knows how to catch fish, if he's booked up his son Matt has a boat too. highly recommend them.
Latest Catches 120 photos uploaded