Charter Boat: San Gina II
Boat and Skipper Details
Licensed For:
up to 10 passengers
Tackle Available:
Yes - Contact Skipper
Bait Available:
Yes - Contact Skipper
Facilities:
Refreshments, toilets, fish finder, radio.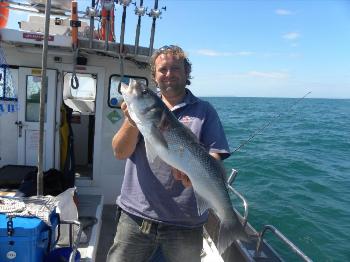 About the Skipper:
San Gina II is skippered by Tom Greasty. I've been fishing from the age of five, starting with coarse fishing and then sea fishing. At thirteen I started working aboard San Gina as crew and back then the boat was skippered by Gerry Randle. He had the boat built specially and knew a thing or two about fishing and the local area. I bought the boat in 1999 when Gerry finally retired (I think he was nearly eighty), then became the skipper of the boat at eighteen. Later in 2006 I bought San Gina II. I am also a volunteer lifeboat crew at Swanage and have been for over ten years .
Upcoming Individual Spaces on San Gina II
Reviews
Summary:





Bob Edwards (12/05/2016)

brilliant fishing with DOLPHINS.
Latest Catches 70 photos uploaded