Charter Boat: Sea Otter 2
Boat and Skipper Details
Licensed For:
up to 10 passengers
Type of Fishing:
wreck fishing, reef fishing, uptiding, shading, bait fishing and jigging.
Tackle Available:
Yes - Contact Skipper
Bait Available:
Yes - Contact Skipper
Additional Description:
Sea-Otter 2 wins the Whitby Sea Anglers Uptiding Festival 2018 with Andy winning £1000 and also takes the 1st 3rd and 4th heaviest cod in the cod top 10 another great festival the consistent Sea-Otter 2.

Sea- Otter 2 once again was the winner in 2016 of Whitby Charter Skippers Grand Summer Festival with the winning angler winning £5000 in cash thats 4 x £5000. wins in the last 7 years in this competition on so if its that big one your after its got to be Sea-Otter 2 Whitbys number one charter boat a lochin 33 and is sponsored by PURE FISHING WHICH IS PENN ,SHACKESPEARE,ABU , BERKLEY Sea Otter 2 has all the leading technology available you can get on a charterboat plus she has a 500hp cummins engine giveing 20 knotts plus catch rates on this vessel are second to non.

Catch rates on this boat are renowned sea-otter 2 was the winner of the whitby charter skippers grand summer festivals in 2009 and 2010 and 2014 and 2016 each winning angler won a massive £5000 each this boat has won more festivals in whitby the last 10 years than any other charterboat in the fleet.

Whitby charter skippers hold three festivals starting in april with a top prize of £1000 for the heaviset fish plus £100 per day in daily prizes- dates-sat 2nd april-17th inclusive then grand summer festival £5000 to the winner with the heaviest fish in the competition there is over £10,000 in cash in this compettion plus many tackle prizes dates--sat 18th june--10th july inclusive then the late summer festival sat 10th september--septemebr 25th inclusive £1000 for the heaviest fish during the competition plus £100 in daily prizes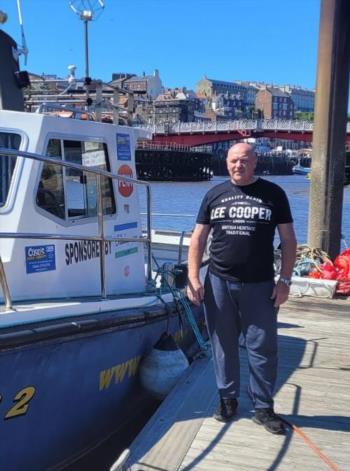 About the Skipper:
I been a charter boat skipper in Whitby from 1980 to the present day. Born and bred in Whitby, with over 30 years experience of taking fishing trips from Whitby i take my job seriously plus i am a serious angler as well which gives the guys a massive plus on tactics to use on the day to give you the best results sea -otter 2 is a very well booked charterboat as you can see by the diary people come back on sea-otter 2 time and time again.

Boat Fishing at Whitby is my passion there is some top fishing to be had from Whitby - probably better than anywhere else in the UK". So if its a great days boat fishing from the countries premier port then Sea Otter 2 is your best chance the cod fishing here at whitby is probably the best in country we have cod here 12 months of year with miles upon miles of reefs plus 100s of wrecks to target this is an aray for cod,pollock and ling fishing, through summer haddock can be caught if you request a haddock trip that is the fish we will target on the day over the last few years halibut seemed to have increased in numbers at whitby with quit a few being caught around the 50lb mark look down at the latest pictures and there is halibut of 53lb which was caught in april 2014 by Barry Kemper from hull another belting fish caught on sea-otter 2.

This Charter has been listed as Suitable for Diving Trips. Contact the Skipper for full details.
This Charter has been listed as Wheelchair Accessible. Contact the Skipper for full details.
Upcoming Individual Spaces on Sea Otter 2
Reviews
Summary:





Tony Perkins (06/11/2017)

Would just say brilliant,good day out,(except for seals),Good fishing,great skipper,and joke from John the crew,great experience, 4th time on the boat this year,and learnt a lot.cant wait until the next time,so if you want a good days fishing,join the sea otter 2 crew.Tony from bury,manchester

stephen gillespie (01/07/2017)

Another belting trip on Sea Otter my friend les I fish with couldn't make it so was on my own but I'm a regular so it wasn't long till I was have a laugh with the boy . First day of the festival and it was a bad forcast for the morning but good late morning and rest of the day so off we went I was OK first hour and a half then the dreaded Sea sickness after a couple of heaves I was OK but drained and sat down . I'd been down 20 mins then Paul was stood at my side saying " come on Steve lad " he baited my hook and lobbed it in and handed me the rod straight away fish on he just has the magic touch I fished out the rest of the day and manged a nice bag of fillets . Thanks again to Paul and John deck hand for all your help much appreciated.

arthur bulmer (14/11/2015)

forgot to mention, wei guessthere was over 150lb of fish that day,some one had a 11lb pluss cod,great day

arthur bulmer (14/11/2015)

fantastic skipper,i learned a lot,lots of fish on the day,some double figures,i will be booking soon,thanks paul.

stephen gillespie (26/07/2015)

what a day we had the weather wasn't great and we set of late as we had to wait on 6 lads who never showed up in the end paul took us out to a nice bit of ground and straight away we where in to fish on the shad one every dop at the start as the tide slowed we had a move to a wreck to see if we could get some on the bait until the tide started to move again fish again . After lunch we had a move again and even more fish on the shad Paul always trys to get us on the fish . I put on some feathers for a load of mackerel for the smoker they'll keep me going till xmas .We all agreed we had enough fish and with the weather getting worse in we went with a right box full it took long enough fillet and dave gave us a hand at the end one of the best days we've had for ages thanks again Paul 110% for the skipper

Skippers Reponse: Cheers steve you and les and mike had some real quality cod a lot more to come mate.
Latest Catches 41 photos uploaded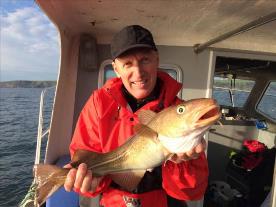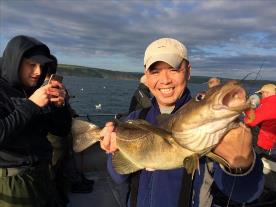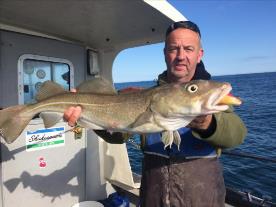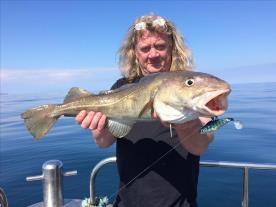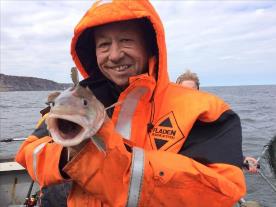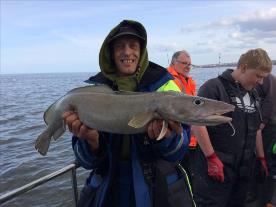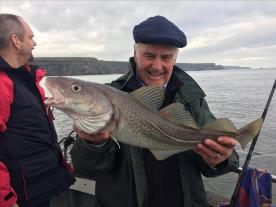 Latest Fishing Reports and News
25/06/2019

Fishing Report by Paul Kilpatrick

25 Jun 2019 by Paul Kilpatrick

The £5000 1st prize WCSA summer festival is now well underway we have won the last 2 daily 1st prizes some spaces left next week if you want that chance to snatch the £5000 sea-Otter 2 got the biggest cod and biggest ling in last years competition.

Tel 07748705695 .

18/06/2019

Fishing Report by Paul Kilpatrick

18 Jun 2019 by Paul Kilpatrick

The weather being kind at the moment and the cod fishing on Sea-Otter 2 has been good lures and squid have been fishing well the lads onboard yesterday had a great time a lot more to come .


The £5000 1st prize WCSA grand summer festival starts Saturday and runs for 3 weeks still some spaces available if you want your chance to scoop the £5000 cash prize Sea-Otter 2 record in this competition is second to non .

Paul



09/06/2019

Fishing Report by Paul Kilpatrick

9 Jun 2019 by Paul Kilpatrick

If it's cod your after look no further than Sea-Otter 2 our catch rates are second to non nick ball on photo has had 2 belting trips over the last week catching around 40 cod himself shads and squid smashing it plenty more to come .

05/06/2019

Fishing Report by Paul Kilpatrick

5 Jun 2019 by Paul Kilpatrick

The lads smashed it yesterday on Sea-Otter 2 a cracking day on the cod non stop action on the shads water clearing out it's alive out there .

29/05/2019

Fishing Report by Paul Kilpatrick

29 May 2019 by Paul Kilpatrick

The lads have been getting right amount the cod on Sea-Otter 2 shads are now smashing it some excellent fishing in now in prospect give me a bell on 07748705695 .

Paul in photo had a hell of a day a lot more to come .