Charter Boat: She Likes It II
Boat and Skipper Details
Licensed For:
up to 10 passengers
Code Of Practice:
Cat. 2 60miles
Hours:
4hr / 8hr / 9hr / 10hr / Multiple Days Trips
Type of Fishing:
All year round Ground, Reef, and Wreck .
Tackle Available:
Yes - Contact Skipper
Bait Available:
Yes - Contact Skipper
Boat Specification:
Offshore 105, Full inventory of safety equipment and electronics. It' s 500HP engine gives a cruising speed of 14 - 17Knots with a maximum of 23 knots.
Facilities:
Toilet Free Tea & Coffee + Oven to warm your food.
Additional Description:
Visit my Website -- AVAILABILITY CALENDAR --

DAIWA 2014 BRIGHTON POLLACK COMPETITION. Winning Charter Boat
W.S.F. 2013 BRIGHTON PLAICE FISHING COMPETITION. Winning Charter Boat

GIFT VOUCHERS Available from £10
LOYALTY CARD --- Do 10 trips and the 11th is FREE

**** FREE PARKING NEXT TO BOAT****
She Likes It II is licensed for a Maximum 10 anglers or passengers.
4 hour fishing trips require a party to charter the boat.
Lots of dates available for individual anglers
and of course whole boat charters.

She Likes It II is moored in Shoreham Harbour. Which is only a few minutes away from Brighton Town Centre

Free Parking next to the boat at,
Hove Enterprise Centre,
Basin Road North BN41 1UY
Boat alongside.

I can supply AMMO frozen baits if required.
I do require notice to put an order in to the tackle shop for live bait.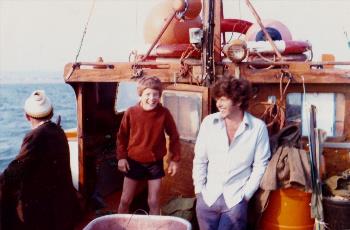 About the Skipper:
Charter Boat Member of the Angling Trust
Full time skipper

Hi my name is Mark.

I have fished along the South Coast for as long as I can remember.

She Likes It II can be chartered as a whole boat, for small groups or as individual places. Catering for experienced anglers or novices. Tuition / Advice is freely given.
Fishing tackle can be hired.

I get a lot pleasure seeing you enjoy yourselves and catching fish.

I love fishing and boating and enjoy providing a high quality and flexible service to my customers. I will always do my best to put you on the fish and I am always prepared to move to another location if we are not catching.
ONLY IF THERE IS A SPACE, I WILL BE FISHING AS WELL.

W.S.F. 2013 BRIGHTON PLAICE FISHING COMPETITION. Winning Charter Boat
DAIWA 2014 BRIGHTON POLLACK COMPETITION. Winning Charter Boat

To view my latest pictures, I now post my photos to my FaceBook Page -- Sussex Fishing

https://www.facebook.com/pages/Sussex-Fishing/343280089032835?ref=hl

Free tea and coffee is on offer as well. (You might need to remind me to put the kettle on if I am fishing)
This Charter has been listed as Suitable for Diving Trips. Contact the Skipper for full details.
Sunday
Monday
Tuesday
Wednesday
Thursday
Friday
Saturday

Color for Fully Booked

Fully Booked

Color for Partially Booked

Partially Booked

Color for Available

Available

Color for Not Available

Not Available

Color for Unspecified

Unspecified

N.B. Not all Skippers keep this dairy up-to-date. Always check with skippers before making any plans. Last calendar update: 20-Jun-2018

Fri 1st Jun Boat booked

Sat 2nd Jun
Sun 3rd Jun

Boat booked

Mon 4th Jun
Tue 5th Jun
Wed 6th Jun
Thu 7th Jun
Fri 8th Jun

Boat booked

Sat 9th Jun

Wreck fishing

Sun 10th Jun

Black Bream fishing at the Kingmere Reef

Mon 11th Jun
Tue 12th Jun
Wed 13th Jun
Thu 14th Jun
Fri 15th Jun

Bream Fishing

Sat 16th Jun

Boat Booked

Sun 17th Jun
Mon 18th Jun
Tue 19th Jun
Wed 20th Jun
Thu 21st Jun
Fri 22nd Jun

Ground / Bream fishing.

Sat 23rd Jun

Wreck fishing

Sun 24th Jun

Wreck fishing

Mon 25th Jun
Tue 26th Jun
Wed 27th Jun
Thu 28th Jun
Fri 29th Jun

Wrecking 07754 324270

Sat 30th Jun

Wreck fishing
Reviews
Summary:





David Armes (26/08/2017)

... can say without any hesitation convenient location very knowledgeable skipper that tries his very best to make your day out at sea as enjoyable as possible. This is the real deal!!

Skippers Reponse: Hi David
Thank you very much for your feedback and encouragement.
Regards
Mark

David Armes (04/07/2017)

Fantastic day out. Barry really knows where the fish are and was a great captsin. I highly recommend.

David Armes (02/10/2016)

Wellcome back GR8 day out , bream , Plaice . dogfish rays ,mackerel Mark is one of the most professional, knowledgeable, helpful and willing skippers we have had the good fortune to sail with. Thanks to Marks efforts a disastrous trip was salvaged and a good days fishing was had by all on board. If you want a good days fishing Mark is the skipper I would choose every time. ( txt me when cod are in

Skippers Reponse: Thank you David. Really appreciate your comments

Paul Burgess (23/03/2015)

Two personal bests in one day! I have been fishing with Mark virtually every month for over a year now. Yesterday we went on the first live bait Bass fishing trip of the year. The first challenge is catching the bait, very small Pouting, but within an hour or so we had a bulging live well, great start Mark. Then the Bass, beat my PB twice with a 71/2 then an 11.0with a total boat catch of a dozen fine fish. Thanks Mark for a great day. Mark works hard all day to make everyone have a good day whatever level of experience and the perpetual tea and coffee supplies helps on a cold day.well done Mark, see you next month. Paul.

Neil Erridge (26/08/2014)

Beware !! Skipper cancelled the trip day before due to supposedly bad weather ,even though forecast was slight to moderate seas as i pointed out .this ruined my sons birthday and we ended up fishing from shoreham harbour wall. there was hardly a ripple on the sea ,even a kayak went out fishing. took a few calls to get deposit back, would not recommend !

Skippers Reponse: You said it yourself. Forecast SLIGHT to MODERATE. That is a forecast sea state of 1m + wave height. That would translate to F4-5 wind strength. Deposit refunded 30th Aug within 4 days of trip date.
Latest Catches 134 photos uploaded