Charter Boat: Silver Spray
Boat and Skipper Details
Licensed For:
up to 12 passengers
Code Of Practice:
60 miles Cat 2
Hours:
5hr / 8hr / 9hr / 10hr / 11hr / Multiple Days Trips
Type of Fishing:
Wreck, Bass, Shark, Banks, Reef, Channel Islands, Winter cod
Tackle Available:
Yes - Contact Skipper
Bait Available:
Yes - Contact Skipper
Boat Specification:
11 meter fibreglass Catamaran. 2 200 HP nanni engines - fast boat. wheelhouse seats 8
Facilities:
Kettle, microwave, fridge, refridgerated fish room, CD, GPS, radar, fishfinders, VHF
Additional Description:
Silver Spray is a modern motor catamaran offering angling charter trips from Poole, Dorset. Having a fast boat we can easily reach the mid channel wrecks and the channel islands. Operating from Poole the productive grounds off the Isle of Wight and Purbecks are within easy reach. While Poole Bay provides sheltered fishing opportunities. Have a safe, fun sports angling trip on Silver Spray, a purpose built angling catamaran leaving from Poole Quay. Join us for a trip to distant wrecks to catch cod, pollack, ling and congers. Drift the inshore banks for turbot, brill, bass and plaice. Enjoy hard running tope, rays, darting bream and much, much more. We encourage catch and release but also have facilities to keep fish for the table in prime condition. We offer angling charters and spaces for individuals.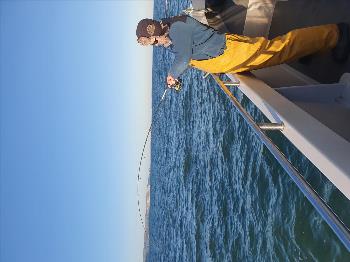 About the Skipper:
Sam Cumming spent his childhood fishing with Andy at home and abroad, when he was eight he was Wessex NFSA Junior Champion and the same year he landed a 26lb blonde ray. At 16 he decided he wanted a career in the fishing industry and applied and was accepted as an apprentice at the Whitby School of Sea Fishing. He completed his fishing apprenticeship on a trawler in some of the toughest waters in the world, the North Sea, and was awarded Apprentice of the Year in 2007. In 2008 Sam completed all the theoretical and practical training to gain his Yachtmasters certificate (RYA) and qualified to Skipper the Silver Spray. He has been skippering full time for over 9 years and has already made an impressive start to his charter career.
Sunday
Monday
Tuesday
Wednesday
Thursday
Friday
Saturday

Color for Fully Booked

Fully Booked

Color for Partially Booked

Partially Booked (Individual Spaces)

Color for Available

Available (Whole Boat)

Color for Not Available

Not Available

Color for Unspecified

Unspecified

N.B. Not all Skippers keep this dairy up-to-date. Always check with skippers before making any plans. Last calendar update: 13-Dec-2018

Sat 1st Dec More...

fully booked

Sun 2nd Dec More...

fully bbooked

Mon 3rd Dec More...

bad weather

Tue 4th Dec More...

bad weather

Wed 5th Dec More...

bad weather

Thu 6th Dec More...

bad weather

Fri 7th Dec More...

bad weather

Sat 8th Dec More...

bad weather

Sun 9th Dec More...

bad weather

Mon 10th Dec More...

bad weather

Tue 11th Dec More...
Wed 12th Dec More...

fully booked

Thu 13th Dec More...
Fri 14th Dec More...

winter cod - £55 7 spaces cod whiting bass squid etc

Sat 15th Dec More...

bad weather

Sun 16th Dec More...

winter cod - £55 7 spaces cod whiting bass squid etc

Mon 17th Dec More...

winter cod - £55 7 spaces cod whiting bass squid etc

Tue 18th Dec More...

Boat available for charter or four or more individual spaces for a variety of different trips please call 07787 375386

Wed 19th Dec More...

Midweek special - £45 10 spaces cod whiting bass squid etc

Thu 20th Dec More...

Boat available for charter or four or more individual spaces for a variety of different trips please call 07787 375386

Fri 21st Dec More...

winter cod - £55 10 spaces cod whiting bass squid etc

Sat 22nd Dec More...

winter cod - £55 9 spaces cod whiting bass squid etc

Sun 23rd Dec More...

winter cod - £55 9 spaces cod whiting bass squid etc

Mon 24th Dec More...

Merry Christmas

Tue 25th Dec More...

Merry Christmas

Wed 26th Dec More...

Merry Christmas

Thu 27th Dec More...

Midweek special - £45 6 spaces cod whiting bass squid etc

Fri 28th Dec More...

winter cod - £55 8 spaces cod whiting bass squid etc

Sat 29th Dec More...

winter cod - £55 9 spaces cod whiting bass squid etc

Sun 30th Dec More...

cod whiting bass rays congers etc - £55 7 spaces

Mon 31st Dec More...

Boat available for charter or four or more individual spaces for a variety of different trips please call 07787 375386
Upcoming Individual Spaces on Silver Spray
| | | | | | |
| --- | --- | --- | --- | --- | --- |
| Fri 14/12/2018 | 7 Spaces | | £55.00pp | winter cod - £55 7 spaces cod whiting bass squid etc | View details |
| Sun 16/12/2018 | 7 Spaces | | £55.00pp | winter cod - £55 7 spaces cod whiting bass squid etc | View details |
| Mon 17/12/2018 | 7 Spaces | | £55.00pp | winter cod - £55 7 spaces cod whiting bass squid etc | View details |
| Wed 19/12/2018 | | | | Midweek special - £45 10 spaces cod whiting bass squid etc | View details |
| Fri 21/12/2018 | | | | winter cod - £55 10 spaces cod whiting bass squid etc | View details |
| Sat 22/12/2018 | | | | winter cod - £55 9 spaces cod whiting bass squid etc | View details |
| Sun 23/12/2018 | | | | winter cod - £55 9 spaces cod whiting bass squid etc | View details |
| Thu 27/12/2018 | | | | Midweek special - £45 6 spaces cod whiting bass squid etc | View details |
| Fri 28/12/2018 | | | | winter cod - £55 8 spaces cod whiting bass squid etc | View details |
| Sat 29/12/2018 | | | | winter cod - £55 9 spaces cod whiting bass squid etc | View details |
| Sun 30/12/2018 | | | | cod whiting bass rays congers etc - £55 7 spaces | View details |
| Fri 04/01/2019 | | | | half day cod and whiting half a day spurs and rays - £55 10 spaces | View details |
| Sat 05/01/2019 | | | | half day cod and whiting half a day spurs and rays - £55 10 spaces | View details |
| Wed 09/01/2019 | | | | cod and whiting - £45 10 spaces | View details |
| Fri 11/01/2019 | | | | half day cod and whiting half a day spurs and rays - £55 10 spaces | View details |
| Sat 12/01/2019 | 7 Spaces | 9 Hours | £55.00pp | spurs rays and whiting - £55 7 spaces | View details |
| Sun 13/01/2019 | | | | half day cod and whiting half a day spurs and rays - £55 10 spaces | View details |
| Tue 15/01/2019 | | | | spur dogs and blonde rays - £55 10 spaces | View details |
| Wed 16/01/2019 | | | | spur dogs and blonde rays - £55 10 spaces | View details |
| Fri 18/01/2019 | | | | half day cod and whiting half a day spurs and rays - £55 10 spaces | View details |
View more availability on the Full Calendar
Latest Catches 491 photos uploaded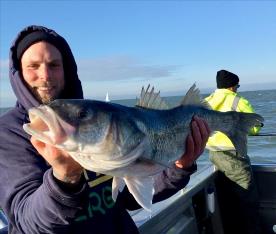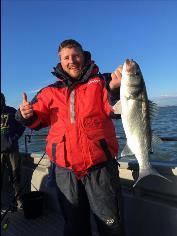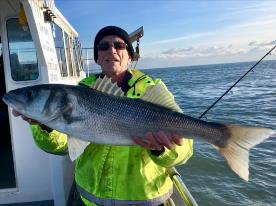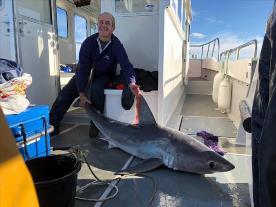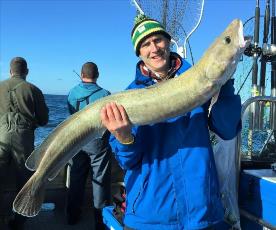 Phil
20 lb Ling (Common)
19-Oct-2018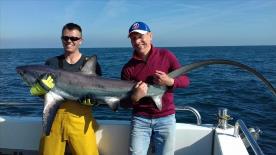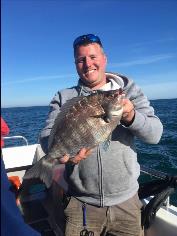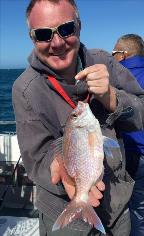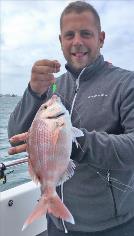 Jed
2 lb Couch's Sea Bream
Sep-2018
Latest Fishing Reports
11/2018

Fishing Report by Sam Cumming

Nov 2018 by Sam Cumming

Although the weather has limited the amount of trips we have done over the last month we have managed a good variety when given the opportunity. All the excitement from last month's shark trips encouraged us to have another go which proved very fruitful. Tony Lees boated is first porbeagle shark weighing around 200lb, the fish fought for an hour and a half and as usual was returned unharmed to terrorize the bream for another day. We figured we had had our luck for the day until 1415 when we started to catch a few small mackerel on feathers by the surface. Within five minutes of putting one of these tiny things on for bait we had our second run. After getting all our other gear out of the water it became clear just what we had hooked into as an enormous thresher jumped clean out of the water 100m behind the boat. After a couple more jumps, one of which we caught on camera and you can see on our Facebook page, and 3 more hours we managed to get the boat alongside the fish as it swam along at 6 knots and touch the trace to confirm the catch. It's tough to estimate the size of a creature like that as it's the biggest thing I have ever seen on rod and line by a long way. The anglers and I all agreed it must have been between 500 and 600lb. What a monster. Also on our last shark trip Karston Murray landed not one but two Atlantic bonito at the same time on feathers whilst fishing for bait. A first for us on Silver Spray. Elsewhere the bream fishing on the offshore wrecks seems to be getting better and better with just a short session over slack producing a good 50+ fish to 4lb. Inshore the winter fishing has begun with the first cod and whiting hitting the deck along with some early season spurdogs as well. Although the weather hasn't been great for them we have managed a couple of goes for the squid with some success as well. Over the next couple of weeks we shall just be inshore focusing on the cod and also some drifting for bass.
Sam Cumming
Silver Spray Charters


09/2018

Fishing Report by Sam Cumming

Sep 2018 by Sam Cumming

We have just got back from our last Alderney trip of the year, crossing into Poole harbour safely just a few hours before storm Ali batters the south coast. Strong south westerly winds kept us in sheltered waters to the north of the island for 3 days. The main target species was couch's sea bream which every angler on the boat managed catch, Jed leaving his until the last minute just as we hauled the anchor up to come home. A surprise catch came in the form of our first and second ever trigger fish landed around the Channel Islands. Andy Armitage's fish weighed 4lb and was quickly released as it looked to be a female in season. Fishing at anchor mid channel has also been fruitful with plenty of black bream tope and congers on the wrecks. We are seeing an abundance of porbeagle sharks just like last year, although they are proving tough to hook on the correct tackle usually favouring hooks meant for bream. In Poole bay plaice fishing has been brilliant of late with fish averaging around the 2lb mark and all the way up to 4lb. I've noticed it has been worth sitting it out as they can sometimes be a bit picky about when they come on the feed, sometimes changing from one day to the next. Elsewhere at anchor the ray fishing has been good also with good numbers of small eyed and undulates about. We are even seeing turbot and brill at anchor regularly which is never a bad thing. It's well worth bringing frozen mackerel from now on as the they are becoming unreliable to find for bait. We have spaces in the first week of October to target porbeagle sharks as we are going 5 days on the trot in an effort to keep track of them. Call on 07787 375386 to get booked up.

Silver Spray II



07/2018

Fishing Report by Sam Cumming

Jul 2018 by Sam Cumming

What a difference it makes having a summer for a change? Flat calm mornings and just a slight sea breeze in the afternoon have been the conditions of recent weeks and it has led to no cancelled trips at all. Its amazing how much wildlife you see with a sustained period of good weather like this, thresher sharks jumping out of the water, pods of dolphins showing off their best tricks and sunfish splashing around on the surface to name but a few. With the smaller tides we have mostly been fishing long distance from Poole either wreck fishing or multi day trips. Notable fish include Barry Gollop's 19lb 4oz Pollock which took a mackerel flapper at anchor, the biggest I've seen since 2012. We managed 3 John dory's in a week with the biggest going to Steve Lysaght at 5lb 8oz, interestingly enough the first one we caught and Steve's fish were 76 miles apart in total, quite some distance covered. Skipper Sam managed to break our own coalfish record for the second time this year fishing on a 100 gram slow jigging rod for Pollock. The fish weighed in at 16lb and gave an epic scrap on the lighter tackle. Closer to home the inshore fishing has been brilliant with plenty of mackerel around for fresh bait. The quality of the tope fishing has been outstanding with fishing averaging about 20lb and up to 45lb. We have some big fish days coming up next week if anyone is interested in getting stuck in. On the bigger tides of this last weekend we had some fun on the bass, although disappointed not to be able to keep a couple for the table we managed plenty of good fish for the sport of it, Kevin Griffiths equalled his PB with a nice 8lb 8oz fish. Using circle and weedless hooks we minimised damage to the fish to zero with all fish swimming off strongly for another year. Looking forward to the plaice fishing picking up next month and some more sessions on the tope, it won't be long before we are also targeting the porbeagle sharks which are showing in abundance in other parts of the country.
Sam Cumming
Silver Spray Charters


05/2018

Fishing Report by Sam Cumming

May 2018 by Sam Cumming

I hope everyone is making the most of all this decent weather we have been getting lately, after a winter as hard as that it's like living in the tropics at the moment. Bream fishing has continued as it started off in last month's report. We are finding good numbers, several days managing over 100 fish. Although the size hasn't quite been as good as the last few years I'm sure the bigger ones will arrive shortly, on light spinning gear they are all good fun to catch regardless. With increased demand on inshore trips we have only done a few trips out into the channel on the wrecks, still a bit on the quiet side but now producing more cod than Pollock so it's heading in the right direction. We managed our first trip over to Alderney of the season but unfortunately it was the week before bank holiday and the weather was testing at best. Well done and many thanks to the guys who came with us and managed a safe and fun trip in far from perfect conditions. Fishing on the banks was good with brill and turbot both in good numbers and plenty of bait to be had on the feathers. One of the highlights of the month has been some quality plaice fishing which we have fitted in on our bream days. Fish up to 4lb have been hitting the net which is always welcome. Hoping for more good weather over the coming months as our offshore stuff picks up more. Thanks to everyone for fishing with us on Silver Spray and out of Poole over the last month.
Sam Cumming
Silver Spray II


04/2018

Fishing Report by Sam Cumming

Apr 2018 by Sam Cumming

I hope everyone is enjoying the hot weather over the last week r so, long may it continue. Spring/ summer fishing is properly underway now. Inshore we have had the first black bream of the year, more should arrive on the next spring the first weekend in May and then some bigger ones shortly after. On the drift we are getting some cracking early season plaice as they start to feed after they have finished spawning. Tim Davies has the biggest so far at a whopping 4lb 8oz. Turbot and brill have mostly been on the small side so far but Phil Folkes did manage our first double of the year at 11lb just to prove the bigger ones are down there. Out on the wrecks the big Pollock are still plentiful although we shall shortly stop winding the lures and start bouncing to target the summer cod. In the last week we have seen 3 decent sized john dorys which is always a welcome bonus. You don't always see 3 in one year let alone 3 so close together. The biggest went to Russ Orchard at 5lb 9oz. Evening trips start at the beginning of May to target the bream and plaice.
Sam Cumming
Silver Spray II