Charter Boat: Snapper
Boat and Skipper Details
Licensed For:
up to 12 passengers
Hours:
2hr / 3hr / 4hr / 8hr / 9hr / 10hr / 12hr / Multiple Days Trips
Type of Fishing:
Bank wreck reef shark and Channel Islands
Tackle Available:
Yes - Contact Skipper
Bait Available:
Yes - Contact Skipper
Boat Specification:
33 foot Blyth catamaran
Facilities:
all the mod cons
Additional Description:
Snapper, a 33 foot Blyth catamaran is a top-notch charter boat. With a beam of 16 feet, she has one of the biggest deck spaces in Weymouth harbor, offering the angler plenty of room to maneuver. Powered by twin 8L doosan turbo diesel engines she is both fast and stable, reducing travelling time enabling you to get fishing quicker!

Following an extensive refit over the winter months, Snapper boasts all of the usual facilities and more. She is equipped with the latest GPS and fish finding equipment, plenty of indoor and outdoor seating, a toilet and as much tea and coffee as you can handle.

Our aim aboard Snapper is to put you on the fish. Whilst we cannot guarantee you a British record, you can expect a good laugh, a fantastic day out and a few fish for the table.

Nothing is too much trouble aboard Snapper. If you have no gear it's no problem, there is a large selection available for you to use. We cater to all abilities of anglers, with trips suited to anyone wanting to give fishing a go. There are 8-10 hour inshore and wrecking trips, as well as half day and evening trips – perfect for families or introducing children to the sport. We also run 3-5 day trips to Alderney and the Channel Islands, an ideal lads holiday!

Snapper is not restricted to fishing trips, she is also available to charter for survey, cargo and workboat duties.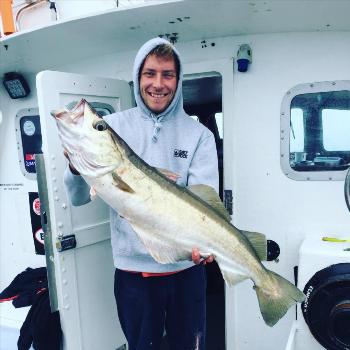 About the Skipper:
Luke has been fishing the waters around Weymouth and Portland since the tender age of 6 aboard the family boat and since the age of 14 he's been helping out Clem carter onboard wild-frontier at week ends and school holidays since leaving school he has continued with Clem aboard wild-frontier slowing gathering up his tickets and experience to become a skipper him self, when the opportunity came up to buy his own boat he managed to load the money and snap up snapper!! Now he just needs some people to take fishing !!

He has experience in commercial bass fishing after working the last couple of winters onboard a local boat he has also worked on survey vessels
This Charter has been listed as Suitable for Diving Trips. Contact the Skipper for full details.
This Charter has been listed as Wheelchair Accessible. Contact the Skipper for full details.
Sunday
Monday
Tuesday
Wednesday
Thursday
Friday
Saturday

Color for Fully Booked

Fully Booked

Color for Partially Booked

Partially Booked

Color for Available

Available

Color for Not Available

Not Available

Color for Unspecified

Unspecified

N.B. Not all Skippers keep this dairy up-to-date. Always check with skippers before making any plans. Last calendar update: 24-Jan-2018

Thu 1st Feb
Fri 2nd Feb
Sat 3rd Feb
Sun 4th Feb

wrecking

Mon 5th Feb
Tue 6th Feb
Wed 7th Feb
Thu 8th Feb
Fri 9th Feb
Sat 10th Feb
Sun 11th Feb
Mon 12th Feb
Tue 13th Feb
Wed 14th Feb
Thu 15th Feb
Fri 16th Feb
Sat 17th Feb
Sun 18th Feb
Mon 19th Feb
Tue 20th Feb
Wed 21st Feb
Thu 22nd Feb
Fri 23rd Feb
Sat 24th Feb
Sun 25th Feb
Mon 26th Feb
Tue 27th Feb
Wed 28th Feb
Reviews
Summary:





Annie Mitchell (05/08/2016)

A lovely evening fishing on Snapper out of Weymouth harbour. Thank you Luke Pettis so much for a brilliant trip. Some lovely memories created that evening. Highly recommended and we'll definitely come out again the next time we are down South.
Latest Catches 18 photos uploaded
Unknown
6 lb 1 oz Ballan Wrasse
3-Dec-2017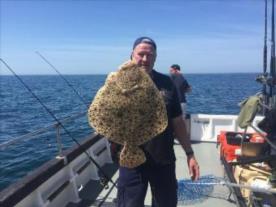 rob
30 lb 2 oz Blonde Ray
May-2017
T-shirt
18 lb 4 oz Ling (Common)
30-Aug-2016