Charter Boat: TROT- ON
Licensed For:
up to 12 passengers
Type of Fishing:
wreck and reef
Tackle Available:
Yes - Contact Skipper
Boat Specification:
fast offshore 105 lots of deck space
Additional Description:
Whitby's first Trot-on the pro charter 400 hp – 25 knots, Get out to the action fast, Big deck space for comfortable fishing, Meets all health and safety recommendations, Fishing all year round the seasoned Whitby skipper Paul Eddon brings the WCSA fleet and Whitby bang up to date in the charter angling world





you could not ask for a better skipper/boat/or port to fish from this year give Paul a ring or visit web site you will not be disappointed http://www.trotoncharters.co.uk/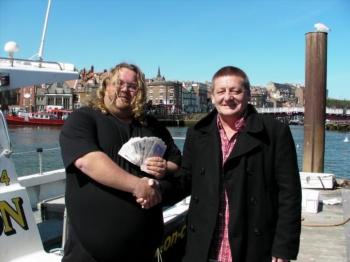 About the Skipper:
Paul Eddon is renowned with the anglers who know the score top results 100% effort
Whitby port Halibut record holder caught 2011 (view from the video from the links)
he has been Fishing from Whitby all his life born and bred in town Paul knows all there is to know about fishing from Whitby look at his festival results outstanding firstly with his old boat Heather-of-burnham and his success continued with the faster offshore 105 and now onwards with Whitbys first charter catamaran give Paul a call he always gives 100% just ask the regular Whitby anglers
This Charter has been listed as Wheelchair Accessible. Contact the Skipper for full details.
This Charter has been listed as Suitable for Diving Trips. Contact the Skipper for full details.
Catch Stats
CBUK Catch Log: 1 Species has been caught onboard TROT- ON, including: Cod
Latest Fishing Reports
10/05/2017

Fishing Report by Carl Farrar on TROT- ON

(Whitby, North Yorkshire)

10 May 2017 by Carl Farrar

Sorry for the late report but here goes, Wednesday the 10th of May found us at sea on probably the best day of the year so far at Whitby. The North East's premier cod spot. With flat calm seas and the sun on our backs the fishing was not quite fast and furious but steady. With the water clearing day by day we are hopefull for another good year. We steamed off to the 18 mile mark to try some wrecks. With a great bunch of anglers aboard the steam out passed very quickly. Arriving at Paul " Dolly" Eddons first wreck we were into coddling to about 5lb they were being taken on Shads, Bait and Hookki's. Along with Pollack, Ling, Whiting, Pouting and Haddock. As I was retriving a small coddling of about 3lb we had a Porbeagle shark of approx 6 - 7 feet long follow the coddling from the depths. He actually breached on the stern but nobody had a camera available to catch the breach. with that he sank back down to the depths. This created quite a buzz aboard. Trot On regular and Ex - W.C.S.A Spring festival winner Dave Makings was bringing a Haddock to the surface and this was also followed by our " New Friend" who wanted to investigate the struggling fish. This time we were ALL better prepared for a photo call. The rods went down and the camera's were out to catch some fantastic pictures. (Unfortunately I can only upload 1 pic to the report but a full report with Pics and video can be found on our FB site) . We tried a few more wrecks with similar catch results before a turn of tide quietend the fishing off. Which came just about the time to wind in and call it a day. All in all a great day to be at sea with Good company, Great Skipper, A varied selection of fish, On Whitby's Premier charter boat "Trot On"


08/2016

Fishing Report by Perry Franklin on TROT- ON

(Whitby, North Yorkshire)

Aug 2016 by Perry Franklin

Hi all, well the month of August out of whitby has been stop start mainly due to weather, when we have managed to get out fishing yet again TROT-ON has been one of the best catching boats in whitbys charter fleet
Double figure cod and double figure ling have fallen to men fishing aboard TROT-ON with the fish falling to sheds, bait and "fast drop jiggers" should never be overlooked fishing out of whitby to grab yourself a place in the autumn festival which starts on the 3rd of September and runs for two weeks book now to avoid dissapointment

23/07/2016

Fishing Report by Carl Farrar on TROT- ON

(Whitby, North Yorkshire)

23 Jul 2016 by Carl Farrar

Saturday saw us joined by the boys from Hull, Due to the big tides fishing was going to be hard work, However the boys were in good spirits with plenty of banter. We started off fishing for Mackerel as fresh bait was going to be order of the day. After finding the bait we moved onto the first wreck where the fish were coming a few each drift. Skipper Paul "Dolly" Eddon decided to move to find better fishing for the lads we tried 7 or 8 wrecks with only a picking of fish showing off each one so a move to the ground was in order. The boys did better at the turn of tide with coddling, Pollack, Pouting, Whiting and Ling to 7lb all being caught. The boys enjoyed it so much they re-booked for a trip in September in the W.C.S.A late summer festival where Trot On has an enviable record of finding the £1000 BIG FISH. Great to meet you boys and see you in September

13/07/2016

Fishing Report by Carl Farrar on TROT- ON

(Whitby, North Yorkshire)

13 Jul 2016 by Carl Farrar

Tuesday saw us joined by Trot On regular Big Andy Pendlebury from Goole fishing in the W.C.S.A summer festival.
Due to looking for the "Festival winning fish" Fresh Bait was the order of the day. We first started of looking for the Mackerel as we were going to need plenty of bait .

Paul "Dolly" Eddon was the man to find them. Out on the 3 mile mark we had a manic 15 mins and must have had over 10st aboard. Arriving at our 1st wreck just in time for Slack water everyone was on fresh mackerel flappers trying to tempt a big Ling. We did manage coddling and Ling to 10lb but no "monster crocs" as the tide started running. Dolly suggested Big Andy try a jigger / baited Jigger. Always one to take the skippers advice Andy swapped from bait to baited jigger. On the 2nd jig he connected to a very nice cod of 15lb 6.5 oz which took the daily festival win. Well done on the win Andy and Sound advice from Top Whitby skipper Paul Eddon

03/07/2016

Fishing Report by Carl Farrar on TROT- ON

(Whitby, North Yorkshire)

3 Jul 2016 by Carl Farrar

Sunday saw us joined by a mix of anglers hoping to be in with a chance of winning the W.C.S.A summer festival and the £5000 1st place prize. Fishing was hard today due to the big tides and a stiff breeze in the aftetnoon did not help. However Martin from E. Yorks managed to tempt a Ling of over 10lb to win the daily prize of £50 we had a varied selection of fish with Cod, Ling, Whiting, Pollack, Coalies and Pouting as well as the odd few mackerel which are starting to show up. Fish were falling to Shads, Bait and hokki"s
View All Fishing Reports
Edit this boat listing
Availability
MAY - 2017

| Su | Mo | Tu | We | Th | Fr | Sa |
| --- | --- | --- | --- | --- | --- | --- |
| 30 | 1 | 2 | 3 | 4 | 5 | 6 |
| 7 | 8 | 9 | 10 | 11 | 12 | 13 |
| 14 | 15 | 16 | 17 | 18 | 19 | 20 |
| 21 | 22 | 23 | 24 | 25 | 26 | 27 |
| 28 | 29 | 30 | 31 | 1 | 2 | 3 |
Color for Fully Booked

Fully Booked

Color for Partially Booked

Partially Booked

Color for Available

Available

Color for Not Available

Not Available

Color for Unspecified

Unspecified
N.B. Not all Skippers keep this diary up-to-date. Always check with skippers before making any plans. Last calendar update: 27-May-2017
Reviews
Summary:





Carl Farrar (30/08/2015)

Trot On was please to welcome England boat fishing team manager Neil Bryant aboard today, We had a 2hr steam to Dolly's chosen wreck and from the shads hitting the bottom ALL the rods were into fish, All cod in the 4lb-8lb bracket. This continued for every drop. We managed to fill 3x 8st boxes in 90 mins. When the lads were happy with the amount to take home the remaining fish were sent back for another day. We must have returned at least double what we kept. Neil was showing the range of telescopic he had designed and althugh not a fan of telescopic rods these were FANTASTIC handling the fish with no problem. We also had an Ice fishing rod aboard which everyone wanted a go with. I dropped a set of hokki's down and was rewarded with a treble shot of cod around 5lb each. (I will try upload some pics of the day) Once again Paul Eddon proved he is one of the best charter skippers Yorkshire has to offer. If you fancy a day out give him a call on 07766995847

Carl Farrar (07/08/2015)

Cracking day aboard Trot On. With some of the regular anglers aboard the craic was top drawer. Plenty of fish falling to squid and squid/mackeral bait with the best cod going just over 15lb perfect days fishing. Great weather, Calm sea, Good craic, Plenty of fish. Life does not get any better Can't wait for the next trip!

kristian giroto (01/08/2015)

Managed to get fish on a not very good day, I'm well pleased and would recommend.

Carl Farrar (29/05/2015)

Fantastic day aboard Trot On with Paul Eddon, Over 40 keepers and dozens of throw backs. If your fishing out of Whitby Trot On Charter is the only boat to use

Mark Farrall (04/08/2014)

Top day out with a top skipper. On the fish all day, with lots of sound advice and tips from Paul who grafted all day, moving to keep us on the fish and make the trip a great day out for all. Lots of cod and ling to take home . He's very handy with a filleting knife too.
View All Reviews
Add A Review