Charter Boat: Wave Dancer
Availability Calendar
43 Reviews

Reviews Unaccepted: 1
Boat and Skipper Details
Licensed For:
up to 10 passengers
Code Of Practice:
60 mile Cat 2
Hours:
4hr / 8hr / 10hr / Multiple Days Trips
Type of Fishing:
General fishing, Cod, Whiting, Thornback Rays, Bull Huss, Dabs, Mackerel and summer wreck fishing.
Bait Available:
Yes - Contact Skipper
Boat Specification:
Twin Engine Aquastar 33
Facilities:
Electric flushing toilet, microwave, tea and coffee.
Additional Description:


Wave Dancer is a family run boat having just had extensive re-fit by the previous owner. We run from Liverpool Marina covering the Liverpool Bay Area. Summertime fishing the North Wales Coast and to the off shore wrecks. Wave Dancer is a twin engined vessel.
Please note we also do ashes scattering in the river or out at sea.
About the Skipper:
The skipper is Karl Ward and he has been fishing the Liverpool Area for a number of years. He has over 35 years experience at sea, working on fishing vessels, trawlers and survey vessels.
This Charter has been listed as Suitable for Diving Trips. Contact the Skipper for full details.
Sunday
Monday
Tuesday
Wednesday
Thursday
Friday
Saturday

Color for Fully Booked

Fully Booked

Color for Partially Booked

Partially Booked

Color for Available

Available

Color for Not Available

Not Available

Color for Unspecified

Unspecified

N.B. Not all Skippers keep this dairy up-to-date. Always check with skippers before making any plans. Last calendar update: 19-Jul-2018

Sun 1st Jul
Mon 2nd Jul
Tue 3rd Jul
Wed 4th Jul
Thu 5th Jul
Fri 6th Jul
Sat 7th Jul
Sun 8th Jul
Mon 9th Jul
Tue 10th Jul
Wed 11th Jul
Thu 12th Jul
Fri 13th Jul
Sat 14th Jul
Sun 15th Jul
Mon 16th Jul
Tue 17th Jul
Wed 18th Jul
Thu 19th Jul
Fri 20th Jul
Sat 21st Jul
Sun 22nd Jul
Mon 23rd Jul
Tue 24th Jul
Wed 25th Jul
Thu 26th Jul
Fri 27th Jul
Sat 28th Jul
Sun 29th Jul
Mon 30th Jul
Tue 31st Jul
Reviews
Summary:





Reviews Unaccepted: 1
mark spencer (15/07/2018)

had a fantastic day and evening on board fish was caught not many it was just one of those days fish wernt feeding chris and karlton were fantastic even tho we didnt get many we had a great time will be booking again fantastic time once again thsnk you Chris and karlton you got the boat fixed in time for us yo go out well done dedicated team thank you both mark

Skippers Reponse: What a day early start driving to Preston to the only chandlers if could find, get it all fixed and out a little late. Weather turned against us but we all had a great day and no one blanked, we enjoyed having you all on board see you soon.

Fred Wood (07/07/2018)

Iain and I had a great day on Wave Dancer as always. Cracking weather and a nice steam out to Rhyl. Sea was smooth and the fish were biting. Mackerel, Huss, Whiting. Lesser Doggies, Rays, (including 2 in double figures), Red Gurnard and even a couple of Herring for good measure. No Tope but plenty of action anyway. The 8 hours flew by. Chris got stung by the world's smallest Weaver. Honestly, the fuss he kicked up would have put a Colombian football player to shame:) At one stage I thought we might have to despatch him.

Karl & Chris took us out even though a group of 6 had cancelled. There was only four paying anglers but no question of the trip being cancelled. I don't know of any other boat that would look after its customers like Karl & Chris which is why we keep coming back. Always a treat to look forward.

Skippers Reponse: Thanks for joining us again Jonah great to see you both again. Iain proved my point that the most expensive rod doesn't always give you an edge with his 60 year old set up out fishing everyone.
See you in August

Colin Tedford (08/07/2018)

Booked a sea fishing trip on Wave Dancer for 7 friends who have fished a few times at sea. Weather was amazing and the crew and facilities on the boat was brilliant. Sausage butties tea coffee and a few cold drinks with some excellent fish made it a fantastic day. Many thanks to Chris and Karl for all there help and advice, can't wait to book again and see you soon lads had a great time.

Skippers Reponse: Great days fishing today with the Waterloo electric boys. Marks last minute 10lb Ray to take the money was definitely one of the highlights. See you next month.

Chris Mortimer (23/06/2018)

Great first fishing charter experience on Saturday 23 June 2018 thanks to a fantastic crew of Karl and Chris. They were more than happy to help with tips, tackle and bait for the novice charter fisherman. Eleven species caught on the day (all ten anglers caught – in excess of easily over 100 fish (in total)), including: bull huss, cod, conger eel, dab, lesser-spotted dogfish, mackerel, smoothound, thornback ray, tope, tub gurnard and whiting.

Skippers Reponse: Thanks for joining us Chris it certainly was a great day. Karl and I enjoyed the day and we are looking forward to seeing you on the next trip.

Joshua Ellis (23/06/2018)

First time out with Wave Dancer on last Saturday the 3rd of June. It certainly won't be the last either great boat, great crew, and lots of space even though the boat was fully booked! Nothing was too much trouble for Chris or Karl who even steamed out all the way to Rhyl in search of the better fish for no extra charge!! All in all great day and great Chili for lunch. I will be back again soon. Highly recomended. Thanks again Josh

Skippers Reponse: Thanks josh we had a great day with 11 different species caught looking forward to our trip with you next Friday.
Latest Catches 119 photos uploaded
Unknown
7 lb Thornback Ray
14-Jul-2018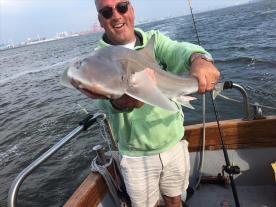 Fred
5 lb 8 oz Starry Smooth-hound
5-May-2018
Jimmy
5 lb 6 oz Thornback Ray
5-May-2018
Latest Fishing Reports
09/06/2018

Fishing Report by Richard Davies

9 Jun 2018 by Richard Davies

Fairly new to sea fishing so with limited knowledge booked Wave Dancer for myself and 15 yr old nephew. All I can say is we will definitely be booking our next trip with Chris. All the help and tips we needed to catch, Chis consistently put us over the fish and nothing was to much trouble. Plenty caught including smoothound tope dogs whiting and ray. I would recommend Chris on Wave Dancer to anyone. Thanks for a great day.

06/05/2018

Fishing Report by Chris Birmingham

6 May 2018 by Chris Birmingham

Trip 2 was a short over the tide trip again on a ray hunt. Young Finn was the first to bag a ray. As he started to real it in you could hear John say "hurry up" within in 3 minutes. When finn landed his 7lb ray John must have said it to him half a dozen times. Thornback backrays startd coming over the rail steadily for next hour or so to the sound of John saying "hurry up". Then John finally caught one which he took his time reel in to the chorus of "hurry up" a great trip over the tide was had and we caught seven rays and a doggie. The family enjoyed their trip so much they have booked a full trip again already. Looking forward to having stu and his family on board again in August.ww

05/05/2018

Fishing Report by Chris Birmingham

5 May 2018 by Chris Birmingham

It feels like an eternity since I have written a report so here goes. The first of three trips this bank holiday weekend started with a couple of no shows a 04:00 which left us with just 3 anglers on board today. Rather than disappoint 3 very eager anglers off we went into the river on a ray hunt to warm us up. Fred jimmy and sneaky mick warmed up nicely with 10. Off we went looking for smoothies, initially we found more rays the first of many doggies and I have never been happier to see a doggie ever. Fred then called for the net to land not only his first smooth hound but the boats. I am not sure how many rays and doggies we caught but it was alot.

09/12/2017

Fishing Report by Chris Birmingham

9 Dec 2017 by Chris Birmingham

Unfortunately I was away this weekend so missed the trip on Saturday (gutted) Karl took the boat out with new crew member guy and they weren't disappointed. Ten minutes in and the first cod is on followed by bags of whiting and dabs. Fish of the day was 11.5 cod.

02/12/2017

Fishing Report by Chris Birmingham

2 Dec 2017 by Chris Birmingham

Heavy going day today on board the wave dancer. big 10m tides didn't help however Some decent codling caught, plenty of whiting and dabs.
Weekend spaces available:
17th 7 spaces
23rd 6 spaces
weekday trips available through December £300 for the day (10max) including rod,tackle,refreshments, breakfast or lunch.
contact me via Facebook,cbuk,07988590846.