Charter Boat: White Maiden II
Availability Calendar
6 Reviews

Reviews Unaccepted: 1
Boat and Skipper Details
Licensed For:
up to 12 passengers
Code Of Practice:
60 miles / C.O.P. Cat 2
Hours:
2hr / 3hr / 4hr / 5hr / 6hr / 7hr / 8hr / 9hr / 10hr / Multiple Days Trips
Type of Fishing:
Offshore and Inshore Bassing,Wrecking,Breaming, Rays, Tope, Hounds, Pollock, Ventnor Plaice, Needles Winter Cod, Reefs, Wrecks, Uptiding
Tackle Available:
Yes - Contact Skipper
Bait Available:
Yes - Contact Skipper
Boat Specification:
BWSeaCat SPEED 11
Facilities:
Onboard Toilet, Free Marina Parking, Tuition, Rigs, Leads and Rods available, Tea and Coffee
Additional Description:
White Maiden II is a cracking boat, capable of carrying high loads at high speed in open waters. Fishing trips are my main bookings but I am also booked for sight seeing, race support and family days.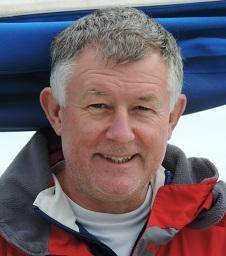 About the Skipper:
I have been a sea angling boat owner, since I was sixteen, mainly in and around the Solent and Needles area. I have chartered my licensed boats since January 2006 as a Professional Yachtmaster. I also hold a Certificate of Education and am a qualified communications engineer having spent a full career in the industry.

This Charter has been listed as Wheelchair Accessible. Contact the Skipper for full details.
Sunday
Monday
Tuesday
Wednesday
Thursday
Friday
Saturday

Color for Fully Booked

Fully Booked

Color for Partially Booked

Partially Booked

Color for Available

Available

Color for Not Available

Not Available

Color for Unspecified

Unspecified

N.B. Not all Skippers keep this dairy up-to-date. Always check with skippers before making any plans. Last calendar update: 23-Sep-2018

Sat 1st Sep

Booked

Sun 2nd Sep

Booked

Mon 3rd Sep

Booked

Tue 4th Sep

Booked

Wed 5th Sep

Booked

Thu 6th Sep

Booked

Fri 7th Sep

Booked

Sat 8th Sep

Booked

Sun 9th Sep

Booked for jobs and test trip.

Mon 10th Sep

Test day.

Tue 11th Sep

Booked -1600 Phil Williams.

Wed 12th Sep

1000-1300 Half Day Individuals £40pp

Thu 13th Sep

0800-1630 Individuals £50pp ColinStaples+2 AdrianCaswell PeteNight+1 Bryn, Graeme

Fri 14th Sep

0800-1630 Inshore Bryn

Sat 15th Sep

0800-1630 Inshore CrookhamSAC+5, JamesNewb, 1 space.

Sun 16th Sep

Booked

Mon 17th Sep

0800-1630 Rob Hawthorn

Tue 18th Sep

Booked

Wed 19th Sep

1130-1300 Engines first service. Evening Charter for Bob/Pat

Thu 20th Sep

Offshore Bank for Rays, Tope, Bass, Flats Individuals £50pp PeteH/Rod,IanH,TonyCr 4 spaces.

Fri 21st Sep

0800-1630 Inshore Chris Wollam

Sat 22nd Sep

0800-1630 Inshore Trident

Sun 23rd Sep

0800-1630 Inshore Dave Extance

Mon 24th Sep

0800-1630 Inshore John Gurney

Tue 25th Sep

Booked

Wed 26th Sep

0800-1630 Day Charter Individuals £50pp Liam/Andy 6 spaces.

Thu 27th Sep

0800-1630 Inshore, Individuals £50pp Bream, Rays, Bass,Huss and Flats just out of the tide near St Catherines, John/Graham, Pete/Rod, JohnWard, ChrisStricl 2 spaces

Fri 28th Sep

Old School House

Sat 29th Sep

Old School Cotswolds

Sun 30th Sep

Old School Cotswolds
Reviews
Summary:





Reviews Unaccepted: 1
Alan Pitt (09/08/2018)

Fantastic trip out with Les. We had a really enjoyable day with good company all round and will be back sometime for sure. The fresh mackerel tasted superb on the BBQ the same evening!

Skippers Reponse: Thanks Alan. I like the fillets panfires in chilli infused oil, skinside down until a tad pink on flesh side. Salt pepper and honey on that side, flip them dor another few minutes. Great on toast for breakfast, or with new potatoes etc dor lunch or dinner. They keep in the fridge for a few days once gutted.

Graham Burgess (07/08/2018)

Having been out with Les several times I knew were in safe hands for organising an evening trip with work colleagues, some who had never fished before. We had a fantastic evening, with some great tuition for the newbies and everyone catching fish including undulates, smoothhound, bream, crabs and mackerel. I can't blame Les for my cold cup of tea, it came out hot, we were just too busy catching fish! Must get another date in the diary!

Skippers Reponse: Thanks Graham. Amazing how close to home the fish are at certain times of year and on some tides.

Rob Chandler (21/07/2018)

As always a great Trip with Les. We lost count of how many Tope were caught and a new PB for for a UK water fish. Les is knowledgeable and a great skipper and always a pleasure to fish with. I have and would always recommend him.

Skippers Reponse: Thanks Rob. Tope, Turbot and Blonde Rays always makes for a good Saturday!

Ian Hurley (19/07/2018)

Excellent day, plenty of fish and well looked after by Les and Andy.

Skippers Reponse: Thanks Ian, hope to see you all again. Andy may not always be about to help out but I can always ask him!

alan camp (23/06/2018)

Fantastic two days fishing off the needles iow plenty of fish caught lots of coffee you made a 89 year old very happy see you next year. Kind Regards Alan Camp

Skippers Reponse: Hi Alan, thank you for your kind words. Yes see you next year. Booking early now for next year puts you on my list and I will sort out my diary in August September. I have some crews that have been coming with me every month dor 14 years... must be doing something right .
Latest Catches 63 photos uploaded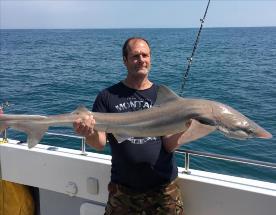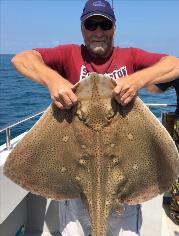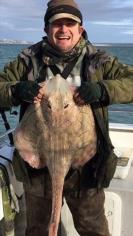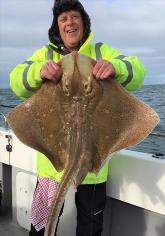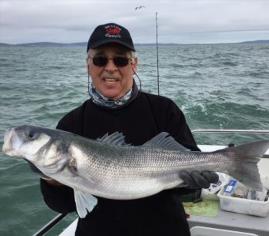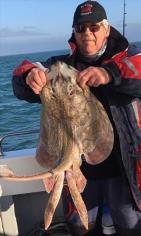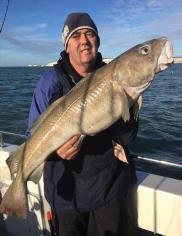 Andy
21 lb Cod
19-Nov-2017
Neil
14 lb 8 oz Turbot
5-Oct-2017
Latest Fishing Reports
20/07/2018

Fishing Report by Les Jones

20 Jul 2018 by Les Jones

This is Rob from last Saturday with one of the Turbot. Other notable catches this week were tope to 31lb and a boat record 29.5lb Blonde Ray. I run my own website and occassionally update this one with reports but needless to say the fishing has been so good I have been out on the boat alot and not thinkng about marketing. There are still a few spaces and dates in August so get a space or book a date when you can with me and try Lymington as your fishing port. We have a great home port fishing the grounds south of the Isle of Wight, The Solent, The Needles, St Catherines and Hengistbury Head. I also pickup from Yarmouth on the Island.

08/02/2018

Fishing Report by Les Jones

8 Feb 2018 by Les Jones

If you like a lot of weight on your rod then this was the trip to be on. On Thursday I rounded a crew of hopefuls that were on standby. We were fishing in a small tide which meant the lead weights never went over a pound but the fish were feeding extremely well. And they were all big and weighty. Nearly all of them went back to do their spring thing. Peter Hellyar caught a superb 29lb specimen Blonde Ray, a feisty 38lb Conger, a specimen 10lb 2oz Bass and a 10lb Thornback plus Whiting and more Congers. All these fish were returned except for the small Whiting which made very good live baits. Ian Hewett caught this lovely 17lb Undulate Ray plus a 12lb Blonde Ray and Congers. Mike Callus caught the cracking 23lb Blonde Ray and a 30lb Conger plus another Blonde Ray and smaller Congers. Devon caught the first and best Small Eyed Ray at around 7lb. There were also more Whiting, Eels and Rays caught by the rest of the crew. I was pretty knackered at the end of it because of all the weight lifting plus the sea state continued to build gradually throughout the day, before we made a run for the Solent to finish off in comfort.

14/05/2017

Fishing Report by Les Jones

14 May 2017 by Les Jones

Three days of wind, rain and sunshine. It's still spring and the inshore fishing is waking up slowly as our sea temperatures begin to rise. Below is Paul from yesterdays trip with a cracking Black Bream of 4lb 4ozs that came along very early in the tide. The big Bream was spent and completely empty. The day was breezy and a bit lumpy with very few other boats deciding to go but the experienced Hopp Inn lads fished well for the best Black Bream of the season so far. Other catches were more Black Bream, a 4lb Bull Huss, Wrasse, Dogs and Pout.

On Saturday a crew of marine biologists really enjoyed their day despite the wet start and then breezy conditions, all fished in comfortable inshore waters to catch some good fish. Nick started with a well marked Undulate Ray at 9lb 8oz. We tested for mackerel and caught Garfish. In the afternoon we found Smoothounds feeding well in the ebb. Nick below caught a nice double before being upstaged by Matt with his cracking 14lb'er. All fish were returned to fight again

19/04/2017

Fishing Report by Les Jones

19 Apr 2017 by Les Jones

Sorry for the late report on my website. One just can't get enough PR staff on the pay role.... I wish!

Due to some time tiday I have also copied the report with some recent catch photos to CBUK.

This weeks report from 'sea-fishing.net';The weather, crews and fishing have been really good over the last week with five trips, starting with an Individuals trip, last Wednesday. The lads found some nice Black Bream to 3lb 5oz, before a drift for Turbot where Pete tricked our target fish. We then had a go for a Plaice but lost the tide. On Friday the lads found a few Plaice on the drift (needs clear water, which we had) plus a bonus 13lb Undulate Ray on Plaice gear, at anchor, for Guy. In the second Friday short session trip, the crew from Devizes caught our first Mackerel of the year and some useful inshore Pollock. On Saturday the Sebastien and Simon crew patiently fished very well for Mackerel and Herrings on a stunning day at the Needles before attempting to clear a big wreck of large Pout. They had no chance of doing that. On Sunday we found a few more Mackerel and Herring plus some nice Bream. Here's some pictures of our excursions:

18/02/2017

Fishing Report by Les Jones

18 Feb 2017 by Les Jones

Glorious February sunshine! What in the UK? You can't beat that right at the end of the season on a new boat! The lovely weather also coincided with two booked winter fishing trips, which makes a change too. On both days we tested further off-shore in the calm seas and small tides.

Saturday was the warmest sunniest day. We had plenty of time and ventured further off-shore where we had a surprise species for February, a cracking 32lb Tope, caught by Steve Banks. I thought this was going to be the biggest Spurr Dog ever seen at the net as just before this fish I netted a target 16lb Spurr Dog for Bob Clack! Between Conger Eels I also netted a nice 12lb Undulate Ray for Mark Kellett, as well as a Whiting and a Dogfish. These came along with three target Blonde Rays and a couple of Thornbacks plus twenty Conger Eels to 27lb.

Saturday was also the day I learned how useful the AIS feature was for me, while out in the Channel, as displayed on the RADAR. This is a feature I have never had before on a boat. I also tested the auto pilot properly on the way back to the Light in ideal conditions. The oldish but trusty Raymarine Classic (non-touch screen) Navigation equipment was, in thick fog, first thing Saturday morning, an absolute joy to have. 'White Maiden II' is definitely my ideal vessel for this job and I have no regrets so far. She is a proper upgrade, for both skipper and passengers. I'm very well set now and really looking forward to the new season.

On Friday the Devizes lads also did well for this time of year, on a closer bank, on a the shorter six hour trip with two Blonde Rays, a Small Eyed Ray plus eighteen Conger Eels to 26lb