Charter Boat: Excel 2
Boat and Skipper Details
Licensed For:
up to 12 passengers
Code Of Practice:
Full 60 Miles.
Hours:
3hr / 4hr / 5hr / 6hr / 7hr / 8hr / 9hr / 10hr / 11hr / 12hr / Multiple Days Trips
Type of Fishing:
Now booking for 2023, TRIPS ALL YEAR . Get in quick to grab the best tides !!! Prices for Offshore Wrecking, Bank and Reef trips on website. Fishing reefs, wrecks and banks in The Haven. Sheltered waters so no cancelled trips .
Tackle Available:
Yes - Contact Skipper
Boat Specification:
The Mighty Cygnus Cyfish with 420HP Yanmar Power, Koden commercial spec fishfinder. AIS, Radar, full safety equipment way in excess of coding requirements.
Facilities:
. Evening trips available, please 'phone.
Additional Description:
. Pick ups at Neyland Marina. Free parking and Cafe.
rod/tackle included if needed, just bring bait or we can supply.
Huge range of species caught general fishing and at anchor.
You may keep all that you catch( within current regulations) and I can prepare it for the table for you at no extra cost.



Large canopy for your comfort.

We cater for groups and individuals of all abilities.

short notice, no problem.
ring for availability.
Always best to book ahead for the best tides.

Easy payment facilities by bank transfer or PayPal.

We specialize in Small groups and Individuals that want to catch Quality fish from a Proper Full sized Modern Fast Charterboat. Pro Guide on hand to help.
I want you all to catch fish, enjoy yourselves and hopefully i`ll see you again soon.

Four or more on a weekday and i`ll go !

trips to the historic forts of Milford Haven and film work undertaken, as used by Sony/o2, BBC Top Gear.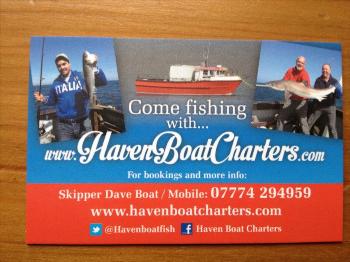 About the Skipper:
Updates on Facebook, Haven Boat Charters and Twitter @Havenboatfish.
Like and Follow us for upto date info !

Boat has full 60 mile license from any safe haven.
Dave has RYA YachtMaster Offshore qualification with full MCA commercial endorsements.

Wreck and reef fishing specialist.
Offshore wreck fishing £750 for 10, ideally 8 anglers.
Reef fishing £500

Shark fishing in the Celtic Deeps , £1,000 for up to 5, all tackle , chum, hookbaits etc provided.

Helpful,patient,tuition given if needed.

Genuine Angling fanatic, always willing to help.
Winner of the National Bass Festival 2006 with the largest bass yet caught in the competition at 15lb 6oz 8drms. We also set a record that`s unlikely to be beaten, catching the First, Second and Third heaviest Bass of the festival.
Hosted by the Herne Bay Angling Assoc and kindly sponsored by ICOM (UK)Ltd.


We cater for individuals as much as possible.
we'll do our best to get you out fishing in some of the most sheltered and scenic waters in the UK.
Kind, friendly help always on hand if needed.


Upcoming Individual Spaces on Excel 2
Sorry, there are currently no Individual Spaces at present.
Reviews
Summary:




Gareth Cottrell (25/06/2016)

3 of us went out on Sat 25 Jun with Dave (9 fishing on the boat). Wind was fresh so the water was a bit lumpy outside the Haven. With this in mind he took us for a bit of jigging for pollock off Freshwater West while the movement was still tolerable. Most caught good sized pollock up to 5-6lb and a good time had by all. The afternoon we went into the Haven and anchored up in smoother waters with the wind freshening. Mostly dogs with a few rays and gurnards to brighten things up. Dave's knowledge and experience made for a great day out, all 3 of us had a really good time and will deffo be returning.

Andy Hirst (12/09/2013)

Many thanks to Dave for a great days fishing. the whole cought and went home very pleased with our day out.Be seeing you again soon Dave. Cheers Andy

Skippers Reponse: Thank you , looking forward to seeing you again this summer.

Dave Geary (07/07/2013)

Thanks Dave for a fantastic day Toping.Cannot wait to get out again,top skipper,what a day sea fishing from a boat should be all about. 42 lb two 38s and an upper twenty the boys are well pleased.Angry Dave

Savash Cafer (16/12/2012)

Thanks dave we had a great day fishing, looking forward to the next one.

Skippers Reponse: Thank you, Cracking fish the 23 lb`er, Well Done. See you soon, Dave.

John Ayres (14/11/2010)

We have fished all over the UK on many charter boats and Dave and his crewman are two of the most knowledgeable and helpful we have ever fished with. Nothing was too much trouble for them and the fish just kept coming we had four cod from 8-11lb , 6 thornbacks that ranged from 6-9lb and tons of very large whiting and of course the customary dogfish. Top skipper top day thanks again Dave we will be back next month. Forgot to mention the tea (don't drink it)
Bait & Tackle
Anglers Corner

Milford Haven, Pembrokeshire, South West Wales, Wales

County Sports

Haverfordwest, Pembrokeshire, South West Wales, Wales
Latest Catches 1,037 photos uploaded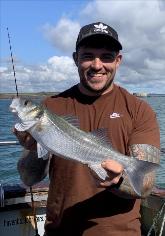 Matt N
10 lb 8 oz Bull Huss
Mar-2023
Latest Fishing Reports and News
03/2020

Fishing Report by David Hancock

Mar 2020 by David Hancock


In light of recent developments we feel that as a responsible charter boat it is correct that we suspend taking trips for 6 weeks.
This is for the safety of our families and possibly yours.
We will review the situation at the end of April .

We welcome enquiries and bookings for the summer and autumn.
Thank you for your understanding at this difficult time.
Please stay safe and follow the Government guidelines.

Best regards,
Dave.
www.havenboatcharters.com

Gutting because we've caught some cracking fish over our last few trips, 12/15 skate a trip, good hounds showing, a few congers, heyho let's stay healthy !




01/2020

Fishing Report by David Hancock

Jan 2020 by David Hancock


Plenty of availability after the end of January, please book as early as possible to get the best tides etc.

We are proudly hosting the Home Internationals at Milford Haven again this year and looking forward to seeing you all for some great trips.

Unless we have a huge spike in diesel costs the prices of all trips are the same as the last few years. Hopefully there will be no need to increase them .
If you'd like to know some options for accommodation for sharking trips etc, please call me,

Tight lines,
Dave.
07774 294 959.

02/2019

Fishing Report by David Hancock

Feb 2019 by David Hancock


Come on down !

Get those bookings in for spring/summer.

Great fishing on offer from plaice and turbot on the banks, bass and pollock on the reefs to monster Porgies offshore !

The first puffins have arrived, Spring is on it's way.


Dave.
07774 294 959.

Facebook Haven Boat Charters.


02/2019

Fishing Report by David Hancock

Feb 2019 by David Hancock


Get your bookings in for summer Shark fishing from the UK's most productive port.

Remember that for general fishing if we have 4 or more anglers, we go !
All rods and tackle available on board.
Fresh bait available daily from our local tackle shops, who will deliver to the boat on the morning.

Sightseeing trips to Skomer & Skokholm throughout the Puffin & Seal seasons.

Long distance Wrecking and Reefing our speciality.
Book early for the best tides.

Always happy to chat and advise,
We really are here to help !

Keep it tight,
Dave.
07774 294 959
excelangling AT aol.com

www.havenboatcharters.com
Facebook, Haven Boat Charters.




12/2018

Fishing Report by David Hancock

Dec 2018 by David Hancock

Get your bookings in for the 2019 sharking season.

Exciting plans for the new season as we explore new grounds.

Reefing and inshore trips available.
Family friendly trips in sheltered waters.
All equipment and tackle available if needed.

Come on down !

Dave.
07774 294 959.