Charter Boat: Galloper
Boat and Skipper Details
Licensed For:
up to 10 passengers
Code Of Practice:
60 mile
Hours:
3hr / 4hr / 5hr / 6hr / 7hr / 8hr / 9hr / 10hr / 11hr / 12hr / 24hr / Multiple Days Trips
Type of Fishing:
boat casting, uptide, downtide and drift ,offshorespurdog, cod,bass and tope trips although anything can be arranged to suit your needs.
Tackle Available:
Yes - Contact Skipper
Bait Available:
Yes - Contact Skipper
Boat Specification:
blyth 33 catamaran
Facilities:
very hot kettle,heated wheelhouse,toilet,spray cover,live well, tackle and bait available. car park next to floating pontoon access.
Additional Description:
We have recently purchased a blyth 33 catamaran powered by two 8.2litre doosan engines capable of cruising 16-18knts with a flat out speed over 23knts. the blyth catamaran is a fast modern boat comfortable both at anchor and under steam. She has some indoor seating a toilet accessible at deck level and spray cover to keep you drier and more comfortable. we have a live well on deck and seating for more than 10 people on deck.
with a beam of 5 meters there is loads of deck room even with 10 anglers on board.

WE ARE AVAILABLE TO TAKE BOOKINGS 7 DAYS A WEEKS 12 MONTHS OF THE YEAR

most trips run from 6.30-7.30am untill 16.30-17.30 at night although if you book the boat we can arrange times around you. we also offer night trips from 17.30-12.30am at night and evening trips in the river from 17.30-21.30 in the estuary. these are available upon request and we can arrange trips to suit your requirements.
we have hire tackle available with penn fixed spool reels at £5 per rod per day.

for further information available dates, gallery, weekly reports and more please visit my website www.essexseafishing.co.uk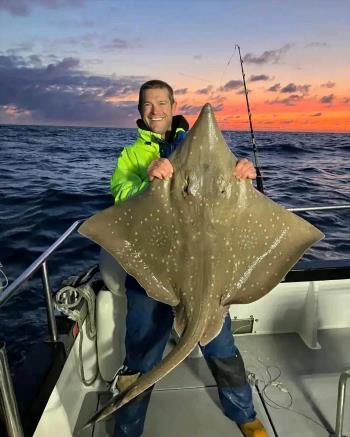 About the Skipper:
I have fished since I could hold a rod and grew up aboard my dads charter boats in the 90's. as I got older I took my Orkney longliner out and my dads boats when I got the chance. I am obsessed with fishing I have no other real hobbies and just about any free time I have is devoted to fishing related activities. This may sound abit sad but as I enjoy all kinds of fishing I have little time for anything else. My real passion is for sea angling but if I had more time I would like to spend a little more time fresh water fishing aswell.the first 'galloper' was bought by myself and my dad back in 2007.she was a brinkliner 28 and kept me busy for a couple of years. My wife stacey and i bought the second 'Galloper' back in march 2009 she was an aquastar 33 and we ran her untill 2013 when we bought our evolution 33 also named 'galloper' and the evolution did very well over the next six and a half years.
early in 2019 we bought a blyth 33 and spent 10 months completely overhauling her to bring her up to the standard we like to give our customers. the bltyh catamaran is a vary stable and spacios platform which is very popular with the anglers for her speed, room and stability.
i look forward to many good trips aboard her over the coming years. Although I'm only 27 I have plenty of experience as a skipper as before all of this i was running my dads boats since I got my Yachtmasters Offshore licence when I was 17. before that I was taking his boat out with my grandad or brothers or friends whenever I could. I like to think that all of this along with many holidays spent fishing other venues has helped to give me a large amount of experience and knowledge for my age.

Sunday
Monday
Tuesday
Wednesday
Thursday
Friday
Saturday

Color for Fully Booked

Fully Booked

Color for Partially Booked

Partially Booked (Individual Spaces)

Color for Available

Available (Whole Boat)

Color for Not Available

Not Available

Color for Unspecified

Unspecified

N.B. Not all Skippers keep this dairy up-to-date. Always check with skippers before making any plans. Last calendar update: 21-Feb-2020

Sat 1st Feb More...
Sun 2nd Feb More...
Mon 3rd Feb More...
Tue 4th Feb More...
Wed 5th Feb More...

offshore trip 2 spaces @ £80pp

Thu 6th Feb More...
Fri 7th Feb More...
Sat 8th Feb More...

3 spaces @ £55pp

Sun 9th Feb More...
Mon 10th Feb More...
Tue 11th Feb More...
Wed 12th Feb More...
Thu 13th Feb More...
Fri 14th Feb More...
Sat 15th Feb More...
Sun 16th Feb More...

premier offshore 1 spaces @ £80pp (weather permitting) or inshore @ £65pp.

Mon 17th Feb More...
Tue 18th Feb More...
Wed 19th Feb More...
Thu 20th Feb More...
Fri 21st Feb More...
Sat 22nd Feb More...
Sun 23rd Feb More...

6 spaces @ £55pp

Mon 24th Feb More...
Tue 25th Feb More...
Wed 26th Feb More...
Thu 27th Feb More...
Fri 28th Feb More...
Sat 29th Feb More...

premier trip 2 spaces @ £65pp max 7 anglers
Upcoming Individual Spaces on Galloper
| | | | | | |
| --- | --- | --- | --- | --- | --- |
| Sun 23/02/2020 | 6 Spaces | 10 Hours | £55.00pp | 6 spaces @ £55pp | View details |
| Sat 29/02/2020 | 2 Spaces | 10 Hours | £65.00pp | premier trip 2 spaces @ £65pp max 7 anglers | View details |
| Sat 07/03/2020 | 4 Spaces | 10 Hours | £55.00pp | 4 spaces @ £55pp | View details |
| Sun 08/03/2020 | 8 Spaces | 10 Hours | £55.00pp | 8 spaces @ £55pp | View details |
| Sun 15/03/2020 | 1 Space | 12 Hours | £80.00pp | premier offshore weather permitting £80pp max 7 anglers | View details |
| Sat 28/03/2020 | 3 Spaces | 10 Hours | £65.00pp | premier trip 3 spaces @ £65pp | View details |
| Sat 18/04/2020 | 1 Space | | | premier trip 1 space @ £65pp (max 7 anglers | View details |
| Mon 25/05/2020 | 8 Spaces | 10 Hours | £55.00pp | 8 spaces @ £55pp | View details |
| Sat 30/05/2020 | 2 Spaces | 10 Hours | £65.00pp | premier trip 2 spaces @ £65pp | View details |
| Sun 07/06/2020 | 9 Spaces | 10 Hours | £55.00pp | 9 spaces @ £55pp | View details |
| Sun 05/07/2020 | 2 Spaces | 10 Hours | £55.00pp | 2 spaces @ £55pp | View details |
| Sat 11/07/2020 | 3 Spaces | 10 Hours | £65.00pp | premier trip 3 spaces @ £65pp | View details |
| Sat 22/08/2020 | 4 Spaces | 10 Hours | £65.00pp | premier trip 4 spaces @ £65pp | View details |
| Sat 12/09/2020 | 5 Spaces | 10 Hours | £65.00pp | premier trip 5 spaces @ £65pp | View details |
| Sat 24/10/2020 | 5 Spaces | 10 Hours | £65.00pp | premier trip 5 spaces @ £65pp | View details |
| Sat 28/11/2020 | 5 Spaces | 10 Hours | £65.00pp | premier trip 5 spaces @ £65pp | View details |
View more availability on the Full Calendar
Reviews
Summary:




Nick Hills (24/11/2019)

Another great days fishing aboard Galloper with Thornbacks and whiting plus a pb for Kaz! Cheers Scott see you next week (don't forget my worms)

Skippers Reponse: glad you enjoyed it nick. see you at the weekend.


Nick Hills (03/11/2019)

Thanks Scott fantastic days fishing on your new boat. Can't wait for the next trip out with the boys.

Skippers Reponse: glad you enjoyed it nick, nice to see you getting back into it. see you next time.

Greg Mallia (07/04/2019)

Excellent Skipper went with two non fisherman friends and he could not do enough to help them, which let me get on with my fishing. Mind you think I should have got some help as they caught more than me.

Skippers Reponse: i'm glad you enjoyed your day Greg. thank you for taking the time to review your experience. best leave the others behind next time!!

Simon Lewis (11/11/2018)

We had a fantastic day out fishing with Scott. Very friendly and extremely helpful to us novices. Coffee and tea served regularly throughout the day. All in all, one brilliant day and will definitely be going again.
Cheers Scott, you made my mates 60th birthday present a memorable one

Reuben Tsomondo (31/03/2018)

A good day out skippered by Captain Scott - It was awesome as I brought two first-timers with me and Scott ensured they were catching Whiting for fun by the end of the day; great bunch of people on board all helpful and the experience ensured that BOTH rookies are now keen to head out again!!!

Tight lines Scott - see you next Spring!

Skippers Reponse: hi reuben, thanks for taking the time to review your experience. well done on being top rod on the day too! see you next time. regards scott
Latest Catches 703 photos uploaded
Latest Fishing Reports and News
01/2020

Fishing Report by Scott Belbin

Jan 2020 by Scott Belbin

The year has got off to a great start for us here on the blackwater estuary. There may have been lots of sprats around but the thorn-back rays have still been feeding well. The mild weather has undoubtably helped this and they have shown in both size and numbers. The best of the fishing has been well within the shelter of the estuary so we have been able to fish in all but the worst weather. Our best trip in January was 42 rays to 14.8lbs. we saw double figure fish mixed in most trips and plenty of happy anglers. As long as we don't see any prolonged cold spells the rays should be here for the spring now. Although at times it was mostly rays we caught we did see a few other bits and bobs with the usual whiting dogfish and dabs showing. When conditions allowed we headed further afield and even had a couple of tiny codling, hopefully we will see some of their larger relatives as the sprats move off in the coming weeks. I have several spaces coming up at weekends as well as midweek availability and evening as we get into the summer. For more information, regular reports and availability please visit
www.essexseafishing.co.uk
find us on facebook
or call on 07956411528


01/2020

Fishing Report by Scott Belbin

Jan 2020 by Scott Belbin

We have managed to get a couple of trips out to start the new year off. The weather hasn't been perfect but we are lucky that the sheltered waters of the blackwater estuary and surrounding areas mean we can got out in most weather if we want. Happily there are still plenty of fish to be caught giving us good reason to head out. The sprats have arrived in the estuary which has distracted many of the bigger whiting although there are still numbers of smaller whiting taking our baits. The last couple of trips have produced a few nice dabs for us with out even targeting them. Dad had a trip booked with a few of his regulars the other day. There were only 3-4 anglers on board and they still managed 79 dabs on a nice leisurely day in the comfort of the estuary. There have been plenty of whiting mixed in to make for a busy day on the right tides.The mild weather has kept the thorn-back rays and dogfish feeding. The fish are a bit lethargic and finicky but we are still seeing a few in the right places. Last weekend we headed out in a load of wind with the Maldon sea anglers on board. We spent the morning catching dabs,pouting and whiting with a 5 bearded rockling making a surprise appearance. We moved for the afternoon to target some rays. The fishing took a while to get going but the lads had 10 thornbacks and lost a couple more as well as catching some more whiting and dogfish. The biggest ray went to martin and just went over double figures. On the way in the lads commented that they were pleased they had made the effort to go out and I was pleased we could find a few fish on a windy day.
I have a few spaces coming up if you wish to get out soon, if the weather stays this mild the rays should move inshore in numbers in the next few weeks. If we get the weather and tides we will be heading further off in search of spurdog and alike which I think will also happen early this year so please book early so you don't miss out.
For more information, regular reports and availability please visit
Essexseafishing.co.uk
Follow the essexseafishing page on facebook
Or call 07956411528


12/2019

Fishing Report by Scott Belbin

Dec 2019 by Scott Belbin

Despite loosing a few trips to weather in December we have still got afloat here and there. On the last trip there were still hoards of whiting but a few roker mixed in with them. Most trips we have seen 6-12 roker which isn't great guns but they put a decent bend in the rod and are a welcome break from the whiting. On the right tides the estuary is producing plenty of dabs which can be a bit of fun on a windy day and gets you afloat. on our first trip in december Robert even managed a small bass so you never can tell. I have plenty of spaces over Christmas and into the new year. So please get in touch if you fancy getting out over the Christmas break there is still plenty to be caught and you wont catch them sitting at home!
We will start to head offshore soon in search of the first spurdogs of the season, I wont publish any catches until the end of the season though (around april).
Please keep an eye on my website www.essexseafishing.co.uk or facebook or call me on 07956411528


12/2019

Fishing Report by Scott Belbin

Dec 2019 by Scott Belbin

Thought I would put a report on here to cover the last few weeks. we launched our new boat at the start of November. She's a blyth catamaran 10 meters long by 5 meters wide. The byth hull is popular throughout the country with both anglers and skippers alike. She is fast stable and spacious, the anglers have given us nothing but positive feed back so far so we are very pleased. We will soon be putting our old boat the evolution up for sale after antifouling her ect so please get in touch if you are interested.
the fishing has been busy but not necessarily with what we would like to see. The thorn-back rays have been hard to find at times but most days we are able to get a few aboard to put a decent bend in the rod. The numbers of dogfish have thinned a bit with the drop in water temperature but we are still seeing a few mixed in. the whiting appear to be in vast numbers. most are 10-12 inches but we have had a few better ones mixed in. with the numbers that are there its no surprise there are better ones just through the law of averages. At times we have fished paternosters for flatties and the whiting are that thick we are hooking them before the bait hits the bottom. often within a minute or two there's one on every hook. Its almost like mackerel fishing. we had our first dabs the other week and they make a nice change to the whiting. We even had a small codling the other day it went back in so at least we know there's one out there!
As ever for more information, regular reports and more please visit www.essexseafishing.co.uk or call 07956411528


11/2019

Fishing Report by Scott Belbin

Nov 2019 by Scott Belbin

Once again I have left it too long between my reports on here. As ever we have been busy and the fishing has been too. since my last report on here we saw good numbers of roker through the early autumn with 48 being our best trip in October. there have been loads of whiting and dogfish around too which have kept us busy. To be honest they can be a pain at times but they keep the rods going and its normally 'fish a cast' for them. Inshore the dogs and whiting are interspersed with the odd roker, late smooth-hound and bass or even an elusive codling.
Offshore the fishing has been very good when we had the weather. we pushed off a few times and got amongst the bass each time. There was some great sport to be had in shallow water using 4-8oz leads and light rods is hard to beat. On one trip with fred and the lads the bait fishing was particularly good. The best of the fishing came in 2 hours as the tide came right and with several fish between 6lb and 8.2lbs coming to the boat the lads were so pleased they opted out of the next mark and decided to head home early to catch the football! Another trip saw another group of lads enjoying several hours of bass on lures (feathers proving to be most effective) the fish were so numerous one even engulfed a breakaway lead and got hooked on that! I couldn't put a number on how many we had but I know a couple of the lads had 30-50 each. Needless to say they only kept 1 each although it would have been nice for them to have been allowed to keep some more. We had the weather to head off again last week but since the ban on bass came back into effect after October 31st I cant get any takers for bass trips.
We have managed our first few trips on the new boat with great feedback from everybody on board. The first fish aboard was unsurprisingly a dogfish but it didn't take too long before the first whiting and roker joined it. I will report more on the new boat soon.
Most of our trips now will be inshore for whiting, dogfish and roker with the odd codling thrown in if we're lucky. Hopefully the dabs will start to show soon as they will provide some sport on light tackle close to home. When the weather allows we will try to get offshore and see what's about. I have spaces into December and january but next years weekend dates are starting to fill up so please get in touch if you wish to book a specific date or type of fishing.
As ever I do weekly reports on my website and facebook page as well as available dates so for more information please visit
www.essexseafishing.co.uk
or call 07956411528