Charter Boat: Galloper
Boat and Skipper Details
Licensed For:
up to 10 passengers
Code Of Practice:
60 mile
Hours:
3hr / 4hr / 5hr / 6hr / 7hr / 8hr / 9hr / 10hr / 11hr / 12hr / 24hr / Multiple Days Trips
Type of Fishing:
boat casting, uptide, downtide and drift ,offshore -spurdog, cod,bass and tope trips although anything can be arranged to suit your needs.
Tackle Available:
Yes - Contact Skipper
Bait Available:
Yes - Contact Skipper
Boat Specification:
blyth 33 catamaran
Facilities:
very hot kettle,heated wheelhouse,toilet,spray cover,live well, tackle and bait available. car park next to floating pontoon access.
Additional Description:
We have recently purchased a blyth 33 catamaran powered by two 8.2litre doosan engines capable of cruising 16-18knts with a flat out speed over 23knts. the blyth catamaran is a fast modern boat comfortable both at anchor and under steam. She has some indoor seating a toilet accessible at deck level and spray cover to keep you drier and more comfortable. we have a live well on deck and seating for more than 10 people on deck.
with a beam of 5 meters there is loads of deck room even with 10 anglers on board.

WE ARE AVAILABLE TO TAKE BOOKINGS 7 DAYS A WEEKS 12 MONTHS OF THE YEAR

most trips run from 6.30-7.30am untill 16.30-17.30 at night although if you book the boat we can arrange times around you. we also offer night trips from 17.30-12.30am at night and evening trips in the river from 17.30-21.30 in the estuary. these are available upon request and we can arrange trips to suit your requirements.
we have hire tackle available with penn fixed spool reels at £5 per rod per day.

for further information available dates, gallery, weekly reports and more please visit my website www.essexseafishing.co.uk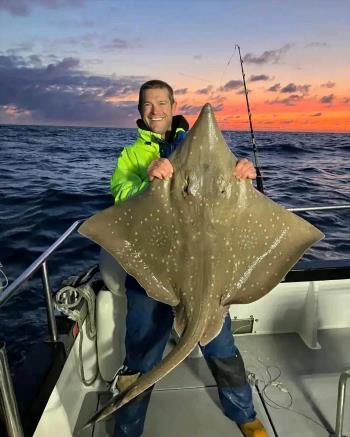 About the Skipper:
I have fished since I could hold a rod and grew up aboard my dads charter boats in the 90's. as I got older I took my Orkney longliner out and my dads boats when I got the chance. I am obsessed with fishing I have no other real hobbies and just about any free time I have is devoted to fishing related activities. This may sound abit sad but as I enjoy all kinds of fishing I have little time for anything else. My real passion is for sea angling but if I had more time I would like to spend a little more time fresh water fishing aswell.the first 'galloper' was bought by myself and my dad back in 2007.she was a brinkliner 28 and kept me busy for a couple of years. My wife stacey and i bought the second 'Galloper' back in march 2009 she was an aquastar 33 and we ran her untill 2013 when we bought our evolution 33 also named 'galloper' and the evolution did very well over the next six and a half years.
early in 2019 we bought a blyth 33 and spent 10 months completely overhauling her to bring her up to the standard we like to give our customers. the bltyh catamaran is a vary stable and spacios platform which is very popular with the anglers for her speed, room and stability.
i look forward to many good trips aboard her over the coming years. Although I'm only 27 I have plenty of experience as a skipper as before all of this i was running my dads boats since I got my Yachtmasters Offshore licence when I was 17. before that I was taking his boat out with my grandad or brothers or friends whenever I could. I like to think that all of this along with many holidays spent fishing other venues has helped to give me a large amount of experience and knowledge for my age.

Sunday
Monday
Tuesday
Wednesday
Thursday
Friday
Saturday

Color for Fully Booked

Fully Booked

Color for Partially Booked

Partially Booked (Individual Spaces)

Color for Available

Available (Whole Boat)

Color for Not Available

Not Available

Color for Unspecified

Unspecified

N.B. Not all Skippers keep this dairy up-to-date. Always check with skippers before making any plans. Last calendar update: 18-Sep-2020

NOTE: CURRENT AVAILABILITIES ARE LIKELY TO BE IMPACTED BY COVID-19 RESTRICTIONS. PLEASE CONTACT SKIPPERS FOR DETAILS

Sat 1st Feb More...
Sun 2nd Feb More...
Mon 3rd Feb More...
Tue 4th Feb More...
Wed 5th Feb More...

offshore trip 2 spaces @ £80pp

Thu 6th Feb More...
Fri 7th Feb More...
Sat 8th Feb More...

3 spaces @ £55pp

Sun 9th Feb More...
Mon 10th Feb More...
Tue 11th Feb More...
Wed 12th Feb More...
Thu 13th Feb More...
Fri 14th Feb More...
Sat 15th Feb More...
Sun 16th Feb More...

premier offshore 1 spaces @ £80pp (weather permitting) or inshore @ £65pp.

Mon 17th Feb More...
Tue 18th Feb More...
Wed 19th Feb More...
Thu 20th Feb More...
Fri 21st Feb More...
Sat 22nd Feb More...
Sun 23rd Feb More...

6 spaces @ £55pp

Mon 24th Feb More...
Tue 25th Feb More...
Wed 26th Feb More...
Thu 27th Feb More...
Fri 28th Feb More...
Sat 29th Feb More...

premier trip 2 spaces @ £65pp max 7 anglers
Upcoming Individual Spaces on Galloper
NOTE: CURRENT AVAILABILITIES ARE LIKELY TO BE IMPACTED BY COVID-19 RESTRICTIONS. PLEASE CONTACT SKIPPERS FOR DETAILS
Reviews
Summary:




Nick Hills (24/11/2019)

Another great days fishing aboard Galloper with Thornbacks and whiting plus a pb for Kaz! Cheers Scott see you next week (don't forget my worms)

Skippers Reponse: glad you enjoyed it nick. see you at the weekend.


Nick Hills (03/11/2019)

Thanks Scott fantastic days fishing on your new boat. Can't wait for the next trip out with the boys.

Skippers Reponse: glad you enjoyed it nick, nice to see you getting back into it. see you next time.

Greg Mallia (07/04/2019)

Excellent Skipper went with two non fisherman friends and he could not do enough to help them, which let me get on with my fishing. Mind you think I should have got some help as they caught more than me.

Skippers Reponse: i'm glad you enjoyed your day Greg. thank you for taking the time to review your experience. best leave the others behind next time!!

Simon Lewis (11/11/2018)

We had a fantastic day out fishing with Scott. Very friendly and extremely helpful to us novices. Coffee and tea served regularly throughout the day. All in all, one brilliant day and will definitely be going again.
Cheers Scott, you made my mates 60th birthday present a memorable one

Reuben Tsomondo (31/03/2018)

A good day out skippered by Captain Scott - It was awesome as I brought two first-timers with me and Scott ensured they were catching Whiting for fun by the end of the day; great bunch of people on board all helpful and the experience ensured that BOTH rookies are now keen to head out again!!!

Tight lines Scott - see you next Spring!

Skippers Reponse: hi reuben, thanks for taking the time to review your experience. well done on being top rod on the day too! see you next time. regards scott
Latest Catches 776 photos uploaded
Latest Fishing Reports and News
09/2020

Fishing Report by Scott Belbin

Sep 2020 by Scott Belbin

This week I thought I would bring you up to date with a few offshore trips we ran over the summer. Most of these were prospecting on some new grounds I had fancied for the last couple of years but didn't find the time to try them until now. We spent a small amount of time on the offshore wrecks each time we went. Most we didn't plan to fish but as I hadn't visited these specific wrecks before I wanted to mark them and see if they held anything. Most held pollock, coalfish, pouting and codling in small numbers. The first day we anchored a wreck for a few hours and had 12 or so small pollock along with a few small coalie and a couple of codling. There were plenty of mackerel about and as expected the all held plenty of pouting, scad and whiting too. We tried a couple of other marks I had ear marked for turbot potential on the way home. The tide wasn't great at first but a few drifts later as our speed came right we Stephen Clarke had the first one. I was very happy but managed to resist kissing him in the name of social distancing. We were short of time but to prove this wasn't a fluke we had a couple more drifts before heading home and Stephen Charles had our second turbot. I had managed a red gurnard too and on the way home we stopped for some bass too. Our next trip we concentrated on where we had the turbot at first. By the time we had caught a few mackerel the tide was pretty poor. We had 3 drifts with just dogfish and whiting so we moved on the try another bit that looked just as good on the chart. We had more dogfish and whiting at first before the grey and tub gurnards made a welcome change to them. This trip I had even managed to drag Stacey out for our 10th wedding anniversary tempted by the promise of turbot. She didn't catch her turbo but the first flatfish to come up was on my line. It was a first for me in the shape of a small brill. The next drift Stephen had another which came off beside the boat as I was getting the net. The next run offshore was organised by Alec on behalf of James and Mark Slater with Laura tagging along too. The lads told me they wanted to waste some money on doing something mad. They had certainly come to the right place for that. We were limited on what days we could do so I picked the best tide I could even though I wouldn't normally head offshore on one of this size. We left at some ungodly hour to try and make the tides work a bit better for us. there was a stiff breeze at first which was forecast to decrease as the day went on. After a long steam we stopped for a few drifts on a wreck we were passing to see what it held. We had a few mackerel, scad and pouting on some less than ideal drifts. We varied the rest of the day between drift fishing and anchored fishing. we had a nice mix of species including whiting, dogfish, weaver fish, thorn-back ray, tub gurnard, launce, turbot, plaice and a hectic couple of hours to finish the day with some chunky bass.
Our last run offshore we opted to try another mew area which looked promising too. Along with the usual bass, gurnard, dogfish, whiting, mackerel, pouting scad, launce ect we had a new species for the Galloper in the firm of a greater weaver fish. these are a deep water fish more commonly found off the south west of the uk. I had been hoping to see one for some time off of here as the habitat looked suitable for them. Shane was the lucky angler who caught the little beast and he was impressed at the colours glistening in the sunlight. Shortly after Barry hooked into a much larger fish. as he reeled it up we all looked over the side I to the depths to see what it might be. It turned out to be a lovely big blonde ray. After a quick photo she was released, this was a new species for Barry and a decent fish too at just over 15lbs. not long after this Steve also had a blonde ray. Although it wasn't as big it was a new species for him too.
We may not have set the world alight on our prospecting trips but we did find some interesting new marks which I hope to build on in the future. Who knows if we will get a chance to head off there again this year but if we don't I shall certainly try again next year. Our main offshore trips for now are offshore bass trips until the winter when we will turn our attention to hunting the spurdogs. We are still busy in between with inshore trips targeting skate, dogfish whiting ect with a few end of season bass and hounds mixed in. although we wont hold our breath we will still hope to see some cod as we move later into the autumn.


07/2020

Fishing Report by Scott Belbin

Jul 2020 by Scott Belbin

Its been a while once again on since my last report on CBUK so I thought I would fill you in on this years tope season aboard the 'Galloper'. its been a good season all together. We managed to get most trips out and we were successful on most of them. Those that we didn't see any tope on were either struggling for weather and bait or we got carried away bass fishing. we started back in may when despite struggling to catch mackerel Stephen Clarke set a nice bench mark with male a fish of 44lbs. Stephen had the boat on his own that day and I was lucky enough to fish too. I had a small tope around 10lbs and lost two more including one that did a good job at clearing 300yards of braid from my reel on the first run!
The next couple of trips we had better weather and a good supply of bait. The lads had 5 decent fish the first day going from c.15lb, 27lbs, 38lbs, 44lbs and the biggest falling to Ian Hewett at 47lbs and another male. Many of these were personnel bests for the lads which is always nice to see.
The next trip saw two decent fish on the boat, Fred managed a new PB of 41lbs on a carp rod of all things. To be fair both Fred and the carp rod did very well but this isn't something I would encourage too often. Mark also had a new PB tope of 31lbs that day and consequently booked another trip with some different pals soon after this one.
The next trip came and Mark bought Tom and his Friends along. The weather was spot on and with plenty of bait we headed off for a mixed day. we started off targeting bass and had loads in the first few hours. There were plenty of sizable fish to go around and the time flew by. It was soon gone 11am and we had to drag our selves away from the bass that were being so obliging if we were to have a chance at any tope. We were finally set up and fishing for tope just before midday. I had set my sights quite low and decided I would be happy if we saw a tope. We had a tope run first cast on one of the rods but unfortunately we were broken off. This was a promising sign even though it could have been our only chance. Happily it wasn't and we went on to bring 8 tope to the boat that afternoon and loose a further 6. It was madness at times to be honest with a few beginners on board. At one point we had 3 decent fish hooked at once, needless to say I had my hands rather full and it was no surprise one or two were lost. The biggest that day fell to Mark at 37lbs so he had beaten his PB from last trip. Many of the fish we had that day were around the 30lb mark and very welcome.
As we came to the end of our main tope season we mixed in more bass fishing with the tope again and once the lads had their quota of bass we went in search of tope. We scratched a few more out to finish the season off with more PB's for Dave and Chris along with some nice bass. Stephen Clarke has the biggest bass so far this year with a nice fish of 10.7lbs. its quite common for decent bass to be a bycatch while tope fishing as they tend to favour the fish baits we are offering.
Although we may see one or two more tope this year our main season is now over. I will be taking bookings for next years tope fishing soon.
Closer inshore our trips have been productive as ever. Over the last week or two we have seen some good action on the hounds at times. The lads fished hard the other day and kept count of 63 hounds. There were plenty of scrappy fish in the 6-10lb range and the biggest went 13lbs. we had a few sizable bass too. We have been getting a few bass mixed in most inshore trips which are popular for both sport and the table.
Most of my offshore trips will be for bass until into November this year.
Staying with this year I have been through my diary for the next couple of months and consulted my parties regarding current covid rules. Some have chosen to give it a miss for a while which means I have the following availability.
08/08/20- offshore bass (weather permitting) £90pp (worm required can be provided at extra cost) 6am start 4 spaces
09/08/20- offshore bass (weather permitting) £90pp (worm required can be provided at extra cost) 6am start 1 space
16/08/20- general trip 3 spaces @ £80pp max 5 anglers
31/08/20-general trip 1 space @ £80pp max 5 anglers
05/09/20- general trip 3 spaces @ £80pp max 5 anglers
06/09/20- general trip 5 spaces @ £80pp max 5 anglers or boat £400
12/09/20- general trip 3 spaces @ £80pp max 5 anglers
I am still keeping things the same regarding numbers on the boat until I hear anything different. So its max 5 anglers (unless living together in which case 6) I don't have much availability at the moment although I could have to move groups around due to numbers ect. Please keep an eye on here for spaces.

Please call me for more information on 07956411528

Dad (Stuart) has availability on the 'Razorbill 3' please call him on 07850234077



05/2020

Fishing Report by Scott Belbin

May 2020 by Scott Belbin

Its been nice to get afloat again after a couple of months under 'house arrest'. It seems many of you are also keen to get afloat and although we cant take everybody we have at least been getting some of you out. So far we have only taken single person bookings and I must say I was very grateful for the support offered by some of our regular customers who were willing to hire the whole boat on their own. I understand this may be outside of many peoples budget so the good news is we are now taking groups of up to 5 for the rest of the month in line with current guidelines. Hopefully by next month we will be able to take more again as there is plenty of room on our catamaran.
The first trip I did post lock down was just my self and my wife to blow the cobwebs away. The weather was glorious and the fishing was even better. We had a great mixed bag of smooth-hounds, bass, dogfish, dab, thorn-back ray and tub gurnard within the first couple of hours. After that we drifted through some bass with lures for a short while. I didn't get much time to fish as stacey had string after string of decent bass several of which were 3-4lbs in weight. We anchored for the rest of the trip in search of some more big smooth-hounds. We weren't disappointed as several packs of double figure fish made their way through as the evening progressed. We didn't have any monsters but several were 13-14lbs. they were also interspersed with yet more bass and a couple more rays before we headed home. On our trips since then we have seen similar fishing and the biggest hound we have had so far is 18.8lbs. hopefully this will be beaten before the summer is over.
To be honest I don't have room for anybody before July and my diary is all over the place from then on depending upon what guidelines are relaxed so please bear with me.
For regular reports and more information please visit www.essexseafishing.co.uk or like the essex sea fishing page on facebook.


05/2020

Fishing Report by Scott Belbin

May 2020 by Scott Belbin

while we are still under lockdown I thought I would take this time to report on our offshore trips between January and April (obviously cut short by the lockdown). Even on a big comfy catamaran we need the right weather and tides as well as some willing anglers to get over 30 miles offshore. This restricted our trips to just 4 this year, several were cancelled due to weather. The rest of our bookings were after the lockdown and typically the weather was cracking then! When we did get offshore we had varying amounts of thorn-backs and the obligatory dogfish. our main target species would be spurdogs as it has been for several years. These trips have produced some nice cod and bass in the past as well as a blonde ray a couple of years ago. With this in mind we try to cover all of the basses with our traces. Sure enough the very first cast on the first trip produced a double figure spurdog on each rod for Shane Ashby. The biggest went 15.4lbs and was a new PB for shane. The other went just over 13lbs. these are the stamp of fish we have come to expect around here over the years. unfortunately this brace of fish wasn't a sign of things to come. We did catch a few more spurs throughout the day and a few hounds too. People often seem surprised when we catch the hounds off here at that time of year. The water was just shy of 10'c off there (3'c warmer than inshore at the same time) and the hounds do seem to run in the packs with the spurs. In fact I have seen hounds in small amounts in every month of the year off here. The next trip we managed 11 spurs but nothing bigger the 13lbs and nothing to beat Shanes first fish. with the lock down stopping us by the end of march we will have to wait until next year to target the spurdogs again and already have a couple of parties booked down for them. In the mean time who knows when we will be allowed out again? hopefully it will be in time to sample some of the fantastic sport we can have for smooth-hounds, bass or tope in the summer. If you wish to book a trip please get in touch or bear us in mind when we're allowed out again.
For now I am putting various reports on my website and facebook page to keep you occupied.
Stay safe from Essex sea fishing call Scott 07956411528
www.essexseafishing.co.uk


03/2020

Fishing Report by Scott Belbin

Mar 2020 by Scott Belbin

Our best few trips were shortly before we had to stop going. We did three trips on the bounce with 72, 93 and 80 thorn-backs between 7 or 8 anglers. As usual most fish were returned alive and we kept just a few males for the table. There were a few decent females mixed in each trip with several low doubles and a nice pair one after the other both going over 16lbs (it was a bit lumpy and hard to get an accurate weight). Often we were the only boat within sight and we could fish in comfort with out having to seek extra shelter.
Regarding any trips in the coming weeks and months. At the moment we are unable to take trips and even myself and stacey are abiding by the rules and only leaving the house for essential goods. Over the coming weeks and months we will take it week by week depending on what rules are tightened or relaxed. If you're booked in for a trip please bear with me and I will evaluate it nearer the time. If you wish to book for a future trip please feel free to do so. We promise not to spent your deposits on bulk buying loo roll and instead keep them separate in case they need to be returned to you.
If you fancy a trip and wish to know my availability please call 07956411528 and I will update you with our current plans or visit my website and have a look at the availability page at http://www.essexseafishing.co.uk/availability/
Please keep an eye on the essex sea fishing page for more reports old and new over the coming weeks.