Charter Boat: Razorbill 3
Availability Calendar
8 Reviews

Reviews Unaccepted: 1
Boat and Skipper Details
Licensed For:
up to 10 passengers
Code Of Practice:
60 miles
Type of Fishing:
Uptiding /drift fishing /tope/ wrecking
Tackle Available:
Yes - Contact Skipper
Bait Available:
Yes - Contact Skipper
Boat Specification:
33" Aquastar
Facilities:
Hot Drinks, Toilet for ladies
Additional Description:
please visit our website for more info.where you can find out about avialable species and what we have been catching on the weekly fishing update.
This Charter has been listed as Suitable for Diving Trips. Contact the Skipper for full details.
Upcoming Individual Spaces on Razorbill 3
Sorry, there are currently no Individual Spaces at present.
Reviews
Summary:




Reviews Unaccepted: 1
Darren Gilbert (27/04/2014)

Fished on Razorbill with fellow Daggers DSAC members on our yearly festival with the other group aboard Stuarts son Scott's boat ( Galloper ).Both group caught plenty of roker and had a good craic and plenty of tea! Thoroughly enjoyed it Stuart, cheers, Darren.

Simon Gentleman (08/05/2011)

Fantastic Day! Stuart patiently and knowledeably explained all aspects we need to know for a great day out, highly recommended.

lee johnson fbii (06/11/2010)

top notch skipper reliably puts you over the fish every time !!! both my 6 year olds caught fish and were very very happy kids great family boat

lee johnson fbii (20/06/2010)

fathers day trip so i took my 6 year old son todd with us he had a great day out really loved it caught several fish unassisted and seems to be able to fish nearly as good as his dad clearly he isnt destined to be a dangler lol 5star treatment yet again on razorbill2 and other boats could learn from this family buisness

lee johnson fbii (12/05/2010)

what a day i dreamt well had nightmares about dog fish last night but just how many can you catch in one day !!!!! skipper kept the tea comming as usual cant fault the day see you on the 22nd may
Latest Catches 81 photos uploaded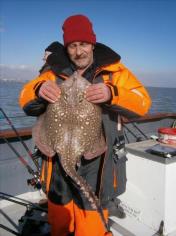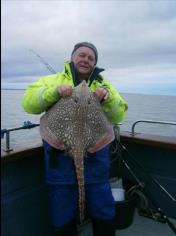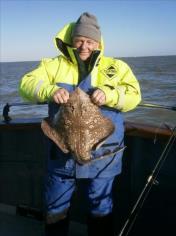 Jim
15 lb 8 oz Thornback Ray
10-Jan-2014
JORDAN
12 lb 8 oz Thornback Ray
16-Jun-2013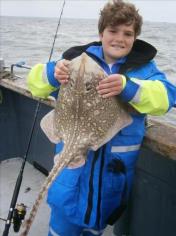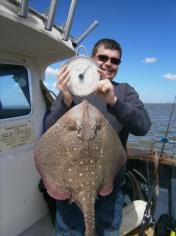 Dave
13 lb 8 oz Thornback Ray
2-Jun-2013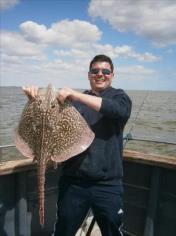 Latest Fishing Reports and News
22/10/2016

Fishing Report by stuart belbin

22 Oct 2016 by stuart belbin

last week myself and my son scott (on the Galloper)were lucky enough to be joined again by the England boat team for a squad weekend. The weather was far better than last year which was a bonus. We were able to get out of the estuary both days and fish a mark an hour or so out. Both boats had 9 anglers on board. They were fishing two sessions each day with a short break to change positions around the boat half way through. as there was a bit of organising each morning and a debrief each afternoon there wasn't an awful lot of time left for fishing. Thankfully there was still enough time as there are plenty of fish about to keep the rods bending. On the first day the lads to fish 5 hours over all and the second day just 4 hours over all. This didn't stop us getting some good numbers of fish in a short space of time. The lads had loads of treble shots of whiting and dogfish as well as good numbers of roker (thorn-back rays) they even had several double shots of these. By the end of the first day the lads had managed 60 roker between the 9 rods on my boat alone. Not to mention all of the whiting, dogfish, dabs and even a stray eel. The second day didn't disappoint either with good numbers of roker again. this time 40 in 4 hours fishing which the lads were pleased with again. the roker weren't a huge stamp but big enough to count on the size limit the lads had set. They all seemed pleased with smiles all around as they left and yet again were a pleasure to take out.
The fishing in general has been good locally and the settled weather helps. The stamp of roker has started to get a bit better over the past week or so and there is the odd codling showing too. Ive got a bit of availability left this year for individuals and boat bookings and im also taking bookings for next year. Please call for more information on 07850234077


09/06/2013

Fishing Report by stuart belbin

9 Jun 2013 by stuart belbin

Still plenty of THORNBACK RAYS around with SMOOTHOUNDS and BASS in numbers .

28/05/2013

Fishing Report by stuart belbin

28 May 2013 by stuart belbin

Good numbers of THORNBACK RAYS around and not many DOGFISH the fishing and the weather has improved, Its good to see the anglers return ALL the big females that are full of eggs ,

24/03/2012

Fishing Report by joe smith

24 Mar 2012 by joe smith

Had another great day out with stuart, we left mersea at about 6:45, we stemed out for half an hour or so. it was a beautful morning and there was not a wave on the water. We started fishing about 7:30 and within 10 minutes or so, there were 3 nice roker on the boat. After that the fishing was steady for a few hours until high tide we the fishing went a bit quite and only had 1 roker on slack water, but as soon as the tide started running again we had some more roker. We finish up with 16 roker to 12lb and 30+ whiting . thanks for the great day stuart.

26/02/2012

Fishing Report by joe smith

26 Feb 2012 by joe smith

Had another good day with stuart again as always. we left mersea at about 7:00 am, we steamed out for about an hour, it was a beautiful day and the sea was flat carm. As soon as we had started fishing there wear fishing coming aboard, and the fishing was good for the rest for the day as the tide was running. then high water came and the fishing easied up. So stuart had desided to have a move to a spot a bit closer to home. we started fishing as the tide was ebbing, and had one more small cod and i missed a CRACKING bite. then we had a slow ride home. in the end we had 32 cod up to 5lb and we had some good whiting to about 1.5lb. we had the most fish out of all the boats fishing in the area all thanks to stuart.
thanks for the good a mate.