Charter Boat: Alexia
Boat and Skipper Details
Licensed For:
up to 12 passengers
Hours:
2hr / 3hr / 4hr / 6hr / 8hr / 10hr / 12hr / Multiple Days Trips
Type of Fishing:
wreck and reef fishing, winter uptiding
Tackle Available:
Yes - Contact Skipper
Boat Specification:
fast offshore 105
Facilities:
flushing toilet
Additional Description:
Large deck area with seating for everyone. Latest fish finding electronics.
On board toilet
Kettle and microwave aboard.
About the Skipper:
Barry is a dedicated angler and skipper who tries 110% to help his anglers have an enjoyable and rewarding trip,

Next year's dates have now been sorted for the competitions here at Whitby 2019.
The Spring competition dates are April 13th to April 28th INC. Big cash prizes!!
The Summer competition dates are June 22nd to July 14th INC Get yourselves a trip booked to have a chance of winning a prize worth up to £5000.00 in pound notes!!
The late Summer competition dates are September 7th to September 22nd INC You can book any places as from now. 07470354403
This Charter has been listed as Wheelchair Accessible. Contact the Skipper for full details.
Sunday
Monday
Tuesday
Wednesday
Thursday
Friday
Saturday

Color for Fully Booked

Fully Booked

Color for Partially Booked

Partially Booked (Individual Spaces)

Color for Available

Available (Whole Boat)

Color for Not Available

Not Available

Color for Unspecified

Unspecified

N.B. Not all Skippers keep this dairy up-to-date. Always check with skippers before making any plans. Last calendar update: 15-Apr-2019

Mon 1st Apr More... Uptiding for cod
35pp
Alex 2
6 spaces available
Tue 2nd Apr More... Uptiding for cod
35pp
Wed 3rd Apr More... Uptiding for cod
35pp
Thu 4th Apr More... Uptiding for cod

Fri 5th Apr More... Uptiding for cod
35pp
Sat 6th Apr More...
Sun 7th Apr More...
Mon 8th Apr More... Uptiding for cod
35pp
Tue 9th Apr More... Uptiding for cod
35pp
Wed 10th Apr More... Uptiding for cod
35pp
Thu 11th Apr More... Uptiding for cod
35pp
Fri 12th Apr More... Uptiding for cod
35pp
Sat 13th Apr More... Spring festival with
A whopping £1000 up for grabs for heaviest fish
Mixture of wreck and uptiding
Competition fee is applicable on top of your charter. Roughly works out £5pp extra
lez parr 10


Sun 14th Apr More... Spring festival with
A whopping £1000 up for grabs for heaviest fish
Mixture of wreck and uptiding
Competition fee is applicable on top of your charter. Roughly works out £5pp extra
Stu Spinks 6
4 spaces available


Mon 15th Apr More... Spring festival with
A whopping £1000 up for grabs for heaviest fish
Mixture of wreck and uptiding
Competition fee is applicable on top of your charter. Roughly works out £5pp extra
Chris lax

Tue 16th Apr More... Spring festival with
A whopping £1000 up for grabs for heaviest fish
Mixture of wreck and uptiding
Competition fee is applicable on top of your charter. Roughly works out £5pp extra


Wed 17th Apr More... Spring festival with
A whopping £1000 up for grabs for heaviest fish
Mixture of wreck and uptiding
Competition fee is applicable on top of your charter. Roughly works out £5pp extra


Thu 18th Apr More... Spring festival with
A whopping £1000 up for grabs for heaviest fish
Mixture of wreck and uptiding
Competition fee is applicable on top of your charter. Roughly works out £5pp extra


Fri 19th Apr More... Spring festival with
A whopping £1000 up for grabs for heaviest fish
Mixture of wreck and uptiding
Competition fee is applicable on top of your charter. Roughly works out £5pp extra


Sat 20th Apr More... Spring festival with
A whopping £1000 up for grabs for heaviest fish
Mixture of wreck and uptiding
Competition fee is applicable on top of your charter. Roughly works out £5pp extra
Darren bemrose 2
mark Watson 2
Steve murgatoyd 1
Chris Williamson 1
Richard boon 2
Stepas 3


Sun 21st Apr More... Spring festival with
A whopping £1000 up for grabs for heaviest fish
Mixture of wreck and uptiding
Competition fee is applicable on top of your charter. Roughly works out £5pp extra
Chris boyer 6
Jerry 2
Jaroslae 3


Mon 22nd Apr More... Spring festival with
A whopping £1000 up for grabs for heaviest fish
Mixture of wreck and uptiding
Competition fee is applicable on top of your charter. Roughly works out £5pp extra


Tue 23rd Apr More... Spring festival with
A whopping £1000 up for grabs for heaviest fish
Mixture of wreck and uptiding
Competition fee is applicable on top of your charter. Roughly works out £5pp extra
Tim little 2
10, spaces available

Wed 24th Apr More... Spring festival with
A whopping £1000 up for grabs for heaviest fish
Mixture of wreck and uptiding
Competition fee is applicable on top of your charter. Roughly works out £5pp extra


Thu 25th Apr More... Spring festival with
A whopping £1000 up for grabs for heaviest fish
Mixture of wreck and uptiding
Competition fee is applicable on top of your charter. Roughly works out £5pp extra


Fri 26th Apr More... Spring festival with
A whopping £1000 up for grabs for heaviest fish
Mixture of wreck and uptiding
Competition fee is applicable on top of your charter. Roughly works out £5pp extra
Kevin drewery 2


Sat 27th Apr More... Spring festival with
A whopping £1000 up for grabs for heaviest fish
Mixture of wreck and uptiding
Competition fee is applicable on top of your charter. Roughly works out £5pp extra
Cliff 4

Sun 28th Apr More... Spring festival with
A whopping £1000 up for grabs for heaviest fish
Mixture of wreck and uptiding
Competition fee is applicable on top of your charter. Roughly works out £5pp extra


Mon 29th Apr More... Uptiding for cod
35pp
Tue 30th Apr More... Uptiding for cod
35pp
Upcoming Individual Spaces on Alexia
| | | | | | |
| --- | --- | --- | --- | --- | --- |
| Fri 26/04/2019 | 10 Spaces | 10 Hours | £45.00pp | Spring festival with A whopping £1000 up for grabs for heaviest fish Mixture of wreck and uptiding Competition fee is applicable on top of your charter. Roughly works out £5pp extra Kevin drewery 2 | View details |
| Sat 27/04/2019 | 8 Spaces | 10 Hours | £45.00pp | Spring festival with A whopping £1000 up for grabs for heaviest fish Mixture of wreck and uptiding Competition fee is applicable on top of your charter. Roughly works out £5pp extra Cliff 4 | View details |
| Sat 18/05/2019 | 11 Spaces | 10 Hours | £45.00pp | wreck ,reef and ground fishing £45pp 7am till 5pm Philip Shaw 1 11 spaces left | View details |
| Sat 25/05/2019 | 12 Spaces | 3 Hours | £20.00pp | 2 hr taster trip 10am till 12pm fully booked 3hr taster trip 12.15pm till 3.15pm 12 spaces available | View details |
| Tue 04/06/2019 | 10 Spaces | 3 Hours | | 3 hr taster trips covering a mixture of wrecks and ground 10am till 1pm 10 spaces available 1pm till 4pm fully booked Richard sibley | View details |
| Fri 07/06/2019 | 12 Spaces | 3 Hours | £20.00pp | 3 hr trips 10am till 1pm, 12 spaces available 1pm till 4pm, 8 spaces available Ben Watson 4 | View details |
| Sat 15/06/2019 | 10 Spaces | 6 Hours | £35.00pp | 6hr Wreck ,reef and ground fishing trip. Robyn wheatland 2 10 spaces available | View details |
| Sun 23/06/2019 | 6 Spaces | 10 Hours | £50.00pp | WCSA GRAND SUMMER FESTIVAL WITH A WHOPPING £5000 UP FOR GRABS FOR HEAVIEST FISH . Also daily prizes for top 3 fish aswell as our ladies and junior section. Please note competition fee will be split amongst anglers . Usually works out around £5 pp on top of your charter Stu Spinks 6 4 spaces available | View details |
| Sat 29/06/2019 | 8 Spaces | 10 Hours | £50.00pp | WCSA GRAND SUMMER FESTIVAL WITH A WHOPPING £5000 UP FOR GRABS FOR HEAVIEST FISH . Also daily prizes for top 3 fish aswell as our ladies and junior section. Please note competition fee will be split amongst anglers . Usually works out around £5 pp on top of your charter Richard Crowe 2 Faye pemberton 2 8 spaces available | View details |
| Sat 13/07/2019 | 12 Spaces | 3 Hours | £20.00pp | 10am till 1pm 3 hr taster trip 12 spaces available 1pm till 5pm fully booked James | View details |
| Sun 14/07/2019 | 6 Spaces | 10 Hours | £50.00pp | WCSA GRAND SUMMER FESTIVAL WITH A WHOPPING £5000 UP FOR GRABS FOR HEAVIEST FISH . Also daily prizes for top 3 fish aswell as our ladies and junior section. Please note competition fee will be split amongst anglers . Usually works out around £5 pp on top of your charter Stu Spinks 6 6 spaces available | View details |
| Sat 20/07/2019 | 8 Spaces | 6 Hours | £35.00pp | 6hr ,Wreck ,reef and ground fishing trip Charlie 4 8 spaces available | View details |
| Fri 26/07/2019 | 8 Spaces | 10 Hours | £50.00pp | 10hr ,Wreck ,reef and ground fishing trips Bob Watson 4 | View details |
| Sat 07/09/2019 | 7 Spaces | 10 Hours | | Wcsa autumn festival with a great prize off £1000 up for grabs for the heaviest fish. 7am till 5pm. Wreck , reef and ground fishing Paul Dodds 5 | View details |
View more availability on the Full Calendar
Latest Catches 49 photos uploaded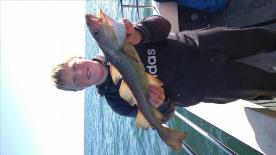 Unknown
9 oz Short-spined Sea Scorpion
28-Feb-2019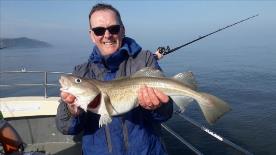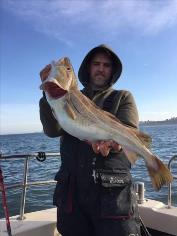 Latest Fishing Reports and News
11/04/2019

Fishing Report by Jon Whitton

11 Apr 2019 by Jon Whitton

It's been a while since our last update and with the easterlies preventing us from getting out over the past week it's gave us chance to catch up on a few things. Our last couple of trips out we had Greg Westgate and his dad charter the whole boat for the self's for a crack at the cod and they weren't disappointed and between them had around 30 codlings taking half for the table. We also returned lots of tiddlers which is great to see. We also had brian
Naughtons group of 10 aboard and they had around 40 keepers on the day. The fishing has been steady away but with the water not been as coloured as I'd like on the uptiding grounds we had a venture out to the wrecks and picked away steady. The average stamp of codlings have been around 2lb to 4lb, with the bait of choice been unwashed squid and blacks. The spring festival is now upon us although we have yet to fish it due to the easterlies but we hope to be back at it towards the end of the week with the winds looking like there dropping off. We also have the kids off school for the Easter holidays so we also have spaces on 3 hr taster trips weather permitting. PLEASE SEE OUR AVAILABILITY CALENDER FOR SPRING FESTIVAL SPACES AND FUTRE TRIP SPACES OR CONTACT
07470354403


31/03/2019

Fishing Report by Jon Whitton

31 Mar 2019 by Jon Whitton

The last few days has been hit and miss. On Thursday we had regular David Jenkins and a few others on for a day's uptiding. With the neap tides I thought we were in for a tough day but we hit the uptiding grounds and within a few mins the rods were nodding. We finished the day with around 60 codlings and dave was top rod with 16 to himself as well as a nice 8lb, 2oz, pollock,another regular Gordon wasn't far behind with 14 for himself and a good average stamp Of fish around 3lb to. 4lb. The water was really starting to clear out. Saturday was very poor with no colour in the water and very little fish over the rails and virtually no tide running but we still managed a fish or two for our anglers. Today we decided to head out to the inshore wrecks with regular Gordon back for his second trip in a week and we picked away steady over the wrecks all day and finished the day with a couple of ling around 5lb and a few nice codlings upto 4lb. Its now looking like a few days off due to weather so hopefully it will stir up some colour inshore ready for us to get back to the uptiding grounds.
SPRING FESTIVAL IS ALSO JUST AROUND THE CORNER WITH A CRACKING £1000 UP FOR GRABS.

FOE MORE INFO OR TO BOOK A TRIP CALL BARRY
07470354403

23/02/2019

Fishing Report by Jon Whitton

23 Feb 2019 by Jon Whitton

The past couple of weeks has seen us get out on the fishing grounds daily with the high pressure and settled mild weather . The last set of neap tides saw very little fish caught as the water was starting to clear out with all the settled weather which isn't good when uptiding as you need plenty of colour in the water and add that to neap tides and hardly any flowing tide we struggled to get fish over the rails. The past few days has seen big spring tides and just as predicted the cod started to fly over the rails with plenty of tide and a little colour in the water in places the cod were back on the feed and we have been averaging around 40 codlings per trip with two cod over 8lb and many in the 3lb bracket so not a bad stamp of fish . Bait of choice been black lug and dirty squid. Please see our calender for available dates and upcoming trips. Also we have the spring festival coming up very soon which starts April 13th to April 28th. For more info or to book a trip with us contact barry on
07470354403

08/02/2019

Fishing Report by Jon Whitton

8 Feb 2019 by Jon Whitton

not much to report this past week as we've been stuck in port due to storm erik. the weather is looking good from this coming Wednesday and hopefully will be some nice cod waiting for us after the recent blow. we have spaces available just check our availability calender and give us a call if u fancy a bash at the cod. £35pp for a days uptiding 8am till 4pm is a bargain. please also don't forget to check out our dates for the spring festival and summer festuval with great prize money up for grabs your be a fool to miss out.
For more info or to book
contact barry
07470354403

03/02/2019

Fishing Report by Jon Whitton

3 Feb 2019 by Jon Whitton

yesterday we sailed with just 2 anglers due to 3 lads not turning up without letting me no but me been me I wasn't going to let Martin and his son down who had travelled from Halifax. we hit the uptiding grounds and got of to a steady start fishing the last couple of hours of the ebb. slack water seen us drifting around on the anchor with the breezy south westerly . Just after dinner the flood tide slowly came through and we picked away steady. Biggest was around 4lb with the 2 lads boating around 20 fish . They kept a dozen for the table and rest went back. we fished with a mixture of unwashed squid and mussel bait as we struggled to get hold of any blacks last min. The lads had a good day and we even cleaned and fillet of there fish for them. WE HAVE THE FOLLOWING SPACES UPTIDING THIS WEEK 8AM TILL 4PM.

TUE 5TH 8 SPACES £35PP
WED 6TH 8 SPACES £35PP
THUR 7TH 6 SPACES £35PP
FRI 8TH 8 SPACES £35PP
SAT 9TH 5 SPACES 35PP
Please also take a look at the up and coming spring and summer festival dates and availability on our calender for a chance of winning some big prize money.

SUNDAY WE HAVE 7 SPACES ON A 3HR UPTIDING TASTER TRIP 10AM TILL 1PM
I WILL RUN ANOTHER 1PM TILL 4PM IF ENOUGH INTEREST.
individual spaces can also be booked.
FOR MORE INFO OR TO BOOK ON DROP US A MESSAGE OR CONTACT US ON
07470354403