Charter Boat: Alexia
Boat and Skipper Details
Licensed For:
up to 12 passengers
Hours:
2hr / 3hr / 4hr / 6hr / 8hr / 10hr / 12hr / Multiple Days Trips
Type of Fishing:
wreck and reef fishing, winter uptiding
Tackle Available:
Yes - Contact Skipper
Boat Specification:
fast offshore 105
Facilities:
flushing toilet
Additional Description:
Large deck area with seating for everyone. Latest fish finding electronics.
On board toilet
Kettle and microwave aboard.
About the Skipper:
Barry is a dedicated angler and skipper who tries 110% to help his anglers have an enjoyable and rewarding trip,
This Charter has been listed as Wheelchair Accessible. Contact the Skipper for full details.
Sunday
Monday
Tuesday
Wednesday
Thursday
Friday
Saturday

Color for Fully Booked

Fully Booked

Color for Partially Booked

Partially Booked

Color for Available

Available

Color for Not Available

Not Available

Color for Unspecified

Unspecified

N.B. Not all Skippers keep this dairy up-to-date. Always check with skippers before making any plans. Last calendar update: 05-Nov-2018

Thu 1st Nov Uptiding £35pp
Individual spaces available
8am till 4pm
Fri 2nd Nov 3 hr uptiding taster trip
10 spaces available
Fiona (2)
Individual spaces available
10till 1pm
Sat 3rd Nov
Sun 4th Nov 8am till 4pm
Uptiding and wreck fishing
Individual spaces available
£35pp
Whole boat available
Mon 5th Nov
Tue 6th Nov
Wed 7th Nov
Thu 8th Nov 8am till 4pm
Uptiding
Kerry woolfenden (2)
10 spaces available £35pp
Fri 9th Nov
Sat 10th Nov 8hr trip
8am till 4pm
Paul turvell (6)
Kris Bayer (6)

Sun 11th Nov
Mon 12th Nov
Tue 13th Nov
Wed 14th Nov
Thu 15th Nov
Fri 16th Nov
Sat 17th Nov Peter ridsdale
Full charter
Sun 18th Nov 8am till 4pm 8hr uptiding trip
£35PP
DIONNE WOODWELL (3)
9 spaces available

Mon 19th Nov
Tue 20th Nov
Wed 21st Nov
Thu 22nd Nov
Fri 23rd Nov Karl parkin
4hr trip 11.30am
Full charter
Sat 24th Nov
Sun 25th Nov
Mon 26th Nov
Tue 27th Nov
Wed 28th Nov
Thu 29th Nov
Fri 30th Nov
Latest Catches 26 photos uploaded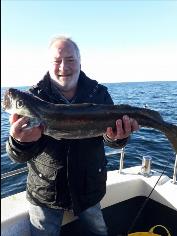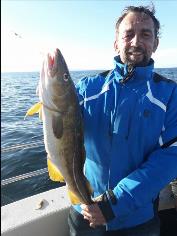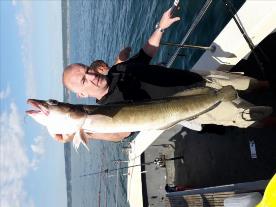 Steve
9 lb 8 oz Ling (Common)
5-Jul-2018
Paul
10 lb 3 oz Cod
19-May-2018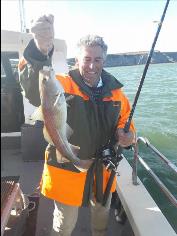 Latest Fishing Reports
01/10/2018

Fishing Report by Jon Whitton

1 Oct 2018 by Jon Whitton

We're a couple of weeks into the uptiding season for winter cod. The fishing has got of to a slow start with only small numbers of codlings coming up in the first week. This last week has seen the uptiding improve slightly with catch numbers increasing. The weather this time of year is a key factor for us getting out and has already seen us loose most of September the worst I can remember for several years which was surprising as it's usually a good month for fishing. We will continue to fish the winter season and get out as much as we can and hopefully bring you a good catch report. Tight lines for now !!

17/09/2018

Fishing Report by Jon Whitton

17 Sep 2018 by Jon Whitton

Monday 17th september 2018 we fished our first trip in the wcsa autumn festival with regulars Chris lax , Stu Spink and the lads from hull. 5 anglers in total. We fished a well known wreck approx 12 miles down the coast. The tides were spot on (neaps) and it wasn't long before the lads were into ling . The lads were fishing with a mixture of rigs from baited hokkais to shad and side winders . The weather was forecast for it to get fairly breezy from the south east from around dinner but it never came and the lads boated over 40 ling up to 11lb 10oz with the general stamp been between 6lb and 10lb. We spent several hours on the wreck picking up fish every drift. Just after dinner we moved on trying various wrecks whilst heading back to whitby and picked up around half a dozen codlings up to 7lb. Unfortunately we didn't manage any places amongst the prizes for the day. The comp runs until the 30th September so hopefully we can sneak a day or 2 before the festival ends and hopefully get amongst the prizes. To book or for more info contact barry on 07470354403