Charter Boat: Bessie Vee
Boat and Skipper Details
Licensed For:
up to 11 passengers
Code Of Practice:
60 miles
Hours:
4hr / 8hr / 9hr / 10hr / 12hr Trips
Type of Fishing:
Angling, sharking
Tackle Available:
Yes - Contact Skipper
Bait Available:
Yes - Contact Skipper
Boat Specification:
Cygnus Cyfish 39ft, 12litre 500HP Scania engine, over 60ft rail space.
Facilities:
Over 260sqft deck space, seating in wheelhouse, toilet, cooker, fridge, live bait tanks, rod racks.
Additional Description:
One of the largest, fastest charterboats in the South West! The only charter boat working outside 20 miles from Mevagissey. First time anglers welcome along with the 'professionals!' 14 - 15 knots cruising and 20 knots flat out, you'll have plenty of time to fish and still have a comfortable ride! Unless you want to take fish for own consumption, we operate a Catch and Release policy to conserve stock. See our website for details.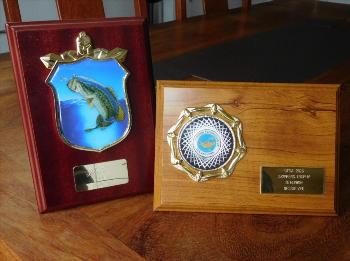 About the Skipper:
Dave Hunkin is a third-generation angling skipper, and has fished both commercially and as a skipper for over 30 years. He holds a Yachtmaster's certificate, and is a member of the PBA. Winner of the Cornwall Federation of Sea Anglers Skipper of the Year Award, 2015 and 2016.
Sunday
Monday
Tuesday
Wednesday
Thursday
Friday
Saturday

Color for Fully Booked

Fully Booked

Color for Partially Booked

Partially Booked

Color for Available

Available

Color for Not Available

Not Available

Color for Unspecified

Unspecified

N.B. Not all Skippers keep this dairy up-to-date. Always check with skippers before making any plans. Last calendar update: 13-Mar-2018

Thu 1st Mar
Fri 2nd Mar
Sat 3rd Mar
Sun 4th Mar
Mon 5th Mar
Tue 6th Mar
Wed 7th Mar
Thu 8th Mar
Fri 9th Mar
Sat 10th Mar
Sun 11th Mar
Mon 12th Mar
Tue 13th Mar
Wed 14th Mar
Thu 15th Mar
Fri 16th Mar
Sat 17th Mar
Sun 18th Mar
Mon 19th Mar
Tue 20th Mar
Wed 21st Mar
Thu 22nd Mar
Fri 23rd Mar
Sat 24th Mar
Sun 25th Mar
Mon 26th Mar
Tue 27th Mar
Wed 28th Mar
Thu 29th Mar
Fri 30th Mar
Sat 31st Mar
Reviews
Summary:





Christopher Field (31/08/2017)

Brilliant days fishing! Can't recommend Dave highly enough. He worked hard to put us on fish, was quick to move on when there none. Once on the fish (or Congers on this trip) Dave kept doing the rounds helping with advice, checking and repairing/ replacing rigs, boating the catch, sorting out snags and tangles and the other one hundred and one things that separate a good skipper from a bad one. Sail with Dave and you wont be disappointed.

Skippers Reponse: Thank you, Chris, for your review - hope to see you again sometime - regards, Dave

Stephen Wheatley (07/05/2013)

Land lubber felt safe at sea with a knowlagble skipper .

Mick benner (16/10/2011)

Me and the wife have had the pleasure of knowing and going out on Bessie Vee with Dave for over 2 years, i have never known a skipper that works so hard for his anglers than this guy, all angling is a matter of luck and being in the right place at the right time and Dave always trys to make it the right time for every angler, even on my unlucky days i have never failed to catch something. He has the worst sense of humor known to skipper kind, especially if your wife is catching more than you ??!! ;-) but we always have a great day and always loads of fun and fishing, he is helpful full of advice (well apart from the i had better retire coz my wife is a better angler) lol...but honestly he is the best skipper in Cornwall, i challenge anyone to find a better boat and a harder working skipper, best of luck for the future mate you deserve it. :-) >>>Mick and Gill

Skippers Reponse: Thanks Mick - hope Gill believes that you caught what you took home last time!


Guy Sweet (16/10/2010)

Dave is the best skipper around my opinion he always knows where the fish are i have now had 3 cornish records on the boat, Pollack,Cod and Pout 5 star skipper.

Simon Bird (06/06/2010)

An excellent days fishing on the Bessie Vee, Can't Praise Dave on his hard work and great fishing spots. Great boat and facilities would recommend to anyone who wants a great day out!!
Latest Catches 205 photos uploaded
Latest Fishing Reports
01/03/2015

Fishing Report by Dave Hunkin

1 Mar 2015 by Dave Hunkin

Gearing up for the new season - large ling full of roe at the moment (caught 25 20 -28lb on the last trip). Spaces for 2015 going fast.

25/06/2013

Fishing Report by Dave Hunkin

25 Jun 2013 by Dave Hunkin

A few sharks around now, with our last two sharking trips yielding 4 blues - best of which was 95lb, followed by an 80lb, 75lb and a 60lb. Two of the Looe boats have also had a shark each over the last couple of days. Plenty of small mackerel on the surface have arrived, boding well for the next few months.

29/05/2012

Fishing Report by Dave Hunkin

29 May 2012 by Dave Hunkin

Cod fishing in the Western Channel;
After switching last year to Red Gill's new Evolution lures with great success, I re-ordered some new ones for this season. In addition to the usual colours, I ordered a few packs of White Red Mega Vibe Red Gills, which, on the last few trips have proven to out-fish anything else two to one!
Ian tried them today for the first time, and landed three cod before any of the other anglers, using other lures, had one on their rods.
I would highly recommend trying these out if you want to catch cod!

13/10/2011

Fishing Report by Dave Hunkin

13 Oct 2011 by Dave Hunkin

Sharking in October -
After having some great sharking trips in September, with 14 blues on one day, we attempted another trip on the 12th October, which proved that the biggies are still here. In the last two trips, we had blues touching the 100lb mark, and on this one, the best of four sharks caught was 120lb, pictured here. It was caught by Phil from Bristol on his own kit. Obviously, the sea temperature is still conducive to the blues, and takes longer to cool than people think. Blues have been caught off South Cornwall up to November in previous years. Here's to a few more weeks of rod-bending weather!

21/08/2011

Fishing Report by Dave Hunkin

21 Aug 2011 by Dave Hunkin

The Bess had her first shark trip of the year on Sunday 21st August, with six fishing. Weather was fine, so pushed out to 16 miles, where we started the drift. Within 10 minutes of getting the lines away, we had our first blue on line, which managed to swim round and bite through the main line, so not a great start!
However, before being able to re-rig the rod, we had another run resulting in a clean hook-up, this one a 50lb-er.
Once all six rods were back out, and we thought we had time for a cuppa, we had three on at once. Luckily, one dived deep, one went forward and one went aft, so we were able to play all three at once. No whoppers, (30 - 40lb), but good sport.

The day went on to produce another ten blue shark, the best of which was battled and caught by Guy (see pic). Fourteen blues on one day set the record number for the Bessie Vee - so far! The same group will be back next month to try again.