Charter Boat: Bluedawn
Boat and Skipper Details
Licensed For:
up to 12 passengers
Code Of Practice:
20 miles
Hours:
3hr / 5hr / 8hr / 12hr / Multiple Days Trips
Type of Fishing:
Ground Fishing
Tackle Available:
Yes - Contact Skipper
Bait Available:
Yes - Contact Skipper
Boat Specification:
Suffolk 35 massive deck space, with all the latest navigational aids and equipment, and safety equipment
Facilities:
Hot Refreshments served onboard
Additional Description:
Bluedawn is a well proven charter boat, , a very comfortable boat in whatever sea you may be in having a wide beam giving extra stability along with comfort, can comfortably fish 10 anglers, although it is licenced for 12 for that little extra space I would advise 10 persons max but its your call, everything you catch is for you to keep, or return for another day,provided it is of size,unlike some skippers who let you only take a percentage of your catch,we are moored in Great Yarmouth's river Yare, there is ample safe parking for cars/vans close to the boat. and easy access,
Bluedawn has just had a recent refit, (New Larger Engine Just Fitted 13.01.17)

REMEMBER TO BOOK PRIOR TO COMING ON HOLIDAY TO GUARANTEE YOUR PLACE:- If you are planning a holiday or just a short days fishing in Great Yarmouth we are offering from 1st May until 1st October trips including bait and tackle at just £30 per person. 09.00 until 1400hrs easy parking and boat access. We will also do longer trips as required. Booking prior isn't always needed, but strongly advised.

For the best price and probably the cheapest on the East coast, give Richard a call discounts for mid week trips.


Current trip times and cost 0900hrs depart return 1400hrs
Full day 0900 until 1600 hrs return

14.30hrs depart return 1800hrs

Cost for a full day trip £45 per person on an individual basis
Cost Full boat Charter from 0830 depart until 1600hrs return is £300 per day this doesn't include bait or rod hire @ £3 per rod,

If you are coming down to the Norfolk area for a holiday or just a day out, try to ensure you book your trip before you leave to ensure your place on the Bluedawn

Tea and Coffee provided bring your bacon or pies and I will cook them for you.

Please note I am not one for putting lots of photographs on the website as a lot are made up come with us and enjoy a good day out,
TAKING BOOKING NOW FOR WINTER COD FISHING, LOOK FORWARD TO SEEING YOU ALL.
About the Skipper:
Richard has over 30years as a charter skipper and all spent in this area so a vast local knowledge of the grounds you will be fishing,as well as a commercial fisherman in this area, he holds all the valid certificates required by the MCA for chartering, he is a Skipper/Owner, so the boat as well as your safety and enjoyment are paramount to him, catering is for individuals, groups, and block bookings,even the person who has never fished on a boat before and would like to give it a go, tuition is given, along with help and advice.
Upcoming Individual Spaces on Bluedawn
Sorry, there are currently no Individual Spaces at present.
Latest Catches 13 photos uploaded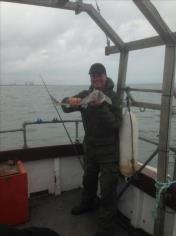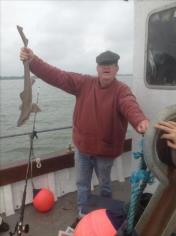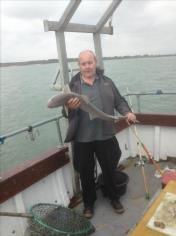 Unknown
7 lb Thornback Ray
Jul-2015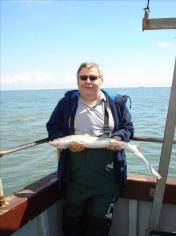 Latest Fishing Reports and News
22/06/2016

Fishing Report by Richard Green

22 Jun 2016 by Richard Green

Good days Fishing yesterday, main catches large starry smoothounds and a nice sprinkling of Thornback Ray to 8lb, ebb tide fished with SW wind later to become SE. Around 11 knots all caught on frozen squid

20/07/2015

Fishing Report by Richard Green

20 Jul 2015 by Richard Green

Not quite such a good day today south easterly winds making it quite hard going, we did manage some nice common and starry smoothounds but generally smaller than the previous trip, we also landed some cracking sized dabs, one nice Bass, again flood tide fished better than the ebb, lot of weed on inshore marks

Now starting to take bookings for winter fishing to guarantee you place call Richard on 07770467199 or 01493 601008

14/07/2015

Fishing Report by Richard Green

14 Jul 2015 by Richard Green

Excellent days fishing yesterday, thanks to some good anglers, onboard, plenty of quality starry smoothounds up to 9lb 8ozs,which was caught on king ragworm, along with large whitings and a good sprinkling of quality dabs, flood tide fished better than the ebb, lot of weed on the ebb tide inshore.
Bait used today squid,king ragworm and lugworm

To book a trip call Richard on 07770 467100 or 01493 601008

01/06/2015

Fishing Report by Richard Green

1 Jun 2015 by Richard Green

I would just like to announce that after an extensive refit, and just in time for the summer season Bluedawn is back to full operations and I look forward to my returning customers and welcome the new one lets go catch the fish together, we wait for your call, Tight Lines Richard