Charter Boat: Che Sara Sara
Boat and Skipper Details
Licensed For:
up to 12 passengers
Code Of Practice:
60 Miles
Type of Fishing:
Wreck - Reef - Deep Sea
Tackle Available:
Yes - Contact Skipper
Bait Available:
Yes - Contact Skipper
Boat Specification:
Lochin 38
About the Skipper:
Probably the most respected fisherman in Newquay, Dave Trebilcock on his boat Che Sara Sara has over 40 years experience as a fisherman under his belt.

He has worked with most of the angling clubs in Cornwall who hold him in high consideration for his deep knowledge of the sea and all there is to fishing.

Holder of Cornish and British angling records he is also a member of the Professional Boatmans Association and his knowledge of wrecks and reefs in the area is second to none.
Upcoming Individual Spaces on Che Sara Sara
Sorry, there are currently no Individual Spaces at present.
Latest Catches 12 photos uploaded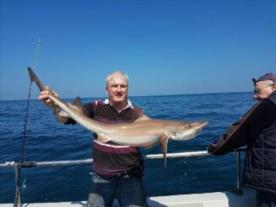 Bob Pollard
27 lb 1 oz Smooth-hound (Common)
8-May-2017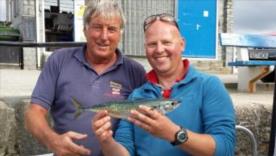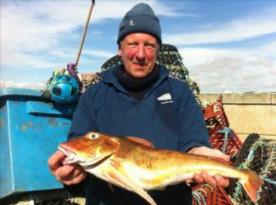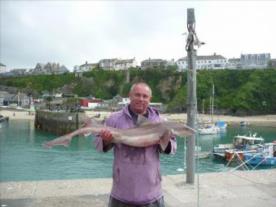 Adrian Hill
23 lb 11 oz Smooth-hound (Common)
20-May-2009
Latest Fishing Reports
08/09/2013

Fishing Report by Roger Phillips

8 Sep 2013 by Roger Phillips

Lumpy old start to the day punching out through the waves to the 12 mile reef mark.The state of the tide and wind produced a lovely slow drift which soon had us into some nice pollock. The action was steady and at the end of the day we had well over 100 pollock 3lb to 8lb, 1 nice cod 8lb we dont see these very often, gurnard, ling and wrasse. Plenty of mackeral still about nice small bait size which were used to entise the pollock as well as sand eel, shads and rubber eels of various colours.The pollock were being caught on the first few turns and also maybe as far as 30 to 40 turns up good sport on light tackle very enjoyable day.

21/08/2013

Fishing Report by Roger Phillips

21 Aug 2013 by Roger Phillips

It takes a lot to be a charter boat skipper, patience would be the top of the list i reckon. Was one of those days where we were put on the fish time and time again but they didnt want to play. Various baits being used to tempt the pollock, frozen sand eel, mackeral strips and artifical of all shapes, sizes and colours.In the morning we drifted several good marks picking up the odd one or two here and there.Tide turned in the afternoon and the fishing did pick up with several nice pollock coming aboard. At times it was very hard going as the fish didnt really come on the feed but nice to be out enjoying the sun. Everybody had fish to take home so all in all not such a bad day. Mackeral, pollock, ling , gurnard and wrasse making up the catch.

04/08/2013

Fishing Report by Roger Phillips

4 Aug 2013 by Roger Phillips

Not so far out today as sea conditions were far from perfect, ended up drifting on a reef about 5 mile off. Plenty of marks on the sounder and due to the rough conditions the fish stayed hugging the bottom. The first few drifts produced the best fishing of the day due to the wind against tide slowing up the drift.The pollock weren't the biggest but not bad for reef fish and we soon had several aboard.As per norm some had a better day than others and also nice to see the mackerel showing up at long last. Not the best days fishing and certainly not the worst, mackerel, gurnard and pollock making up the majority of the catch.

21/07/2013

Fishing Report by Roger Phillips

21 Jul 2013 by Roger Phillips

Well a day of some that did and some that didn't.We were put amongst the fish either by fishing on the drift or at anchor. Drifting a wreck did produce some nice pollock at first and when anchored on later the pollock went off and then the ling started coming aboard. Soon as the tide started to make, it was back on the pollock again as i said before it was a day of anglers and danglers.The wind picked up abit in the afternoon as we moved off to a inshore reef which made fishing on the drift difficult but still produced a few pollock. Dolphins put in a couple of visits as well as some sun fish. Pollock,ling,dogfish,gurnard and one or two pouting normal mixed bag of fish.

10/07/2013

Fishing Report by Roger Phillips

10 Jul 2013 by Roger Phillips

Proper hot weather and proper fishing great day out. 14 mile out wrecking and reefing 50 plus pollack and a few ling thrown in for good measure. One or two gurnard and several anglers having to pay fines for catching pouting.Dolphins sighted through out the day and the sea was flat calm certainly not what we are used to long may it last.