Charter Boat: Ebony May
Boat and Skipper Details
Licensed For:
up to 12 passengers
Code Of Practice:
60 miles
Hours:
2hr / 3hr / 4hr / 5hr / 6hr / 7hr / 8hr / 9hr / 10hr / 11hr / 12hr / Multiple Days Trips
Type of Fishing:
Mixed fishing. Trips can be arranged to specialise for Tope - (June-July.) Bass - (June-November.) (Skate, bream, dabs, pollock, smoothhound) Mixed bottom fish throughout the year.
Tackle Available:
Yes - Contact Skipper
Bait Available:
Yes - Contact Skipper
Boat Specification:
Cougar 10 metre catamaran (4 metre beam)
Facilities:
Toilet facilities. Tea and coffee.
Additional Description:
Happy hooker skippered by Alan Jones has now been taken over by Stuart Denman. The new boat name is Ebony May.

The Ebony May charter boat is a 2 year old 10 metre cougar catamaran with twin Yamaha 300hp outboards, giving a cruising speed of 25 knots, top speed 40 knots getting you out to the fishing grounds quickly, allowing more fishing time. The boat was purposed built with on board toilet, undercover seating, live bait tank. The boat is also suitable for wheelchair use, with access doors both sides. There is ample fishing space, which includes down both sides of cabin. The vessel has the most up to date electronics package, and is fully licensed and coded for 12 anglers up to 60 miles off shore.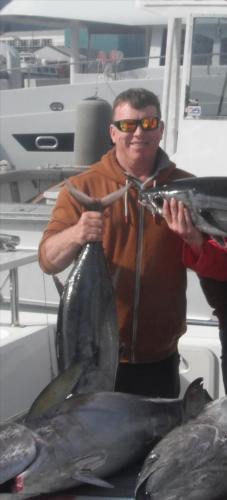 About the Skipper:
I have fished these waters for the past 30 years. I have been a charter skipper for the past 17 years. I am a serious fisherman myself, and pride myself on never having a blank trip. I specialise in tope fishing May/June/July. We also fish for Pollock on Bristol channel wrecks , and Lundy. We also fish for blue shark, and porbeagle shark off Lundy and celtic deeps from June onwards. In shore fishing is also excellent, targeting species such as Bream, Wrass, Pollock, Bass, Skate, and a number of other species. From July onwards we also fish for Bass, using live sandeel which is great sport.
This Charter has been listed as Wheelchair Accessible. Contact the Skipper for full details.
Upcoming Individual Spaces on Ebony May
Sorry, there are currently no Individual Spaces at present.
Reviews
Summary:





John Kinsey (26/05/2016)

Went out with Stuart on Ebony May, had great day on the Tope. First drop, caught a 31lb, then next had 3 more, up to 35lb. Great to have a skipper of Stu's experience. Great bloke, nothing too much trouble, tea & coffee all day!

James Ashton (16/10/2015)

First time out on the happy hooker. We were after Bass but the Bass were not playing or the mackys, the skipper try'ed his best moving from mark to mark. We ended up on the hook and had gurnard and some mackys. In all had great day even if the fishing was hard. Look forward to seeing you next year.

Joel Leese (06/08/2015)

went for the second time with Alan and he didn't let us down once again! Thanks again Alan! (Joel, Karl and Cameron... The sick one ) ;)

John McAllister (06/08/2015)

Had the great pleasure of another great day out bass fishing aboard the Happy Hooker out of Saundersfoot harbour. By rights I should have wrote my first review last year when I first got hooked on the bass fishing off Saundersfoot. Alan the skipper is a great coach and gets obvious pleasure in passing on his knowledge and experience to both novices and more experienced anglers alike. If I could I would go fishing with him every week. I have fished with him about half a dozen times now, always caught, always learnt and always had a good laugh.

Balint Varro (13/07/2014)

Very good experience. Really enjod the time. Very experienced guide and very good costumer service.

Skippers Reponse: Thanks Bal hope to see you again soon
Bait & Tackle
Anglers Corner

Milford Haven, Pembrokeshire, South West Wales, Wales

County Sports

Haverfordwest, Pembrokeshire, South West Wales, Wales
Latest Catches 53 photos uploaded
Latest Fishing Reports
07/01/2019

Fishing Report by Stuart Denman

7 Jan 2019 by Stuart Denman

What an awesome season we had in 2018. The good weather enabled us to fish well out into the Bristol channel. In May, we began targeting mid channel wrecks and the Lundy area. Catching good quantities of Pollock, Cod, Spurdog, and Tope. average Pollack 5 to 8 lb. Also at the end of May, June, July, Tope arrived in good quantities inshore. Largest Tope caught this year 68lbs, caught on a shallow in shore mark.,fresh mackerel providing the bait, we had several trips with .over thirty tope landed. We were privileged to have Dave Lewis from Sea Angler magazine out with us in June, writing an article on the excellent Tope fishing in our area. On the day we landed several Tope up to 45lbs. June, July, August, September, we caught good quantities of Bream, Wrasse (Ballan and Cuckoo), Skates and Rays, Turbot, Bass, Smoothhound, Bullhuss, Pollock, Coalfish, Garfish, and several other species. This shows the diversity of fishing in our area. Looking forward to 2019. Now taking bookings for wreck/Lundy trips in May/June. Also, Tope fishing begins May-July. I am convinced on the quantity and size of the Tope that we caught in 2018, that there is a new welsh record Tope waiting to be caught in our area. With the lifting of the Bass ban allowing us to catch Bass, we will also be targeting Bass using live sandeels from June until October, drifting inshore reefs. I'd like to take this opportunity to thank customers old and new. Really excited for 2019.
In the meantime, check out my new website! - http://www.saundersfootseafishing.co.uk/


02/2018

Fishing Report by Stuart Denman

Feb 2018 by Stuart Denman

2017 was another awesome season. Tope arrived early May, and stayed until second week of July. During that period we landed over 250 Tope, the largest being 63lbs caught by an angler from Merthyr. Several days caught 20+ Tope. Bass fishing was once again excellent. See gallery - largest fish caught by Duncan from Cardiff - 9 and a half lbs. During the season we caught good numbers of Pollock, Coal fish, Skate, Wrass, and several other species.
Looking forward to the new year, new season approaching.. new boat. Sold the old Ebony May at the end of the last season, and replaced her with a new Ebony May.. a 10 metre cougar catamaran. Purpose built, toilet, under cover seating with twin 300 horse power outboard engines, giving a top speed of 42 knots. Cruising speed 25 knots. This year we will be targeting Lundy and mid channel wrecks for Pollock and other species. We will also be doing Shark trips, targeting Celtic deeps and north of Lundy for Porbeagle and Blue Sharks. In addition to a normal early season Tope trips. Started taking bookings for the new season, any enquiries please contact me - 07989326085 ⛴

07/02/2017

Fishing Report by Stuart Denman

7 Feb 2017 by Stuart Denman

Hi everyone.
The new fishing season is nearly upon us. We had a cracking season last year. The Tope appeared in May, and steady numbers of them were caught right through up til the end of July. Largest fish being a Tope of 55 lbs, caught by a Bristol angler. One session in July resulted in over 28 Tope being caught in 3 hours over low tide, average fish being 35 lbs. The Bass season started in July, with excellent catches right through until October when bad weather eventually defeated us. Largest Bass caught this season was 9 lbs, landed by Marcus from London, caught on live sandeels. Various other species of fish were landed during the season. On one charter trip we landed quality Skate, Smooth Hound, Bullhuss, Pollack, Coal fish, Whiting, Wrass, Mackerell, Garfish, Dabs, Plaice, Dragonet, Gurnard, Tope and the inevitable dogfish. Making a total of 15 different species of fish. This shows the diversity and variety of fish that can be caught in our area.
Really looking forward to the start of the season in April. Taking bookings now .
Tope trips starting in May, through to July.
Bass trips starting in July, through to October. Using live sandeel.
Any mixed fishing Tope/ Bass, or any other bottom fish can be accommodated.

30/09/2016

Fishing Report by Stuart Denman

30 Sep 2016 by Stuart Denman

September proved an excellent month for bass on the Ebony May , with both inshore and offshore marks producing good numbers of bass between 3 to 5lb in weight[see gallery],The largest being a bass of 8 lb caught by a party of anglers from Bristol. There has also been some good pollack.bream, and wrasse caught this month there was also a number of codling caught in the latter part of the month,mackerel are still in abundance and small whiting are starting to show inshore Looking forward to October some spaces still available.

02/08/2016

Fishing Report by Stuart Denman

2 Aug 2016 by Stuart Denman

July 2016.
Once again, a good month for tope. Still large numbers being caught. 24th of July, a party from Swansea - John Criddle, landed 21 tope, averaging 35 pound in 2 and a half hours. Also bass are starting to show on local marks. The same party landed a number of bass, largest up to 5 pounds. Mackerel seems to have arrived in quantity, and no doubt the bass are following. Taking bookings for bass trips, with some places still available for spring tides in August, September, October. See gallery for pictures.