Charter Boat: Emma Kate
Boat and Skipper Details
Licensed For:
up to 12 passengers
Code Of Practice:
60 Mile
Hours:
4hr / 6hr / 8hr / 10hr / 12hr / Multiple Days Trips
Type of Fishing:
All year round, Shark Fishing, Wreck and Reef, And General Fishing
Tackle Available:
Yes - Contact Skipper
Bait Available:
Yes - Contact Skipper
Boat Specification:
'' Emma Kate '' is a Lochin 38 powered by new twin 280hp fpt Iveco's turbocharged units.
Facilities:
Toilet accessible from the deck, Tea and Coffee on request
Additional Description:
Emma Kate is a very well kept vessel, Has a massive deck area. Cruises at 15 knots and a sprint speed of 28 knots. Also has a shelter behind the wheelhouse to keep all passengers dry. Excellent sea boat. And has all the latest electronics including the latest Olex 3D Ground Mapping and Chartplotter System. To pin point the fish. We cater for Stag/Hen parties, Experienced anglers or Beginners you will enjoy your day out aboard us.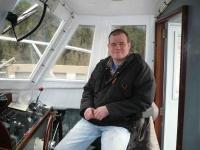 About the Skipper:
Lee has over 20 years experience on the north cornish coast. Has also been Junior boat angling champion in the past.
Upcoming Individual Spaces on Emma Kate
Latest Catches 34 photos uploaded
Latest Fishing Reports and News
19/07/2017

Fishing Report by Lee Wicks

19 Jul 2017 by Lee Wicks

Plenty of pollack and ling on the wrecks now. Fishing in general is good plenty of gurnards, cuckoo wrasse, ballan Wrasse,Tope, And plenty of bait fish.

11/05/2017

Fishing Report by Lee Wicks

11 May 2017 by Lee Wicks

Had a couple days nice weather last week so decided to hit the wrecks. Had over 80 pollack on each day ranging from 4lb to just over 11lb