Charter Boat: Enterprise
Boat and Skipper Details
Licensed For:
up to 10 passengers
Code Of Practice:
60 Miles
Hours:
4hr / 5hr / 6hr / 7hr / 8hr / 9hr / 10hr / 11hr / 12hr / Multiple Days Trips
Type of Fishing:
, bottom fishing for tope smoothound skate , cod, bass, dabs ,plaice , and if your rearly lucky you just might catch a rare lesser spotted dogfish ?
Tackle Available:
Yes - Contact Skipper
Bait Available:
Yes - Contact Skipper
Boat Specification:
fully insured with 3rd party liabilty coded with full time skipper owner,
Facilities:
rod and tackle hire and tuition.toilet onboard, tea and coffee, oven available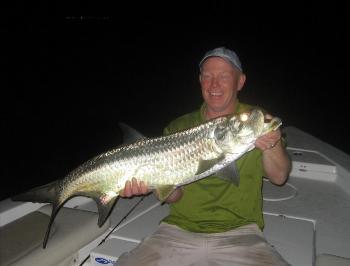 About the Skipper:
chris is the skipper and owner of the Enterprise,my hobby is angling all around the world and being an ex commercial fisherman for20years and for the last 15 years this has been my full time job 7 days a week so not just weekends and holidays , which enables us to keep on the fish and wheres fishing best ,so catching you fish and having a good day out is our priority .tight lines.
This Charter has been listed as Suitable for Diving Trips. Contact the Skipper for full details.
Upcoming Individual Spaces on Enterprise
Reviews
Summary:





David Pollard (28/05/2016)

We had a great Saturday's fishing on the Enterprise. Chris is a great skipper and always on hand to assist / offer advice between the frequent rounds of hot tea. We had a fairly successful day with a steady flow of skate, smooth hounds and the occasional spotted dog ! Will definitely be heading back for another trip when Chris has space in board!

Skippers Reponse: thanks dave glad you enjoyed it

Alan Elliott (02/08/2012)

Superb, very well looked after great help and guidence for 14 year old we had a great day

Skippers Reponse: thanks alan hope he enjoyed it .

Brusher Hart (07/12/2011)

I have been on several trips with skipper Chris Mole on `The Enterprise` including species hunting and general fishing days with diferent levels of anglers. Chris always does his best to find fish and is a competent angler himself and always ready to give advice or help if needed to the beginner or more experienced anglers. Tea or coffee is always readily made if requested. The quips and general banter are frequent and humourous. In my opinion an excellent skipper and comfortable boat suited to all anglers of various standards.

Brusher Hart (07/12/2011)

I have been on several trips with skipper Chris Mole on `The Enterprise` including species hunting

Brusher Hart (04/08/2011)

I Have been on Chris`s boat the Enterprise many times with different species in mind and a range of competence amoung other anglers. Chris copes very well with both aspects, finding the species and always on hand to help bait up and cast if needed for the unsure or beginner. A keen angler himself who will pass on tips and and advice to those interested. Always quick with a humerous quip, and tea /coffee aplenty. An ex comercial fisherman, Chris has expert and extensive knowledgf of the Thames estuary and local fishing grounds. Great days out and many photo`s and memories to treasure.

Skippers Reponse: Thanks hope you enjoyed your day
Latest Catches 165 photos uploaded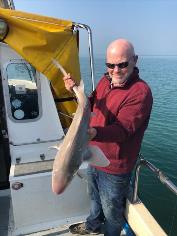 Unknown
10 lb Starry Smooth-hound
Mar-2019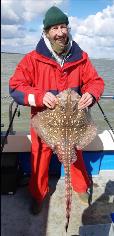 Latest Fishing Reports and News
04/2019

Fishing Report by chris Mole

Apr 2019 by chris Mole

spring has sprung ,well its mid April and the rays are in full throttle with catches of 50plus regular ,still some nice size whiting coming out the odd small codling and odd bass showing also,
had 3 trips after the smoothounds last week little early which is nice to see with 20plus fish every trip mainly small mediums but few 8 to 10lbers in the mix, thers still a chance of spurdog on the small tides and hopefully this weekend we will try if we can find some settled weather looking easterly for a few days yet so inshore it may have to be but still good fishing ,
keep you informed . tight lines Chris.

02/2019

Fishing Report by chris Mole

Feb 2019 by chris Mole

Whent in search of some spurdogs this weekend, little early but we managed to find 14 Friday upto 18lb but only manage 2 sunday upto 13lb but plenty of rays to keep us busy,
This fisherie should improved over the next few weeks but we must sort the correct tides out for this,
Makes for a change of species as the cod fishing is very slow this year.
If you fancy targeting spurs give me a call few tides left.

02/2019

Fishing Report by chris Mole

Feb 2019 by chris Mole

well the weather and fishing hasn't been in our favour since Christmas but ive managed a few trips out and manage to find a few fish ,
lots of sprats about and put the herring net in on occasion to get some bait and a feed for the anglers,
very few whitings now showing also on the small or slack tide a few dabs coming to the smelly baits ,
#most trips consisting of 10/20 thornbacks mainly on herring fresher the better ,
soon be off targeting other species lets hope .
tight lines chris.

11/2018

Fishing Report by chris Mole

Nov 2018 by chris Mole

fishing has been fairly good lately not many codlings yet but few more every week plenty of fish outhere so luck has it 2 spaces just come available uptideing for rays whiting codling bass £55 p/h
for Monday 5th nov , text/phone me on 07974142777 .

07/2018

Fishing Report by chris Mole

Jul 2018 by chris Mole

Well the weather has been excellent and fishing has been similar with tope/bass/and hounds on fire what a summer its been so far with reports of all sorts being caught and a 30lb plus tuna spotted at ne maplins unfortunately dead but whole
Tight lines chris.