Charter Boat: Gwen-Paul-M
Skipper:
Carl Davies or Andrew Wragg
Availability Calendar
2 Reviews

Boat and Skipper Details
Licensed For:
up to 12 passengers
Code Of Practice:
Cat 2 - 60 Miles
Hours:
4hr / 6hr / 8hr / 10hr / 12hr Trips
Type of Fishing:
All Types - Specialise in Wrecking
Tackle Available:
Yes - Contact Skipper
Bait Available:
Yes - Contact Skipper
Boat Specification:
BWSeacat
Facilities:
Tea/Coffee Free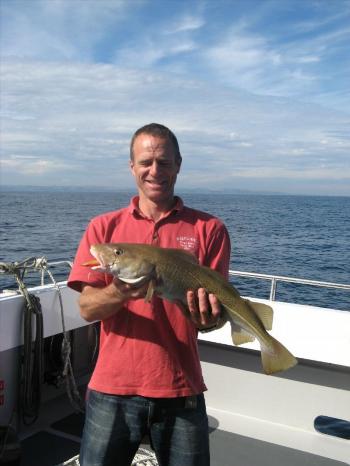 This Charter has been listed as Wheelchair Accessible. Contact the Skipper for full details.
Upcoming Individual Spaces on Gwen-Paul-M
Sorry, there are currently no Individual Spaces at present.
Reviews
Summary:





Dave Hallett (08/08/2017)

First time out on this very fast and spacious cat,Andrew ,the skipper on the day informed me that it was a full boat but as it turned out not everyone fished so there was even more room on deck.We moved several times and caught loads of mackeral , large Huss some small Thornies Gurnard and Whiting.All in all a good day to be afloat , the rain forecast did not materialise and winds were light which made the boat even more stable.Highly recommend this boat and I will definitely book again

Skippers Reponse: Hi Dave, Glad you enjoyed the trip, Andrew told me he was pleased with the trip too. The Bara brith was much appreciated and has kept us going on a few bad weather days since! Looking forward to meeting you on future trips. Best Regards, Carl.

William Holland (01/08/2017)

Hi all,this is now the third review I have given about boats that I have booked to go wreck fishing out of the North wales / Angelsey area. Yesterday I was out with Carl who skippers the Gwen-Paul M out of Conway .I was not sure if he was going to sail due to the forecast but he confirmed it was on due to a small window in the weather. He was on time at 6.00 am loaded and away.Firstly the boat is superb, good facilities plenty of room ,nice and tidy and rigged out to do the business.He was right about a window in the weather,The sailing was great .Obviously I had payed good money to go wrecking and that is exactly what Carl gave me.He steamed for miles to his chosen targets for us to fish and fish we did ,I broke my PB pollack. By the end of the day, I was cream crackered .I felt I had received value for what I had payed,even on the way back he stopped to give us the opportunity to pick up some mackerel for the BBQ ( assuming we get the weather)but overall I have to say he is now down in my top ten boat for wrecking in this area.Thanks for a great day Carl see you again Will.
Latest Catches 15 photos uploaded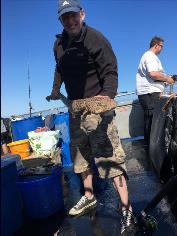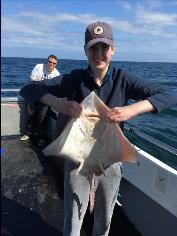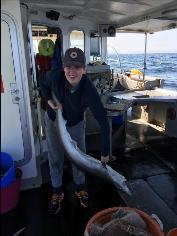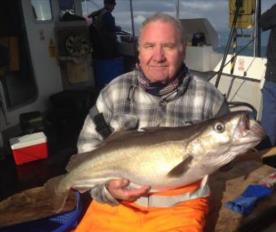 Potsy
15 lb Pollock
30-Sep-2013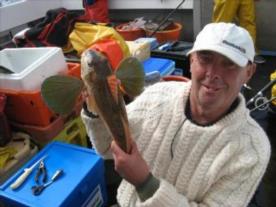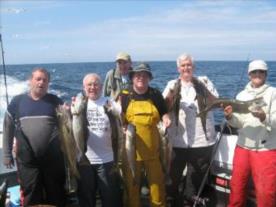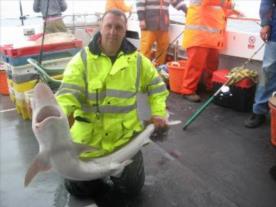 Latest Fishing Reports
21/08/2018

Fishing Report by Nick McGrane

21 Aug 2018 by Nick McGrane

I went out with my son on the 21st of August with Carl on Gwen Paul from Conwy. Started a little slow, but when we found the Mackerel, we caught plenty to keep us in bait and for those who wanted to take some home. I really wanted to catch a Tope, but Carl wasn't hopeful. We ended up landing 4 on the boat, ranging from 15lb to a 30lber caught by my son. Lot's of other species, dogs, bull huss and whiting but the Tope were the stars of the trip. Great day out, very good and patient skipper . Would definitely recommend.

08/05/2018

Fishing Report by Carl Davies

8 May 2018 by Carl Davies

Plenty of early season pollack and coalfish on the wrecks at the moment, up to 8lb and 4lb respectively. Nathan part of a 4 strong grandfather, dad and sons team displays a quality pollack from the bank holiday weekend.

12/07/2017

Fishing Report by Carl Davies

12 Jul 2017 by Carl Davies

We've had some solid fishing so far this month both inshore and offshore. Reef and bank trips are producing some cracking Tope with the best one so far weighing in at 42lb, caught by Wilf. Other species include Thornback Ray and Bull Huss. Offshore, the best fish so far this year is a 16lb 4oz pollack a personal best for local angler Mally. We've had a few cod to 7lb on the wrecks too. Conger and ling are also about on the anchor over slack water. Mackerel have thinned a little from their early season numbers but we generally pick up enough for bait through the day.

02/06/2017

Fishing Report by Carl Davies

2 Jun 2017 by Carl Davies

Great to see plenty of fish back on some of the closer wrecks. Pollack to 8lb yesterday. Also a fair number of cod to 3lb, numbers the likes of which we have not seen for a couple of years. Plenty of mackerel too now the algal bloom is clearing. Please give me a ring or drop me a mail if you'd like to book a trip.

Cheers, Carl

06/05/2017

Fishing Report by Carl Davies

6 May 2017 by Carl Davies

Plenty of pollack and coalfish over the weekend. Also a few mackerel, herring and a cracking Tub Gurnard, 3lb 9 oz. Room on an 8 hour reef and bank trip next Sunday. Cheers, Carl.