Charter Boat: High Flyer 2
Boat and Skipper Details
Licensed For:
up to 10 passengers
Code Of Practice:
60 miles COP 2
Type of Fishing:
Wrecking,uptiding,winter cod,Tope and bass,summer mackerel, night fishing.
Tackle Available:
Yes - Contact Skipper
Bait Available:
Yes - Contact Skipper
Boat Specification:
Procharter P4 . Cummins 480 hp turbo , 20knots cruise. Top 30knots. On deck toilet.
Facilities:
On board Toilet ,Tea, Coffee, Soups,, biscuits chocy bars if your good!
Additional Description:
Cater for beginners ,full instruction given. On Board electronic flush deck toilet. Bait ,tea ,coffee, all included , we use latest ABU and PENN and AKIOS tackle ,please bring what you like though.. Please note if you wish to use worms all day please bring your own due to their expense. Keep what you catch within size limits or release. Open deck for uptiding. Plenty of free parking offroad.We also do NIGHT TIME trips please ask for details .Also tope and bass specialist trips on the distant banks in the summer. You can also add your email or mobile number to our database for specials to get info before main website. GIFT VOUCHERS available please email, can be used up any time of year great birthday and xmas gifts. Normal trips costs £45 for the day, bait included also tea ,coffee etc. We ask £20 deposit on Paypal and rest on the day.
* Note for 2014* With regret we are going to ask £5 for rod,reel,tackle hire for the day per rod if you use our tackle as we spend a fortune on replacement as we use Abu and Penn latest gear, does not affect the trip price when you bring your own tackle. IMPORTANT. on booking the whole boat, we are coded for 10 places which has to be covered, it means what it says not expecting to pay for 6 places when your mates let YOU down.Organisers of trips please be aware best to collect all funds before sail date to protect the others in case of let downs, responsibility is the group who have booked not the skippers.

If you have a certain day or date in mind or wish to target a certain species we will make up trip for you will even try add people from our own database so you dont have to book the whole boat. Best to talk about your day first to make sure you pick the right tide for best fishing for what you want to do.

Please bear in mind boat bookings ten places have to be covered financially up to you how many people you have onboard up to ten which will split the cost. This however gives you control over departing and returning times to suit yourself.

Self employed or company corporate days why not ask for written receipt as fully tax deductable.

We do from time to time television work/surveys, sonar towing, item recovery, involved in bird and seal survey if we can help we will. Unfortunately this new vessel is not suitable for diving.

WE HAVE NOW PRINTED A COLOUR BROCHURE IF YOU WISH TO RECEIVE E A FREE COPY PLEASE EMAIL OR TEXT YOUR ADDRESS AND WE WILL POST ONE OUT TO YOU.

You can also keep up to date on our Facebook page under https://www.facebook.com/HighFlyerFishing/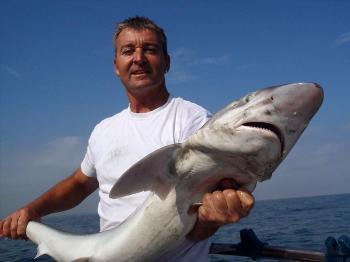 About the Skipper:
Owner /skipper full time. Stopped commercial fishing now concentrating on charters only.
BSAC /PADI Diver
Winner of Sea Anglers Top Skipper Awards 2017 .
Member of Angling Trust
Member of Federation Of Sea Anglers
Member of Professional Boating association. (PBA)
Sunday
Monday
Tuesday
Wednesday
Thursday
Friday
Saturday

Color for Fully Booked

Fully Booked

Color for Partially Booked

Partially Booked (Individual Spaces)

Color for Available

Available (Whole Boat)

Color for Not Available

Not Available

Color for Unspecified

Unspecified

N.B. Not all Skippers keep this dairy up-to-date. Always check with skippers before making any plans. Last calendar update: 07-Dec-2018

Sat 1st Dec More...

2 places left

Sun 2nd Dec More...

3 places left

Mon 3rd Dec More...
Tue 4th Dec More...
Wed 5th Dec More...

8 places left

Thu 6th Dec More...
Fri 7th Dec More...
Sat 8th Dec More...
Sun 9th Dec More...
Mon 10th Dec More...
Tue 11th Dec More...
Wed 12th Dec More...
Thu 13th Dec More...
Fri 14th Dec More...
Sat 15th Dec More...

now full

Sun 16th Dec More...

3 places left

Mon 17th Dec More...
Tue 18th Dec More...
Wed 19th Dec More...
Thu 20th Dec More...
Fri 21st Dec More...
Sat 22nd Dec More...

9 places

Sun 23rd Dec More...
Mon 24th Dec More...
Tue 25th Dec More...

Free trip

Wed 26th Dec More...
Thu 27th Dec More...

5 places left

Fri 28th Dec More...
Sat 29th Dec More...
Sun 30th Dec More...
Mon 31st Dec More...
Upcoming Individual Spaces on High Flyer 2
Reviews
Summary:





barry dewing (02/12/2018)

would like to thank jon for a lovely day out with my two kids on the boat ,think it not just geting big stuff it waching kids enjoy it .was good to see them caching fish allday and not wonting to come back would like to thank every one on the boat and jon for soups coffe tea choc bar .and his kind help would like to c moor young try as time of fishing are hard these days thanks jon and every one on the boat

Skippers Reponse: Thanks Barry was a pleasure to have the kids onboard outfished some of the regulars! Pity no cod today but plenty of whiting as usual looking forward to the next one. Many thanks mate. Jon

Ian Smith (16/09/2018)

Brilliant day out very knowledgeable highly recommended if you are looking for a fun day out sea fishing this is it

Skippers Reponse: Many thanks Ian was enjoyable day lots of fish bit on the small side but thats this time of year! Appreciate you guys coming out. Cheers Jon (High Flyer 2)

Keith Hamilton (16/09/2018)

Fantastic days fishing today with skipper Jon, on the High Flyer 2, thoughly enjoyed it, thanks for the endless supply of tea coffee and biscuits, will definately be back , Keith

Skippers Reponse: Bit windy Keith but managed the day in, plenty of sport inside there was not a bad day in all. Be good to see you hopefully with few cod next time pleasure to have you aboard. Many thanks. Jon (High Flyer 2)

John Bould (02/09/2018)

Great day with Chris today. 9 Rays to 7.5lbs caught and returned together with some doggies a small smoothie and loads of whiting. Lovely fruit cake from Dave's wife and lots of hot drinks

Skippers Reponse: I go away and cake is brought onboard! Glad you had good day john will go away more often. Cheers mate

Carl Pankhurst (19/08/2018)

Had a great day out on the 19 Aug 18 aboard the High Flyer. Loved the new boat, unfortunately nothing new about the Skipper, sorry Jon, just getting my own back lol, plenty of banter, tea/coffee and chocolate biscuits.
Me and Ed won't be leaving it too long until we book another day out.
Again cheers Jon for a great day out.
Latest Catches 808 photos uploaded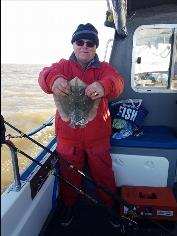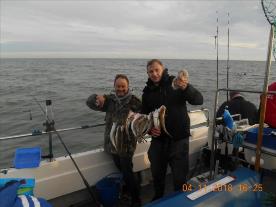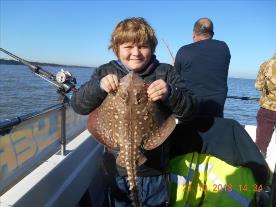 Dillan
4 lb Thornback Ray
21-Oct-2018
Tony
8 lb Thornback Ray
29-Sep-2018
Bud
3 lb Thornback Ray
29-Sep-2018
Latest Fishing Reports
25/11/2018

Fishing Report by jon old

25 Nov 2018 by jon old

Well its been extremely testing month or two plenty of whiting too many to be honest at times a pain. We shouldnt moan but we do, still getting the odd spotty dog and thornback thrown in. nothing has gone to plan like a normal season, this year has been a strange one with a abundance of rays this year but hardly any mackerel only a few tope as well, but millions of sandeels and big launce on the feathers. The wind has been relentless i cant remember when it was like a sheet of glass this summer only the odd day without wind. Its been the most trips since we have been chartering that i have had to cancel due to the weather bit testing to say the least. We are still waiting for our cod to arrive reports of plenty further north just the odd one or two for us at the moment hoping these strong easterlies might have dropped the water temperature for us . Despite all the doom and gloom we have been kept busy by the whiting of all sizes without them we would be worried but that could all change with the promise of a bad winter round the corner so we keep being told. Big thanks to everyone for there continued support of High flyer 2 i have stopped putting strings of whiting up as caused stupid comments on facebook stuff that i personally havent got time for and running a full time charter vessel to all the legal requirements from IFCA fish rules to codes of practice etc the effort put in to please everybody from the catering side to paperwork and advertising, phonecalls, boat maintenance, skipper refreshment courses the list goes on these pathetic individuals who know nothing of our local area try to do damage over the internet so i thought best to wait till few codling arrive for our next batch of photos. We are already taking bookings for 2019 please think ahead all those wanting to wreck fish on those precious weak tides , also those self employed take advantage of a corporate day to claim against your tax with full receipt provided, and our night trips will go ahead soon as we get a few more cod. New brochure will be out in the not to distant future , if anybody wants A4 flyer as advertised here please ask will send laminated copy out were very much appreciative of you helping us out. Well until then tight lines everyone . Jon (High Flyer 2)

11/11/2018

Fishing Report by jon old

11 Nov 2018 by jon old

Sunday 11th November 2018 very windy weekend lost yesterday but managed a day as wind turned south west giving us a bit of shelter inshore. No cod today for us water temperature has increased again by 2 degrees now standing at 10.5 degrees started catching spotty dogs straight away i knew we wouldnt get any cod, plenty of whiting all day the lads from Ipswich kept a few for the table, one small thornback returned only other species was a small pouting, in all a busy day with the whiting but nothing special. Big thanks to the lads for sticking the weather photo today of Andrej Syrbu team was enjoyable day despite the weather. Cheers Guys. Jon (High Flyer 2)

04/11/2018

Fishing Report by jon old

4 Nov 2018 by jon old

Bit of a testing few weeks weatherwise managed a few trips hoping the cold was going to stay but looking mild again with these strong southerlies! Few pictures from today Sun 4th Nov 2018 few small codling rest whiting and still odd thornback around. Big thanks to everyone for supporting the High Flyer 2 fingers crossed for these cod making a show this year. Tight lines everyone. (Jon )

21/10/2018

Fishing Report by jon old

21 Oct 2018 by jon old

High Flyer Fishing Trips and Charter added 3 new photos.
Published by Jon Old · Just now ·
Few pics from the weekend of 20/21st Oct 2018 just plenty of whitting all day wherever we went, odd thornback still about with spotty dogs but not so many thank god! All the fish inshore couldnt catch a thing offshore complete waste of fuel and time. I presume everything is eating the shrimp on the beaches. Still patchy herring probably due to the water temperature of 14.5 degrees so no fresh bait at the mo. Bad forcast cold winds and snow for weekend with artic blast unfortunately we need it bring on the cod. Many thanks to everyone from the weekend was most enjoyable.Cheers Jon (High Flyer 2)

14/10/2018

Fishing Report by jon old

14 Oct 2018 by jon old

Well its been a hard couple of weeks with extremely windy weather at the weekends typical when the boats full ! Lost last weekend totally home early Sat by 11 am , Sun was a no goer, this Sat 13th was 45 mph southerlys but managed today with 3 different forcasts all wrong ended up with a rather strong northerly . Why cant the weather people with all their technology just get it right here and there! Well basically picture today is of John Currie with a female roker returned, made a nice change from the whiting he was hauling in! We lost a decent fish that we never saw was right at the boat then gone shame really. All day to be honest was whiting of all sizes one or two nice ones plus doggies of all sizes kept us occupied unfortunately no codling for us today but still very warm water temp 15 degrees on finder not really cod water. Praying for some colder weather but not according to our friends at the weather centre were still holding on to our Indian summer so who knows . Will be out this coming Tues will see what we can find. Big thanks to all today very much enjoyed it good load of banter as usual and happy birthday to Dave Lumley appreciate you coming out on your special day. Tight Lines everyone.
Jon (High Flyer 2)