Charter Boat: Lady Gail II
Availability Calendar
3 Reviews

Boat and Skipper Details
Licensed For:
up to 10 passengers
Code Of Practice:
20 Miles
Hours:
2hr / 4hr / 6hr / 8hr / 10hr / 12hr / Multiple Days Trips
Type of Fishing:
Fishing at anchor over sand or rough ground, drifting over inshore and offshore reefs. Sharking in the Celtic Deep. Main species pollack, codling, coley, whiting, bass, ray, flatties, huss, hounds, tope and blues. Please refer to website for more details on trips and charters.
Tackle Available:
Yes - Contact Skipper
Bait Available:
Yes - Contact Skipper
Boat Specification:
Starfish 10
Facilities:
Tea and coffee provided FOC. Tackle, rods and reels available. WC
Additional Description:
We run out of Dale, a picturesque seaside village near the mouth of the Milford Haven waterway, April to September then Milford Marina for the Autumn/Winter period. Plenty of parking available. Accommodation also available.


CHARTERS ALL YEAR - 2018 BOOKINGS BEING TAKEN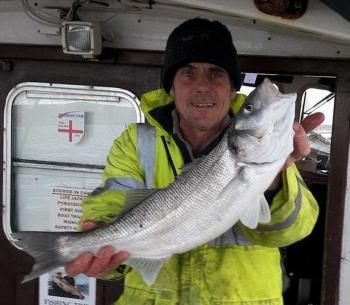 This Charter has been listed as Suitable for Diving Trips. Contact the Skipper for full details.
Sunday
Monday
Tuesday
Wednesday
Thursday
Friday
Saturday

Color for Fully Booked

Fully Booked

Color for Partially Booked

Partially Booked

Color for Available

Available

Color for Not Available

Not Available

Color for Unspecified

Unspecified

N.B. Not all Skippers keep this dairy up-to-date. Always check with skippers before making any plans. Last calendar update: 22-May-2018

Tue 1st May
Wed 2nd May
Thu 3rd May
Fri 4th May
Sat 5th May 6hr evening trip available
from 6pm at @ £30pp
Sun 6th May

4 hr reefing trips at 9am and 1pm and 7hr evening trip in the haven from 5pm. All £30pp.

Mon 7th May Reefing around islands
9 till 5 £40pp
5 spaces
Tue 8th May
Wed 9th May
Thu 10th May
Fri 11th May
Sat 12th May
Sun 13th May
Mon 14th May
Tue 15th May
Wed 16th May
Thu 17th May
Fri 18th May
Sat 19th May
Sun 20th May
Mon 21st May
Tue 22nd May
Wed 23rd May
Thu 24th May
Fri 25th May
Sat 26th May
Sun 27th May
Mon 28th May
Tue 29th May
Wed 30th May
Thu 31st May
Reviews
Summary:





Reviews Unaccepted: 2
Mark Lewis (20/04/2017)

Excellent day out again with Fen, on my own again but together we had an excellent days fishing, caught a variety of species - Ballan Wrasse, Coalfish, Pollack and Codling. Will be booking again when this way again in the summer.

Mark Lewis (15/04/2017)

Went out on Sunday 15th, fishing slow but Fen and his partner Pen took me out on my own and worked hard to find some fish, caught the dependable doggies and some juvenile whiting. Altough slow, good banter and hot tea made the trip most enjoyable and I will be booking again this week.

chip davies (19/01/2017)

What a very pleasant skipper Fin is. Good response to text enquiries, lent me a reel when I was stupid enough to forget mine. The other people booked on the trip were a no show, so Fin and his wife took me out by myself. I had a very good evenings fishing conger, Thornbury ray, codling, whiting and the compulsory doggies caught.Will certainly book again. Thanks Fin!

Skippers Reponse: Thanks Chip, look forward to seeing you again.
Bait & Tackle
Anglers Corner

Milford Haven, Pembrokeshire, South West Wales, Wales

County Sports

Haverfordwest, Pembrokeshire, South West Wales, Wales
Latest Catches 331 photos uploaded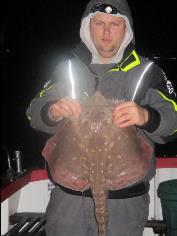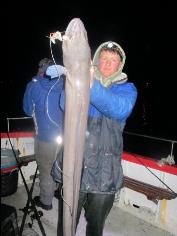 Dan
16 lb Conger Eel
16-Dec-2017
Unknown
4 lb 8 oz Thornback Ray
16-Dec-2017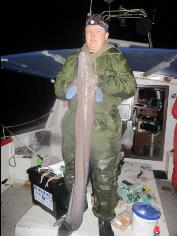 Latest Fishing Reports
15/06/2016

Fishing Report by Andy Cleeve

15 Jun 2016 by Andy Cleeve

Great two days fishing with Fen on Lady Gail, 15-16 June, 16 species, stunning 2 hour session on Spurdogs all 12-18 lbs 74 fish landed, great craic and plenty of tea and
Coffee.

05/06/2016

Fishing Report by adam west

5 Jun 2016 by adam west

Have a nice day out with fen yesterday 5th june 2016
Flat seas and sunny
Only the one shark to mid 40s

05/07/2014

Fishing Report by Des Kendall

5 Jul 2014 by Des Kendall

Shark trip into the Celtic Sea 95m water
Three sharks caught and three dropped.
Biggest, a Blue at 90lbs to Des
John landed a 80lbs Blue and Rob a 65lb Blue....
Top day with a top skipper.....