Charter Boat: Piscary
Boat and Skipper Details
Licensed For:
up to 12 passengers
Code Of Practice:
60 miles day and night
Hours:
3hr / 4hr / 5hr / 6hr / 7hr / 8hr / 9hr / 10hr / 11hr / 12hr / 24hr / Multiple Days Trips
Type of Fishing:
During the summer months you can expect Bass, Bream, Pollack,Rays, Conger,Plaice,Smoothounds, Brill, TurbotTope. During autumn and winter Bass, Conger, Cod Whiting.
Tackle Available:
Yes - Contact Skipper
Bait Available:
Yes - Contact Skipper
Boat Specification:
Cougar 10m Catamaran twin 250hp FPT engines quick and very roomy for it's size.
Facilities:
On deck toilet, Side entry door,Cabin heater,Plenty of tea and Coffee.
Additional Description:
Piscary can be booked for all types of angling from Mackerel trips to offshore Wrecking and Sharking .Piscary is a fully independant charter boat,can not be booked through any booking agent or middle man and can only be booked directly through the owner Skipper Matt Rowe.check out the website www piscary.co.uk.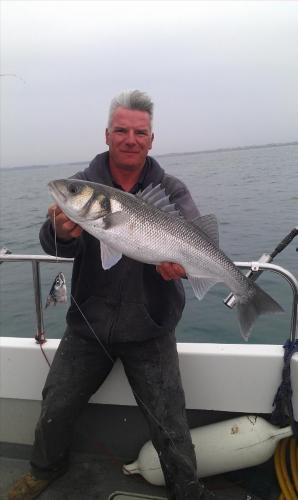 About the Skipper:
Matt has been sea fishing around Poole and Christchurch Bay for over 40years. He started as a boy in small fishing boat. He knows the area very well and if the fish are there he can find them.
Sunday
Monday
Tuesday
Wednesday
Thursday
Friday
Saturday

Color for Fully Booked

Fully Booked

Color for Partially Booked

Partially Booked (Individual Spaces)

Color for Available

Available (Whole Boat)

Color for Not Available

Not Available

Color for Unspecified

Unspecified

N.B. Not all Skippers keep this dairy up-to-date. Always check with skippers before making any plans. Last calendar update: 20-May-2019

Wed 1st May More...
Thu 2nd May More...
Fri 3rd May More...

Individuals trip

Sat 4th May More...

Boat booked for the day evening still available

Sun 5th May More...

Individuals trip

Mon 6th May More...

Individuals trip

Tue 7th May More...

Spaces on day and Spaces on evening trips.

Wed 8th May More...
Thu 9th May More...
Fri 10th May More...
Sat 11th May More...

Boat booked for the day evening still available

Sun 12th May More...

Individuals

Mon 13th May More...

Individuals trip

Tue 14th May More...

Boat booked for the day evening still available

Wed 15th May More...
Thu 16th May More...
Fri 17th May More...

Individuals trip

Sat 18th May More...

Boat booked for the day evening still available

Sun 19th May More...

Boat booked for the day evening still available

Mon 20th May More...
Tue 21st May More...

Spaces on day and sperate evening trip

Wed 22nd May More...
Thu 23rd May More...
Fri 24th May More...
Sat 25th May More...

Boat booked for the day evening still available

Sun 26th May More...

Boat booked for the day evening still available

Mon 27th May More...

Individuals Trip

Tue 28th May More...

Individuals Trip

Wed 29th May More...
Thu 30th May More...

Individuals trio

Fri 31st May More...

Boat booked for the day evening still available
Upcoming Individual Spaces on Piscary
Latest Catches 79 photos uploaded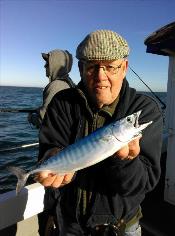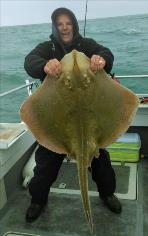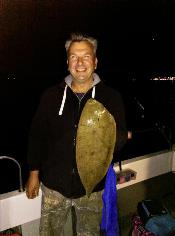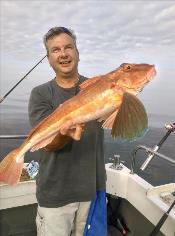 Captain Matt
3 lb 11 oz Thick-Lipped Grey Mullet
24-Jul-2018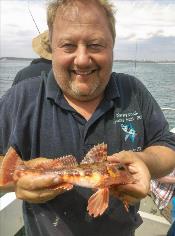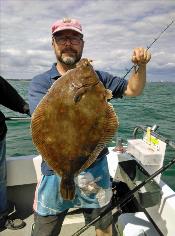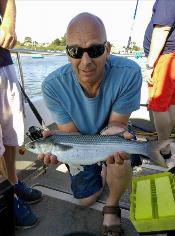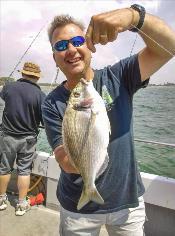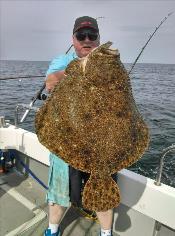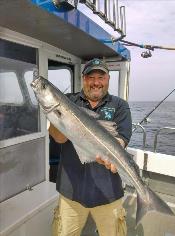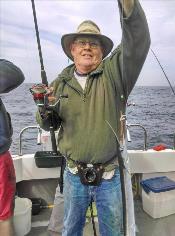 Latest Fishing Reports and News
01/2019

Fishing Report by Matt Rowe

Jan 2019 by Matt Rowe

Piscary end of year report 2018
After the beast from the east hit in March the fishing was a bit slow to get started but it did end up being one of the best years ever for speices and specimens,with the boat record for speices being smashed with a total of 60 for the year and several boat records were broken!
Fish of the month for March was a 21lb Spurdog caught by Darren Phillips, we also had Ling to 10lb Thornbacks to 13lb
Fish of the month for April was a 17lb Undulate Ray caught by Dave Colclough,we also had lots of Rays,Congers,Smoothounds and of course Bream!
May was an amazing month with too many great fish to mentioned Paul Filer won fish of the month with a Piscary record Bass of 16lb 8oz,Roy Adams Broke the Gar record with a fish of 1lb 8oz we also had Blondes to 21lb,Tope, Bullhuss,Spurdogs and Bream to 3lb 3oz and Steve Maylin came 3rd in Poole Sea Angling Center Bream comp with a fish of 2lb 11oz winning the Pat Manly trophy for Piscary for the second year in a row.
June was also a bumper month with some good Tope fishing, Blondes to 21lb ,lots of Smoothounds to 9lb 8oz, Undulates to 17lb. Darren Phillips hit the jackpot again boating Piscarys first ever Coalfish at 8lb, and Andy Speight almost beat the boat record Turbot , with a monster flatty of 21lb.
July was unbelievable good , first of all the Piscary Gilt-head Bream record was broken 3 times in one week. First by Darren Phillips at 1lb 11oz, then by Dave Colclough at 1lb 15oz, and finally by Shaun Lyndsey- Collins at 2lb 2oz. Another first for Piscary were the Thin Lipped Mullet we caught this year. Again the record was broken a few times in one evening, with the largest being caught by Andy Mitchell at 2lb 14oz . We had our annual Stingray trip , only one small one caught by Steve Churchill to add to his & the boat species for the year. Darren Phillips had another super rare fish a Streaked Gurnard, only the second one we have ever seen. Other notable fish we had were Bream to 4lb, Thick Lipped Mullet to 3lb 11 oz and there were quite a few nice Plaice around.
August fishing was pretty standard compared to other months, however we did have some very good sessions on the Rays ,Sole, Plaice, Bass to over 9lb and Damen Court added to the speices with a Couch's Bream again only the second one we have ever see.
September saw us do a bit more offshore and wreck fishing than normal where Dave Colclough absolutely smashed our Tub Gurnard record with a fish of 6lb 4oz we also had quite a few very big Pollack and Undulates to 18lb
The weather stayed very settled in October and managed to get offshore quite a bit again .The big Pollack were still showing with fish to 13lb 12oz,I had a personal best Blonde Ray of 27lb we also had Smoothounds to 13,The Sole fishing was the best it's been for a few years with fish to 2lb 4oz and Steve Churchill added to the speices with a Golden Grey Mullet.
Unfortunately the weather was not so kind in November and only did a hand full of trips made the most of our days out though with plenty of Congers, Spurdogs, Roy Adams had yet another first for Piscary an Atlantic Bonito,There were still plenty of Rays inshore along with some nice Whiting, Andy Pedon equaled the boat record Ballan Wrasse with a beauty of 6lb 6oz.
The weather was just as bad in December right up until the end of the month when we got a few trips in to finish the year off as you would expect the fish was very goog with Whiting to 3lb 6oz, Congers to 47lb,Blonde Rays and Spurdogs to 17lb
All the fish of the month winners won a Bongee Spongee.
The Piscary Tuesday Evening league was another great success with Gary Rook winning the League on 63 points he wins a free trip, Gillon Thompson was second on 60 points, Pete Dickinson was third on 58
Gary also had the most speices in the league with 22 second was Pete Dickinson with 20 he wins a free trip by default.
Gillon Thompson had the best specimen in the league a 14lb Undulate he also wins a free trip. The evening league will be running again next year, starting on Tuesday 7th May, then fortnightly until 24th September. Best 8 out of 11 to count for the scores. Please contact me to book in or for more details.
In the annual species hunt Darren Phillips came out on top with 43 species , he wins a free trip. Steve Collins was second on 40 , he wins a free evening/half day trip. Dave Colclough was third on 39, then Nick Lark on 37, Roy Adams & James Ellis on 36, Kim White on 34, Rex Swansbury, Neil Mortimer & Damen Court all on 31,Gillon Thompson on 29, Vernon Allen on 28, Steve Churchill & Andy Peadon on 27, Leigh Van Eldik on 26, Pete Dickinson on 23, Richard Day & Rod Giles on 21.
The species hunt will not be running next year however we will be running the Piscary Friday super league on the last Friday of the month starting on 26th April for 9 months. There will be a total pot of £1000 in cash prizes up for grabs contact me for more details or to book in.


08/11/2018

Fishing Report by Matt Rowe

8 Nov 2018 by Matt Rowe

Fishing this Autumn has been phenomenal with lots of specimen fish,Species and Piscary boat records
Dave Colclough broke the boat record Tub Gurnard with a magnificent fish of 6lb 4oz,Nick Lark broke the Couch's Bream Record and Roy Adams added a Species for the boat an Atlantic Bonito of 10oz , as it was not on our list he wins a free trip! Andy Peadon equaled the boat record Ballan Wrasse with a fish of 6lb 6oz. Other fish of note were an 18lb Undulate Ray caught by Adam,14lb Pollack for Rex Swansbury,27lb Blonde Ray for the Captain,another Ballan of 6lb 4oz for Shaun Collins-Linsey,2lb 4oz Sole for Dave Colclough,13lb Smothound for Andy Peadon and Golden Grey Mullet for Steve Churchill.Along with quite a few nice Pollack ,Congers,Tope,Bullhuss and Rays offshore and Great Plaice,Bream,Bass,Rays and Species inshore.The species tally for 2018 know stands at boat record 60!


23/06/2018

Fishing Report by Matt Rowe

23 Jun 2018 by Matt Rowe

Yet another fish of a life time caught on Piscary this time it was another Turbot of 21lb caught by Big Andy Speight he caught it while fishing for Tope and Congers over a Wreck. The fishing has been very good all round again still catching quite a few nice Bream ,Double figure Smoothounds, Undulate Rays to 16lb 10oz,Blondes to 21lb ,Congers ,Tope and Brill.

06/2018

Fishing Report by Matt Rowe

Jun 2018 by Matt Rowe

Yet another Piscary record smashed
Well done to Darren Phillips on catching Piscary's first ever Coalfish at 8lb as Darren is a Piscary species hunter he wins a free trip .Other notable fish around at the moment ,Big Blondes, Tope to around 30lb ,Undulates to over 15lb,Turbot, Brill,Bream to over 3lb ,Plaice, Bullhuss,Congers,Thornbacks to over 12lb and Double figure Smoothounds.

26/05/2018

Fishing Report by Matt Rowe

26 May 2018 by Matt Rowe

Absolutely fishing its head off from Poole at the moment with plenty of Bream to over 3lb ,New Piscary boat record Garfish caught by Roy Adams at 1lb 8oz ,Spurdogs, Pollack, Tope,Ling,Plaice, Bullhuss, Undulate Ray to over 15lb ,Turbot, Brill and the icing on the cake a new Piscary boat record Bass caught by Paul Filer at a massive 16lb 8oz