Charter Boat: Silver Halo
Boat and Skipper Details
Licensed For:
up to 6 passengers
Type of Fishing:
Slow pitch jigging and lure fishing, inshore and offshore. Perfect for small groups of upto 6 who can take the 'complete boat' charter.
Tackle Available:
Yes - Contact Skipper
Boat Specification:
2018 Cheetah Marine Catamaran 7.9m x 2.7m beam powered by 2x 115 Honda's
Additional Description:
Silver Halo is a brand new 7.9m Cheetah Marine catamaran, built to the highest standards and a bespoke design.
A mix of practicality and versatility which provides plenty of deck space (3.5m x 2.6m) for rod and line angling for up to six anglers.
With a shallow draught we are able to fish in shallower water and closer to structure – ideal for casting hard or soft plastics and searching out predatory fish amongst the kelp beds and rocky gullies.
A rear platform and side door allow easy access to the water, ideal for landing larger fish or diving and snorkelling.
Silver Halo is fully outfitted with the latest Simrad electronics including a 12″ NSS Evo 3, sonar, 3D Structure scan, 4G radar, VHF, A.I.S, auto pilot and a 100w stereo sound system.
With full fuel tanks, Silverhalo's range is over 150 miles. Cruising at around 20 knots, with a top speed of over 30, getting to our destination is quick, easy and safe. She is CAT 2 coded to 60 miles.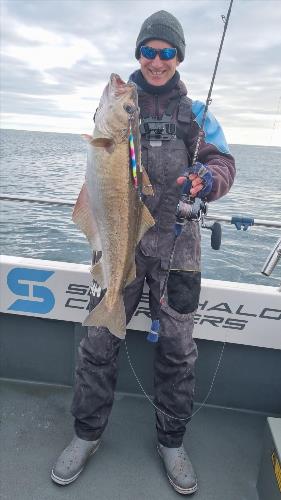 About the Skipper:
Matt Forrester, Skipper and owner of Silver Halo, has been a keen fisherman since the age of 9.
It all started in the late seventies around Torrington, North Devon, fishing with two younger brothers, Ben and Dan, on the river Torridge for trout, eels and dace. Many a weekend were also spent coarse fishing on the waters at Stevenstone, Cranford and Darracott Reservoir.
Regular trips to grandparents living in Torquay during the Summer holidays also allowed pier and rock fishing, with the added bonus of occasional trips on his Uncle's 12ft boat, Miss Makkerel.

The late 80's were spent fishing in South Devon, mostly on the Dart for trout and mullet and occasionally fishing all night in the lower reaches, dead baiting for big eels.
At 18 Matt completed a YTS in fish farming. Work experience was at Valley Springs Trout farm near Slapton, South Devon and the theory completed at Hampshire College of Agriculture, Sparsholt.

In the nineties, Matt travelled to Australia twice. This was perfect for regular surfing and fishing, catching a wide range of fresh and salt water species, the standout was a monster fresh water eel at approx 1.8m long and 200mm round!

Over the last 16 years Matt has also travelled to South Africa many times, a good amount of time was spent lure and fly fishing in the freshwater dams for Large Mouth Bass and Yellow Tail.
Fishing in the UK over the last 15 years has mainly been from the shore, casting into the surf and over rough ground, rock hopping with lures targeting wrasse and bass along some of South Devon's most beautiful coastline. These rich shallow, inshore grounds are now fished from the boat.

Matt finally bought his first boat, a Warrior 175 in 2012. A great fair weather boat and often used for wrecking trips up to 30 miles offshore. This last 5 years of boat ownership set things in motion for the new charter business and upgrade to the 7.9m Cheetah, SILVER HALO.

Early in 2017 Matt completed all the requirements to become a full time commercial skipper. These requirements included RYA / MCA Advanced Power Boat with a commercial endorsement, VHF short range radio operators license, Sea Regs Training Elementary First Aid and Personal Survival Techniques and the RYA Professional Practices and Responsibilities course. So, along with Cheetah Marine's excellent safety record and build quality you can rest assured you are in safe hands!

This Charter has been listed as Suitable for Diving Trips. Contact the Skipper for full details.
This Charter has been listed as Wheelchair Accessible. Contact the Skipper for full details.
Sunday
Monday
Tuesday
Wednesday
Thursday
Friday
Saturday

Color for Fully Booked

Fully Booked

Color for Partially Booked

Partially Booked

Color for Available

Available

Color for Not Available

Not Available

Color for Unspecified

Unspecified

N.B. Not all Skippers keep this dairy up-to-date. Always check with skippers before making any plans.

Sat 1st Sep
Sun 2nd Sep
Mon 3rd Sep
Tue 4th Sep
Wed 5th Sep
Thu 6th Sep
Fri 7th Sep
Sat 8th Sep
Sun 9th Sep
Mon 10th Sep
Tue 11th Sep
Wed 12th Sep
Thu 13th Sep
Fri 14th Sep
Sat 15th Sep
Sun 16th Sep
Mon 17th Sep
Tue 18th Sep
Wed 19th Sep
Thu 20th Sep
Fri 21st Sep
Sat 22nd Sep
Sun 23rd Sep
Mon 24th Sep
Tue 25th Sep
Wed 26th Sep
Thu 27th Sep
Fri 28th Sep
Sat 29th Sep
Sun 30th Sep
Reviews
Summary:





Paul Baker (20/08/2018)

Great day drift fishing livebaits across wrecks. Caught some lovely bass to 6lb 10oz. Neither my brother or I have boat fished for years, and never drift fishing, but Matt was very accommodating and great at putting us on the fish. Recommended without hesitation.

Skippers Reponse: Thanks Dave it was a pleasure having you and James onboard. A great day given the tides and wind werent quite in our favor.
I look forward to getting you back out there soon,
Cheers Matt
Latest Catches 38 photos uploaded
Latest Fishing Reports
08/2018

Fishing Report by Matt Forrester

Aug 2018 by Matt Forrester

We are having some great bass fishing around Lyme Bay on the inshore wrecks and often close inshore in the tidal races over the reefs.
Fishing both with lures and live bait (when really required) plenty of fish have been caught , even by begineers with bass upto 8lb !

07/2018

Fishing Report by Matt Forrester

Jul 2018 by Matt Forrester

The warming waters in July has seen a real drop off in the pollack catches so we have spent our time targeting the bass. They are showing on a few select wrecks and inshore reefs but they are still not at their highest numbers yet. We mostly try and avoid the use of bait and prefer slow jigging and lures on the wrecks. Whilst inshore we get on the light lure gear using spinning rods, much the same as youd expect from the shore. This is great sport and we've had a few wrasse getting in on the action too! This will be one of our growing areas along with some shark fishing so keep checking back and make that booking!

06/2018

Fishing Report by Matt Forrester

Jun 2018 by Matt Forrester

Several of my Lyme Bay wrecks have been producing plenty of good sport. The last couple of weeks we have run several lure / wrecking trips with catches of approx 20 pollack between 4 anglers each time. Lots of pollack between 6 and 8lb and the biggest at 13.8lb, we've also had several bigger fish lost close to the wrecks!
Cod were showing well a few weeks ago but have become a bit harder to find last couple of weeks, biggest going 7lb plus we had a couple of small Ling to 11lb.
Mackerel are now showing up in greater numbers.
Water temps are now good and we've loads of bait fish around :)
Please get in touch and make that booking, spaces still available !