Charter Boat: Spot On!
Boat and Skipper Details
Licensed For:
up to 12 passengers
Code Of Practice:
60Miles COP Cat 2
Hours:
2hr / 3hr / 4hr / 5hr / 6hr / 7hr / 8hr / 9hr / 10hr / 11hr / 12hr / 24hr / Multiple Days Trips
Type of Fishing:
Wrecking, Reefs, Gullies, Sand banks, skerries banks, channel islands, Shark fishing.
Tackle Available:
Yes - Contact Skipper
Bait Available:
Yes - Contact Skipper
Boat Specification:
SPOT ON! is a BRAND NEW state of the art 10m Cougar Catamaran built by DP Marine and is Brixhams and the south wests premier angling boat with every need thought about and catered for. Ultimate charter boat offering speed, comfort, space and stability.
Facilities:
Hot Drinks, on deck toilet, undecover seating and space for all on board, Tuition and advice given, Rod and tackle hire available.
Additional Description:
Spot On is Brixham's premier Charter boat and the only CATAMARAN to operate from Brixham as well as being Brixham's fastest charter boat!
Brand new 10m Cougar Catamaran built to a high specification by DP Marine and is powered by twin yanmar 315hp engines making her the fastest charter boat in Brixham, Torbay, Dartmouth and Exmouth, with a top speed over 30knots.
Seating undercover for 10 and heaps of room to have everyone under cover so no more getting wet and cold!
Latest electronics and safety equipment carried.
Spot On is fitted with 6 berths consisting of 2x single bunks and 2x twin bunks.

Located in Brixham means 'Spot On' has fishing grounds very close by like the famous skerries banks for plaice and rays etc,
Accompany this from the wrecks of Lyme bay to the deep water wrecks off start point means Brixham in my mind is the home of wreck fishing, also still being the current World record holder of the ultimate sport fish in British waters the Conger Eel.
Channel island trips in comfort and bespoke offshore trips offered including shark trips, south west multiple days, Scilly Isles, Falmouth etc, and new for 2014 multiple day trips east to fish Portland race, shambles and poole.
Hot Drinks on board.
Beginners welcome.
Individuals.
Due to the great location of Brixham Spot on can pick you up from Paington, Torquay or Dartmouth as well as Brixham. (Prior arrangement for this option).
So for a great superb value for money day out and to fish where others simply dream of why not try 'Spot On' the ultimate charter vessel.

*** NEWS UPDATE!! SPOT ON is officially winner of the Dartmouth Pub angler of the year 2013 competition which took place on Friday 12th July (Wrecking) with a Cod of 17lb 9oz***

*** BRAND NEW 10M COUGAR CATAMARAN FOR 2014, SERIOUSLY FAST BOAT ***

*** Spot On! is now taking bookings for 2016 & 2017 including channel island trips, 3,4,5,6,7 day trips available. Plus Weymouth multi day trips along with Cornish shark fishing trips.***

*** Check out www.spot-on-charters.co.uk or on Facebook, search spot on charters Brixham.***
As you will see the pictures and reports speak for themselves.

*** skerries trips are just £375 for the whole boat ***

*** Spot On entered the Torbay festival in 2014 & 2015 with great success being the number one charter boat and taking more trophies than any other charter boat during the festival and winning its anglers some great prizes. ***

*** Please note all PHOTOS on here are added when they are caught and are not old photos, as I think it's good to see real up to date catches ***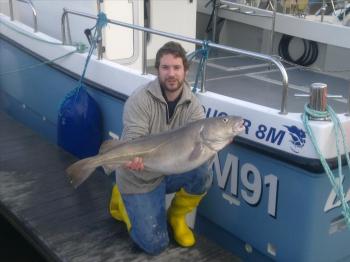 About the Skipper:
Ross Parham has been on the sea and invovled in fishing and boats from as far back as he can remember.

Ross worked on the lochin 33, the original 'C cheetah' out of Plymouth.
He is a very keen angler and enjoys catching fish and helping others, his knowledge of tackle and tactics is very useful and he is always keen to share this knowledge with the anglers.

He has fished in many waters of the uk so has a large knowledge from offshore wrecking to inshore reefs and banks.
Having boats moored and fishing from Plymouth, Dartmouth,Teignmouth, Brixham, Weymouth and Watchet so he has gathered valuable and useful knowledge along the way.

He has achieved the following qualifications:

Department of transport marine directorate full skippers certificate with commercial endorsement.
BML passenger licence up to 250 passengers.
RYA Day skipper for both power and sailing craft (Shore Based).
RYA Yachtmaster for both power and sailing craft (Shore Based).
RYA Competent first aid.
NUCO First aid.
Seafish/MCA Commercial First aid.
RYA VHF radio telephony.
SEA SURVIVAL STCW 95 Reg.
Seafish/MCA Commercial SEA SURVIVAL FULL.
Boatmasters up to date Medical.
RYA National Power boat Certificates levels 1&2.
RYA National Sailing boat Certificates levels 1&2.
RYA National Dinghy Sailing Certificate Level 3.
BCU Kayaking Certificate 2 star.
Seafish/MCA Commercial watch keeping and Navigation.
Seafish/REHIS Commercial Hygiene Certificate.
Seafish Care of the catch Certificate.
Seafish/MCA Health & Safety Certificate.
Seafish/MCA Fire Fighting Certificate.
Seafish/MCA Stabilty Certificate.
NPLQ Pool Lifeguard qualification.
ASA Level 1 Assistant Swimming Teacher.
ASA Level 2 Full Swimming Teacher.

As you can see Ross is very well qualified and enjoys the water and the sea.



This Charter has been listed as Suitable for Diving Trips. Contact the Skipper for full details.
Sunday
Monday
Tuesday
Wednesday
Thursday
Friday
Saturday

Color for Fully Booked

Fully Booked

Color for Partially Booked

Partially Booked

Color for Available

Available

Color for Not Available

Not Available

Color for Unspecified

Unspecified

N.B. Not all Skippers keep this dairy up-to-date. Always check with skippers before making any plans. Last calendar update: 13-Nov-2018

Thu 1st Nov More... Skerries
Brin Meredith
Full boat
Fri 2nd Nov More... Wrecking
Terry James X4
Jeffery Price X1
Sat 3rd Nov More... Peanut
Full boat (Skippers birthday!)
Sun 4th Nov More...
Mon 5th Nov More...

Mike savage and crew!

Tue 6th Nov More...

Mike savage and crew!

Wed 7th Nov More...

Mike savage and crew!

Thu 8th Nov More...

Mike savage and crew!

Fri 9th Nov More...

Mike savage and crew!

Sat 10th Nov More...

Celtic SAC x7

Sun 11th Nov More...
Mon 12th Nov More...
Tue 13th Nov More...
Wed 14th Nov More...
Thu 15th Nov More...
Fri 16th Nov More... Malcolm X6
Bill X2
Kristoff X2
Sat 17th Nov More... Nottingham
Full boat
Sun 18th Nov More... Winston X5
Paul Brixham X 1
Cyril X4
Mon 19th Nov More...
Tue 20th Nov More...
Wed 21st Nov More...
Thu 22nd Nov More... Jay Exmouth
Full boat
Fri 23rd Nov More...
Sat 24th Nov More... Tim Phillips X7
Cyril X4
Sun 25th Nov More...

Steve X7

Mon 26th Nov More...
Tue 27th Nov More...
Wed 28th Nov More...
Thu 29th Nov More...
Fri 30th Nov More...
Upcoming Individual Spaces on Spot On!
Reviews
Summary:





Nick Matthews (07/07/2018)

A great day out with Ross and Spot On. Ross is able to teach anglers new and old to catch more fish, his knowledge of sea fishing is top notch. To top it all, a 20lb was landed using light gear. Picture uploaded hopefully. A big thanks Nick

Skippers Reponse: Hi Nick,
Thank you for your review, and a big well done for battling that big fish on very light and fun tackle.
See you soon.
Ross

Karl Wykes (04/07/2018)

Chartered spot on for 3 days 4th 5th 6th July . First day Ross asked us are wishes for next 3 days . We said drift wrecks for pollock day 1 .conger day 2 .plaice rays day 3 . Well what can we say outstanding skipper and boat put us on the fish right from the off ! day 1 caught 4 boxes pollock 1 cod large coalie !48 conger day2 ! Plaice , blonde rays , spotted rays , guernard ,day 3 am ling conger day3 pm ! Boat is purpose built charter boat very fast and comftable ! Skipper and deck hand couldn't help us anymore than they did very nice guys and very knowledgeable! Cleaned all are fish at end of every day and put on ice ! Thanks Ross and Sam for the best 3 days fishing we have ever had can't wait till next year all the best Karl and the other lads from Suffolk and Norfolk

Colin Johnson (05/07/2017)

Great Day on Spot On last Wednesday with Ross\ My first trip to the Skerries Bank. Caught 14 pllac Great Skipper and Boat. Regards Colin (Northampton)

Skippers Reponse: Thank you for choosing Spot On Colin, really happy you had a great day out in the banks.

marcin skora (11/12/2016)

Thanks Ross for BEST FISHING on your boat Happy Christmas and new year marcin

Skippers Reponse: Hey Marcin, thanks for your support over the last few years and glad you enjoy catching lots of fish with Spot On, happy Christmas and hope you and family have a lovely time.

Brian Baverstock (22/07/2016)

Great day out, fish didn't want to play but Ross tried very hard all day to get us into fish and had great fun with the congers.Hopefully when we come down in October the wrecks won't be saturated with mackerel as they were this time.Thanks also to Phil for the hard work he put in, shame about the bucket!! Look forward to seeing you both in October, Mike and Brian, Portsmouth

Skippers Reponse: Hi Mike and Brian, thanks for joining us on board spot in and look forward to seeing you again soon.
Latest Catches 1,086 photos uploaded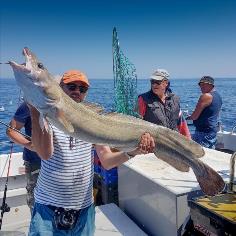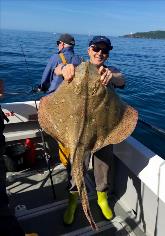 Mark
26 lb Blonde Ray
23-Jun-2018
Latest Fishing Reports
06/2018

Fishing Report by Ross Parham

Jun 2018 by Ross Parham

Just finished an exhilarating 2 days fishing with MILNROW SAC.

Day 1 was spent fishing for blonde Ray's and Plaice.
A mixture of uptiding and downtiding for this and it wasn't long before the first bite and a cracking blonde ray of 26lb hit the net.
The action was soon fast and furious with upto 3 Ray's on at once and the size and quality of the fish was also very good.
A total of 24 blonde Ray's boated with 6 of them over the 20lb mark and only 4 under 10lb.
Anchor up and on the drift for the plaice, again some good action at times with the biggest plaice being 2lb 4oz.
Speicies caught on day 1 were blonde Ray, plaice, dogfish, tub gurnard, grey gurnard, red gurnard, whiting and mackerel.

Day 2 and the sun was out again and it was off to get some mackerel for bait for conger and Ling.
After a couple of hours we had enough bait and we steamed out to the choosen wreck, anchor down and baits set, first action was a nice ling and then the eels came to feed along with the Ling, biggest conger landed was a cracking eel of 53lb for Jim (not bad for a 20lb class rod and 30lb braid mainline).
Anchor up and on the drift. Pollock and cod coming to the net straight away and continued every drift until the steam home.
Conger to 53lb, Ling to 15lb, pollock to 15lb and cod to 5lb.
Species caught on day 2: conger, Ling, cod, pollock, pouting and mackerel.

A stunning 2 days weather wise and as you can see the fishing wasn't bad either!

Pictured is father and son Mark and Cameron holding a brace of blonde Ray's.

Still a few 2018 dates available and now taking bookings for 2019.

Spot On does what the name suggests, Brixhams premier charter boat and the only catamaran. Speed, space and stability.


05/2018

Fishing Report by Ross Parham

May 2018 by Ross Parham

With a decent run of good weather Spot On has been all over the place from fishing inshore on the skerries bank to deep water wrecks in search of conger to mid channel wrecking for cod and pollock along with the first trips to the Channel Islands.

In May 2018 We have caught:
Pollock to 16lb 8oz
Ling to 27lb
Cod to 13lb
Turbot to 19lb 6oz
Brill to 6lb 2oz
Undulate Ray to 17lb 2oz
Ballan wrasse to 5lb 4oz
Conger eels to 70lb
John Dory to 4lb 10oz
Black bream to 3lb 10oz
Plaice to 2lb 14oz

As you can see there are some truly amazing catches of fish of lifetime let alone in just one month!

Still some dates for 2018 and now taking bookings for 2019.

Why not try Spot On, Brixham's and the south wests premier charter boat. I think you'd have a job to beat these types of catches anywhere else!

07878668662.

Pictured is John Gibson from Bristol with his fine specimen Turbot of 19lb 6oz.




02/2018

Fishing Report by Ross Parham

Feb 2018 by Ross Parham

A break in the weather meant that we managed to get out mid channel wrecking 4 days in a row.
Glorious weather all days and accompanied by lots of dolphins which is always great to see.
Again wrecking proved to be very good with lots of prime pollock being caught every day, plenty of double figurerd fish around up to the high teens.
We also managed a lovely specimen grey gurnard of 1lb 8oz along with ling, our first cod of the year, pouting, whiting and some bass. (Returned alive quickly)
This fine fishing should be set to continue for the next month or so.

Top lures over the 4 days were the skerries Sandeel by Sidewinder.

Dates are filling fast so if you want a trip on board Brixham's premier charter boat and only catamaran then feel free to contact me.
www.spot-on-charters.co.uk

01/2018

Fishing Report by Ross Parham

Jan 2018 by Ross Parham

Please find below a list of 2018 spaces available for individuals and weekends that are left.

2018 Spaces to fill on Spot On!

20th feb - 7 spaces wrecking

19th March - 5 spaces wrecking
Sunday 25th March - 7 spaces wrecking
Friday 30th March - 6 spaces wrecking

Sunday 1st April - whole boat available
Friday 13th April - 6 spaces wrecking
23rd April - 25 April - 3 spaces for a 3 day Guernsey trip.
Thursday 26th April and Friday 27th April - 7 each day for skerries
Monday 30th April - 5 spaces wrecking

Friday 11th May - 3 spaces wrecking
Monday 14th May - 3 spaces wrecking
Friday 18th May - 6 spaces wrecking

Friday 8th June - 6 spaces wrecking
Monday 11th June - 4 spaces wrecking
Tuesday 12th June - 6 spaces skerries
Wednesday 13th June - 6 spaces wrecking

Friday 6th July - 5 spaces wrecking
Friday 13th July - 3 spaces wrecking
Sunday 15th July - whole boat available
Tuesday 24th July - 8 spaces wrecking

Friday 24th August - 8 spaces wrecking
Sunday 26th August - whole boat available

Sunday 2nd September - 9 spaces available
Monday 3rd - 6th September 3 spaces 4 day Guernsey trip
Friday 14th September - 6 spaces wrecking
Tuesday 18th - 21st September 3 spaces 4 day Guernsey trip
Monday 24th September - 3 spaces Sharking trip

Tuesday 23rd October - 3 spaces wrecking
Monday 29th October - 3 spaces Sharking trip

Friday 2nd November - 6 spaces wrecking
Sunday 4th November - whole boat available
Sunday 25th November - whole boat available

Saturday 1st December - whole boat available
Sunday 2nd December - whole boat available

Please feel free to contact me for any more information.
07878668662


09/2017

Fishing Report by Ross Parham

Sep 2017 by Ross Parham

With a break in the weather we headed out tintype mid channel wrecks.
Good constant fishing all day with plenty of pollock and some lovely prime double figure fish coming in.
Some nice cod, bass, coalfish, tub gurnards, pout and scad made up the rest of the day's catch.

It's good to see wrecking improving and nice to see some big fish once again.

Pictured is Rob with his 9lb bass.

Officially Torbay festival 2017 top charter boat once again.

2018 diary is up and things are filling fast so please get in contact if you want to book up. Book early to avoid disappointment.
www.spot-on-charters.co.uk 07878 668662
Brixhams premier charter boat.