Charter Boat: Shy-Torque III
Licensed For:
up to 12 passengers
Code Of Practice:
60 Miles
Hours:
8hr / 9hr / 10hr / 11hr / 12hr / 24hr / Multiple Days Trips
Type of Fishing:
Wreck - Rough Ground - Cod, Haddock, Ling, Pollack, (Red Gilling) - Shark ( Porbeagle )
Tackle Available:
Yes - Contact Skipper
Bait Available:
Yes - Contact Skipper
Boat Specification:
Bullet DS38 Islander. Twin Engine ( 750HP )
Facilities:
Heated Anglers Cabin. Hot Water
Additional Description:
WINNER OF 2011 SUMMER ANGLING COMPETITION. WINNER RECEIVING OVER £5000.00 IN CASH!!! WINNER OF 2012 SEPTEMBER ANGLING COMP. WINNER RECEIVING £1050.00 IN CASH!!!
Whitby's most popular and fastest angling boat winning more angling competitions over the last 25 years than any other boat in Whitby. Sponsored by the top name in sea angling "SHIMANO" Shy Torque III is the best known of all the charter boats in Whitby and probably the North East coast and has a track record second to none.
We recommend Whitby "ANGLING" Supplies for all your needs. Whitby "ANGLING" Supplies can be found in between Mr Chips fish and chip shop (sponsor ) and the Endeavour pub (sponsors) Both are at the far end of the car park. Whitby "ANGLING" Supplies has the best gear at the very best prices. We do ask that you use Whitby "ANGLING" Supplies and NOT the shop at the entrance to the car park as Whitby "ANGLING" Supplies sponsor all our competitions here at Whitby. ( Loyalty and all that !! ) They also stock a far greater range of gear than the other shop with all the "branded" names in sea angling tackle. No cheap imitations!!!
Whitby "ANGLING" supplies has the RED panel over the shop.

The boat is fully licensed and insured and has a code of practice " Category 2 " with the RYA allowing us to travel up to 60 miles !! ( please ask to see certificate if required ) Only a handful of Whitby charter boats hold this category of license and insurance. If you sail beyond the boats designated area of work then the insurance for that boat does become null and void. It's a good idea to check!!!!
For your best chances of a great days fishing from Whitby the Shy Torque III is your best option by far. If you want to book the boat as a club we do a special rate for teams of 8 or less. Please ensure that you have the full money for the places you have booked ( whether it be full boat or individual bookings ) as we will have been turning people away on the strength of your booking.
This years dates have now been sorted for the competitions here at Whitby in 2013.
The Spring competition dates are April 6th to April 21st INC ( a few days left )
The Summer competition dates are June 22nd to July 14th INC ( these are going fast!! )
The late Summer competition dates are September 14th to September 29th INC ( these are also going quick!! ) Get yourselves a trip booked to have a chance of winning a prize worth up to £5000 !!!!! You can book any places as from now. When you consider that most of the other charter boats in Whitby are charging on average around £45.00 for a days fishing ( this includes the slow boats! ) then the £50.00 that we charge for the day is more than worth it. We can give you so much more time fishing than the others!!!
REMEMBER, if you are paying less than what we charge there WILL be a reason for it!!! The ANGLERS CABIN also ensures that you can arrive at the fishing areas DRY and arrive back home DRY. There are no other charter boats in Whitby ( in our size range ) that can offer a full team TOTAL cover like we can. Individuals are welcome on the boat. Gift vouchers are available for trips this year and would make an excellent gift / birthday / Xmas present.
We are already taking bookings for 2014 and the full tide table for Whitby is now available. Please call for details or visit the site.
"We are totally committed in providing an unrivaled service every day we sail"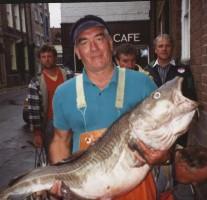 About the Skipper:
Started going to sea with my Dad when I was just 5 years of age !! Started working as a charter skipper full time at the age of 18. Over 40 years experience at sea!! This is my full time job ( not just working on weekends ) working every day the weather permits 12 months of the year. Over the last 25 years we have won more angling competitions than any other boat in Whitby ! Very proud of the boat keeping her in immaculate condition at all times. We also have a regular crewman Malcolm when we are taking newcomers to the sea angling game. Both Malcolm and myself will be there to assist you throughout the day to try and make your day as enjoyable as possible.
Give me a ring to discuss your trips anytime between 8AM & 8PM.
Look forward to sailing with you soon. Rich.
This Charter has been listed as Wheelchair Accessible. Contact the Skipper for full details.
This Charter has been listed as Suitable for Diving Trips. Contact the Skipper for full details.
Latest Fishing Reports
17/05/2013

Fishing Report by Rich Ward on Shy-Torque III

(Whitby, North Yorkshire)

17 May 2013 by Rich Ward

16.05.2013.

This time of the year we really should be reporting on the fishing every day. But sadly it seems that the weather gods are still fighting each other up there and not dishing out any good stuff.

A window here and there is all we're getting at the moment.

A mixed group on the boat on Thursday.

I must admit I was full of high expectations after the last weekend with codling showing on the ground on the 5, 7 and 9 mile. Water clearing and all that...........

Thursday saw the water returning to the murky green again :-(((

We started on the 9 mile for just a couple of codling so we moved out to 3 wrecks 18 - 20 mile off and managed around 20 or so fish ( not good for the distance )

We decided to drop back into the 9 mile for the ebb tide and the water had cleared a little from the morning. The lads had another dozen fish on the shad there.

All in all an enjoyable day with some lovely weather too.

The lads are pictured with a few of their fish.



06/05/2013

Fishing Report by Rich Ward on Shy-Torque III

(Whitby, North Yorkshire)

6 May 2013 by Rich Ward

06.06.13.

A mixed group today from as far afield as Ramsbottom to Bedale and thank goodness for that strip of ground 27 miles from shore!!

Yes, it was yet another run back out to that ground locally known as the "Wall"

The VHF on channel 10 was alive with talk of "doom and gloom" from the lads working inshore.

My idea is that if you have the boat and the pace to get to the better grounds / wrecks well offshore then use it! Ok it's a steam to get there, but when you are often rewarded with a good days sport then it has to be done. It breaks my heart when I get the fuel bill at the end of the month but if it means that my lads are in with a good chance of fish then we have to do it!!

Dermot Faye from Bedale was the top lad on the boat with a good bag of fish. His second drop of the day netted him a treble. Nothing big though unfortunately.

Again, another fantastic day both weather wise and company wise.

Cheers lads!

Dermot is pictured.




05/05/2013

Fishing Report by Rich Ward on Shy-Torque III

(Whitby, North Yorkshire)

5 May 2013 by Rich Ward

05.05.13.

Gary Hurling and his lads from Boston Lincs had their first trip of the year today. Once they had boarded I informed them what the inshore fishing had been like for some of the charter fleet here over the last few days.

I suggested that we returned to the "Wall" where we had been getting the best results of any of the boats on the last few trips

Gary said it was a no brainer and we went straight there. With the weather being on our side again ( a beautiful flat calmer ) surely we were destined for top results today!!

A steady picking of fish from the start with the size mark being slightly better than on the last visit out there.

The lads were well chuffed with their catch. The hard work really paying off with a good selection of fish ranging from a Tub Gurnard just short of 2lb ( of which I've never seen one as big for years ) to Cod to 12lbs.

Fantastic weather for the lads making for another good days sport on the Shy-Torque III

Pictured is Trevor Crunkhorn with his best Cod of the day.

26/04/2013

Fishing Report by Rich Ward on Shy-Torque III

(Whitby, North Yorkshire)

26 Apr 2013 by Rich Ward

26.04 13.

Rob Smith and his team joined us board the boat on the 26th April.

With the fishing here at Whitby being somewhat "patchy" shall we say on the inner marks, we have been working offshore to try and find the fish.

We cruised out to a couple of wrecks on the 20 mile stream for very little and decided that we would go to the ground that can usually save the day. That being the "Wall"

Judging by what the other lads were catching inside us this had definately proved to be a good move indeed.

By close of play the lads had gathered a few fish each for the table. 40 or so fish for the boat. Sadly no monsters but a nice few Codling, Pollack and Coalie to the 5lb mark.

Great weather and a great team of lads making the day very enjoyable for all.

Pictured is Ray from South Shields.

26/04/2013

Fishing Report by Rich Ward on Shy-Torque III

(Whitby, North Yorkshire)

26 Apr 2013 by Rich Ward

A group of lads from around the North East joined us yesterday. The fishing was far from easy but we did manage to find a few in the end.

We steamed out to 3 wrecks 18 miles NE of Whitby to start the day and pulled around 25 fish off them. Nothing of any real size though. We had a couple of drops on the 9 mile ground on our return and had half a dozen more codling there, which is very encouraging!!

One of the lads actually managed a treble on one drop!! A major improvement on the last couple of months. Things are finally starting to go in the right direction and the Algea seems to be thinning out at long last. This Winter seems to have been never ending!!

The big fishing is literally just around the corner here at Whitby. Have a look at the availability calendar and give me a call for a chat anytime.

Pictured is Andy from Thornaby with one of his codling.

Happy fishing

Rich
www.shy-torque2000.com

View All Fishing Reports
Edit this boat listing
Availability
MAY - 2013

| Su | Mo | Tu | We | Th | Fr | Sa |
| --- | --- | --- | --- | --- | --- | --- |
| 28 | 29 | 30 | 1 | 2 | 3 | 4 |
| 5 | 6 | 7 | 8 | 9 | 10 | 11 |
| 12 | 13 | 14 | 15 | 16 | 17 | 18 |
| 19 | 20 | 21 | 22 | 23 | 24 | 25 |
| 26 | 27 | 28 | 29 | 30 | 31 | 1 |
Color for Fully Booked

Fully Booked

Color for Partially Booked

Partially Booked

Color for Available

Available

Color for Not Available

Not Available

Color for Unspecified

Unspecified
N.B. Not all Skippers keep this diary up-to-date. Always check with skippers before making any plans.
Reviews
Summary:





Dermot Faye (08/10/2012)

I've not fished out of Whitby before, but had a fantastic day with Richard, he couldn't have been more pleasant and helpful if he'd tried . Lots of fish , great skipper , good weather and whale watching thrown in! Couldn't have wished for more, we will defiantly be back for more. Cheers Richard .

mark appleyard (08/10/2012)

A brilliant days fishing with Rich on Shy-Torque today , had a very pleasant steam out to a rough ground mark known as the wall some 28 miles offshore,the weather was spot on with only a very slight breeze and a flat sea.Once we arrived at the mark some 2hrs after leaving the port of whitby we had the chance to view a couple of pilot whales which seemed to be their to greet us.We then quickly and eagerly set up our tackle whilst Rich positioned the boat for our first drift,we then heard the magic words ''Down you go boys'' no sooner had we hit bottom most of the the rods keeled over as we lent into the fish,it didn't seem to matteeither you were bait fishing or shading the result was the same either a nice plump cod or a ling was on the end of the line.This action continued for most of the day not monsters but quality fish all around the 6 to 11 lb mark....just right for the dinner table.All in all we had a great days fishing with the added bonus of the weather and the whales showing up...So again its hats off to Rich for putting us over the fish and making our long day really worthwhile...Cheers Rich.

Skippers Reponse: Great company, great weather and great fishing. What more could we ask for !!!
Cheers Mark and hopefully see you again soon.
Rich

mark appleyard (08/10/2012)

A brilliant days fishing with Rich on Shy-Torque today , had a very pleasant steam out to a rough ground mark known as the wall some 28 miles offshore,the weather was spot on with only a very slight breeze and a flat sea.Once we arrived at the mark some 2hrs after leaving the port of whitby we had the chance to view a couple of pilot whales which seemed to be their to greet us.

Ben Holdsworth (04/09/2012)

brilliant as always.. great days fishing, cut alittle short due to weather but never the less still a great day. thanks rich see you again soon

paul dearden (23/05/2012)

Another top day with whitbys top skipper and boat.If you are thinking of fishing off whitby this is the only boat and skipper to use.many thanks Richard from south yorkshire fire service.see you in June
View All Reviews
Add A Review